Festival-Report: Reggae Jam 2011
08/05/2011 by Angus Taylor, Markus Hautmann, Valentin Zill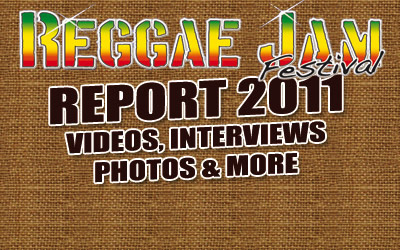 Reggae Jam 2011... we bring you the freshest photos, videos and interviews and reviews of selected performances.
DAY THREE - AUGUST 7th
MAIN STAGE 1:30pm:The early afternoon of the final day is the time to really get a sense of a festival's vibe. In no small part because some of the early bands define that vibe more than the bigger artists whose performances are epic events.

One such group were Jamaican born German resident Sista Gracy and Yardie Crew. Essentially a showcase of different styles and vocalists with a very tight band, they took us through dancehall staples like the Johnny Dollar rhythm, a lovely ska version of Gerhswin's Summertime just as the sun was peeking through the clouds and even some Dick Dale and the Destroyers.

With a lot of the backing groups eschewing real horns it was nice to hear a saxophone masking the synth brass for a while. At the end Ganjaman demanded more cheers from the small but enthusiastic crowd.
SPECIAL STAGE 2:15pm Another standout from the early portion of Sunday was Jamaican deejay Algebra as House Of Riddim band eased into another schedule of shiftwork on their stage.

His gospel-dancehall style – the kind of mix you might hear from Mr Vegas at times – was something refreshing to hear amid the more generic styles of some of the opening acts.

It was his first time performing in Germany, and he announced how much he loved to see "Black and white people in Unity" because "The Bible says we must not kill so we should not fight".
MAIN STAGE 3:00pm "Ain't no sunshine when she's gone" - when German roots singer Martin Zobel sang Bill Withers' soul classic, the sun was still shining. The superb Soulrise Band provided laid-back, earthy roots reggae. Lex played his basslines warmly, slightly dirty and outright vintage - a pure delight. Martin dispensed with speeches to save precious stage time. He presented a nice selection of older tunes (Keep The Fire Burning, This Might Be Freedom, Rise Up), recent stuff (Sometimes I Wonder, People, Ain't No Sunshine, Soul Revolution, The World Keeps Turning) and a Bob Marley cover (War).
MAIN STAGE 6:00pm The Heptones brought out the sun again. I cannot tell whether it was their nice, full-blown horn section (one of very, very few this weekend), their playing one classic after the other or their performing of old rocksteady hits like their own Equal Rights in finest roots reggae style or all of it. Incredibly good roots, and that was exactly what you needed on the last evening of a three-day festival.

SPECIAL STAGE 6:45pm Another very strong show was Etana's. She had been on top of many festivalgoers' priority list, thus the turnout was impressing. French backing band No. 1 and producers Dub Akom backed her. Not an easy job, as Etana requires them to work without her commands. As much as she did, they mastered Jah Chariot, August Town, War and others and surprised with a medley of Jimmy Cliff tunes including You Can Get It If You Really Want and The Harder They Come. She was not the first to cover Redemption Song, though, but her adaptation was the weekend's best.

MAIN STAGE 8:15pm The icing on the cake for roots fanatics was the appearance of Linval Thompson, one of the very best foundation reggae singer still touring. His voice sounds as good as back in the 70s. His strong performance caught on very well with the Reggae Jam family, showing that conscious roots has its following here. You should not miss his concert at the Reggaeville Weekender in Dortmund on the 27th of August.
SPECIAL STAGE 9pm Peetah and Gramps Morgan from Morgan Heritage were greeted enthusiastically. Morgan Heritage has been a crowd's favorite for years. And so was this "decimated" package of these two outstanding performers. But of course, the two also had their family's hits with them which anybody could sing along as it seemed. Gramps told the audience about the difference between reggae and dancehall and ended this theoretical lecture with a well appreciated practical example where he demonstrated perfect DJing skills just like he has never done anything else.

MAIN STAGE 10pm To close Sunday's show was the job of Richie Stephens. Stephens is very well known by the German massive because he has been working with Gentleman for years. But there has hardly been a chance to see him perform live. So expectations were high and were not disappointed at all. Backed by Gentleman's Evolution Band he delivered a more than inspiring concert and truly proved that he is a "winner".

All of the audience were winners, too, as Reggae Jam once again showed why it is voted "Germany's Best Festival" year after year by the readers of reggae print magazine RIDDIM. The massive showed its appreciation and its respect for the fantastic organization by clapping and cheering for at least 15 minutes for all the dedicated staff people (many of them being volunteers) who made this possible and who all contributed to the success of this year's edition. A big up also goes out to the city of Bersenbrück for enabling and allowing such an event right in the middle of the town. In a country where there are more legal rules (or better: restrictions) than there is sand at the sea this is very exceptional. Exceptional like anything else at Reggaejam. See ya next year!
DAY TWO - AUGUST 6th


MAIN STAGE 1pm For a three-day festival, Reggae Jam days start rather early. Not too early for its visitors, though. Most of them showed up in time for Saturday's traditional breakfast and Ganjaman's show. It was the tenth consecutive time that he played in Bersenbrück. He celebrated his anniversary with lots of good friends from Germany: Cornadoor, Benjie, Jennifer Washington, Goldi and Uwe Banton supported him. Today's first slot was thus a non-representative, nevertheless very enjoyable section of what is going on in the contemporary reggae scene of the festival's host country.

Jennifer Washington was the first artist to be handed over the mic by Ganjaman. Her souly, laid-back style was exactly what the crowd needed at that time of the day. Ganjaman and Uwe Banton turned up the heat considerably afterwards. Ganjaman performed a tune or two whenever one his friends left the stage, and he easily got the warmest applause. Especially so for his long speech aimed at present police forces, demanding them to leave the Reggae Jam family alone and take care of real criminals instead. Benjie's and Goldi's shows were not too convincing, but Cornadoor, another favorite of the people present, more than made up for it. For the last part of the show, each artist sang his tune over Urban Tree Music's Youth riddim, with Jennifer Washington (Let's Make A Sign), Uwe Banton (Thought I'd Let You Know) and Ganjaman (W.h.a.d.L.f) pleasing the most.SPECIAL STAGE 2:45pm By 3 o'clock the festival was about half an hour behind schedule but this isn't the kind of event where this causes major concern. Expatriate Jamaican deejay Skarra Mucci is a familiar face on the German festival circuit and that's because his choice of local rhythms – from Germany's African Beat label to Switzerland's Weedy G – is impeccable.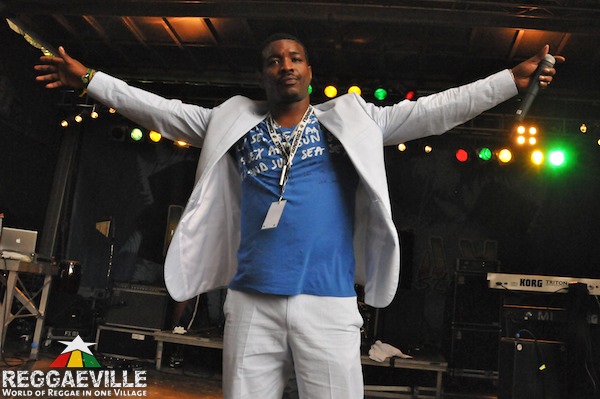 Looking dapper in a white suit he performed over pre-recorded tracks spanning hip hop roots and dancehall getting a sizeable number of hands waving at the Special Stage. He is known as the "lyric millionaire" but his flow is what impresses the most. Especially on Gimme Di Lovin and My Sound - his essential revamps of Keith and Tex's Tonight and Wendy Rene's After Laughter Comes Tears.

Like U Brown the night before he invoked the late great Gregory Isaacs using his classic Raggamuffin as the intro to his own tune of the same name. With his DeeBuzz sound hype-man in tow he was the perfect early afternoon pick me up for a Reggae Jam crowd with a diverse range of tastes.
MAIN STAGE 3:30pm Saturday was House of Riddim day (even more so than Friday, that is), and the first artist they backed was no other than Ray Darwin. The Jamaican globetrotter that spent most of his life in New York and later Hamburg. No other than Horace Andy taught him to play the guitar, and that was way back in the 1980s. He toured with the great Max Romeo, before he chose to go with a different genre: grunge. To cut a long story short, Ray rediscovered reggae when he stumbled upon Gentleman's Dem Gone in the early 2000s. Good for us he did.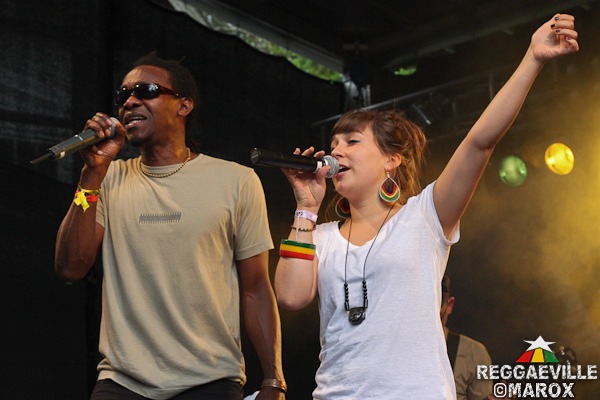 His stunning debut album People's Choice is already available for download in the iTunes Store. Ray Darwin performed a few tunes from that masterpiece, including the wonderful Time Flies and Good For You, a combination with Sara Lugo. Sara happened to stick around and joined him on stage. A great combination that got the crowd moving, although fatigue was engraved in their faces. Ray allowed her one more tune - Rocksteady -, before he went on solo with nice interpretations of John Holt and Toots (Never Grow Old, what a fitting tune for Ray). He ended his show with the evergreen Rivers Of Babylon.
SPECIAL STAGE 7:45pm Gappy Ranks was next. He had to share a slot with Romain Virgo so time was limited. Still he managed to please the crowd with a blend of hit tunes from his albums "Put the stereo on" and "Thanks & Praise". Gappy proved to be a born entertainer flirting with the massive and the photographers alike, but also addressed serious issues when he requested the audience to show sympathy for the people of Japan who face such a hard time after the earthquake and the tsunami. Unfortunately there were some problems with the sound but that did not seem to have any influence on Gappy's performance or the enjoyment of the crowd.

Ladies' man Romain Virgo took the mic afterwards and started with a more or less unexpected hardcore set which testified the versatility the "Rising Star" winner is able to deliver. But of course it was the lovers tunes with which he got the girls crazy. Watching the first rows one got the impression to be at a hypnosis seminar with all female eyes focused on Romain's lips. "Germany loves me" he noticed and without any doubt he was absolutely right with this estimation.
MAIN STAGE 9:15pm "I didn't have a chance to rehearse with this band" said Assassin as he arrived at the main stage to audience heartily impressed with Romain Virgo but eager for something grittier and more frantic.

But if there were cracks in his performance they didn't show much as he put the crowd through their paces in a fashion not seen since mystery guest Elephant Man the night before. His voice remained strong despite the considerable stress of his rockstone delivery on tunes like Idiot Ting Dat on the Stepz rhythm.

The Reggae Jam crowd reacts to dancehall in almost perfect unison taking every instruction as if by telepathy. With the rain coming down the ubiquitous umbrellas were joined by lighters whirling shirts glow sticks and a couple of huge Jamaican flags for Independence Day. Gappy and Romain got a big up from Assassin before he went.
SPECIAL STAGE 10pm The imposing figure of New York based veteran deejay Ranking Joe supplied the calm after the storm of Assassin's set. Decked out in an ornate red shirt and his trademark tam he took Reggae Jam back to the foundation and got everyone swaying in approval.

Dealing strictly in classic backings from the 70s and 80s he perfectly replicated the high pitched squeals widdly-bangs and countless other tricks imbibed from U Roy but made his own. There was plenty of roots material like Natty Chase The Barber and Weakheart Fade Away but the Bersenbruck crowd really reacted to the early dancehall rhythms like the Full Up Johnny Dollar and the Tempo.

Having paid tribute to the famous artists on the label that first signed him – Studio 1 - he returned to the stage for his own co-production of the Cuss Cuss rhythm. Underpinning his every lyrical and sonic flight of imagination were what must have been a very tired House Of Riddim band.
MAIN STAGE 10:45pm His show might not have been the most anticipated one, but it turned out to be Saturday's best in terms of quality of music and good vibes: Richie Spice's. He is one of rather few artists where you feel it immediately, this close connection, these very special vibes. His sufferer's singing style caught on well with the audience that just did not leave, despite the heavy rainfall. His setlist included some of his latest tunes like Black Woman and Yap Yap from his strong Book Of Jobs album as well as older stuff.


SPECIAL STAGE 11:30pm Since Frankie Paul is thought by some to be the most productive dancehall singer of all time there was no worry he would run out of tunes tonight! Yet as well as his own compositions, like a true sound system improviser, he found time to remind us of the songs of Michael Prophet and Half Pint – as well as his inspiration Steve Wonder with My Cherie Amour.

A deceptively frail looking figure backstage, just like the great Derrick Morgan he comes alive under the spotlight. And at Reggae Jam in a sharp shiny suit his voice seemed as good as it could ever have been in his youth. Naturally his biggest hits Pass The Tu Sheng Peng and Worries In The Dance were the ones that got the most screams. But another treat was his cover of John Holt's Hooligan, also relicked by his idol Dennis Brown.
The House Of Riddim band were again cranking out the tunes. Look out for their workout DVD coming soon...DAY ONE - AUGUST 5th
SPECIAL STAGE 7:15pm: Here we are. It's Reggae Jam! Germany's favorite reggae festival (according to RIDDIM magazine's readers' poll) started of with a big surprise. Not in terms of an unexpected musical act but in terms of lovely sunshine. The weather forecast predicted rain and low temperatures. Obviously it did not take into account that 8,000 people would show up who all carried sunshine in their hearts. Actually the temperature was almost as hot as were the vibes. Even at the very start of this year's Reggae Jam. Home grown bands Lion Teeth and Bantaba got patrons into the groove and earned more than a friendly response from the crowd.

Not even 90 minutes after the gates had opened the place was packed. No wonder as the first main act, Hawkeye, hasn't paid Germany a visit for several years. It must have been Splash Festival in Chemnitz in 2005 when he and stable mates Chico and Red Rat entered a German stage for the last time. For many young fans it was the first time they could see this top artist of the "Mainstreet era". And Hawkeye gave his best to deliver a performance to remember. Being a passionate and gifted cook he presented a well musical done menu which matched the taste of the audience. Although he had taken a break from music for some time he has not forgotten how to rock a crowd. It's also very unlikely that he will forget this performance since he was even physically embraced by the audience while taking a bath within the crowd.
MAINSTAGE 8:00pm: The first monster cheer of the day went up for producer Don Corleon, his cousin Protoje and flagship signing Pressure as they hit the stage at 8pm.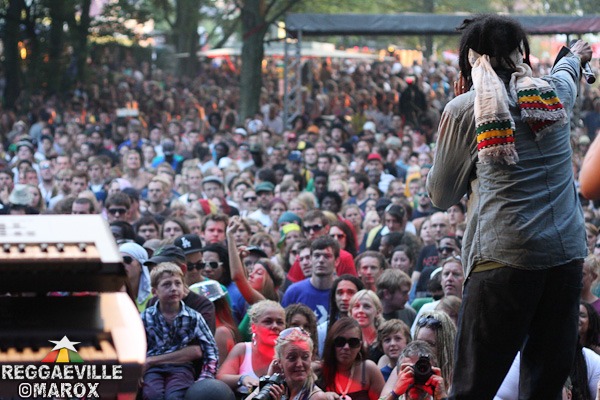 The heavily bearded Protoje was the first on, singing tracks from his Corleon produced debut album The Seven Year Itch. These included herb tune Wrong Side Of The Law (where he segued into Ini Kamoze's Babylon Babylon) and island tribute JA both of which benefited from the full blown guitars and synths of France's Dub Akom band. Germany's own Sara Lugo – of whom Protoje is a fan – appeared briefly from the wings, as did the Don himself to duet with his relative on the incredible Burning Spear sampling Our Time Come, their best track not to make it on to the album release.

Then came Pressure, whose birthday it was today, and took the entire festival up another gear. Unsurprisingly the VI deejay-singer stuck to his own album with Corleon Love and Affection, as well as singles like Bless My Soul and Make Up To Break Up which became an Alton Ellis tribute with the great man's Breaking Up. Hands and lighters were aloft as he delivered a birthday gift for everyone – but the real gift will come when he and Corleon drop their second album later this year...
MAINSTAGE 10:45pm: The Reggae Jam crowd loves dancehall music. Konshens was the first artist today to give them what they were yearning for. The aspiring artist born in Washington, DC, who kicked of with Pon Di Corner, a single released in 2005 together with his brother Delus, found an audience eager to participate in this mashing down the house. "All the world citizens make some noise", he demanded and started an energetic performance of the very kind that make the Reggae Jam unique to dancehall afficionados.

The more trouble the police causes, the better received seem to be the ganja tunes, proved So High, Leave My Herbs on the Chemistry riddim and Get Dat Weed on the Dirty Staggalag. Quality before quantity seems to be Konshens' motto, he still recorded more big tunes in the last six years than he could perform in his 45 minutes slot. His 2008 single The Winner, the cornerstone of his solo career, was missing from his setlist, but the inclusion of his more recent Good Girl Gone Bad, originally a combination with Tarrus Riley, made up for it. Konshens' performance made clear that there is a lot to expect from him in the future. He set the first highlight of day one of Reggae Jam.

SPECIAL STAGE 11:30pm: A total change of texture brought Bryan Art, performing in Germany for the first time ever. He started to do music almost as early as Konshens did, but chose a very different path, focusing on songwriting and crooning strong lovers tunes. His slow style was the opportunity for some to grab some food and prepare for what was to come - the Energy God had been announced earlier to be the night's very special guest, to the greatest pleasure of the Reggae Jam family -, for others, his performance meant time to slowly wind with their ladies. Backed by the ever-strong House of Riddim band, Bryan also paid tribute to some of the greatest legends of lovers rock, including John Holt and Gregory Isaacs. The ex-guitar player of the Fire House Band did parts of his show in acoustic style.
MAIN STAGE 12:15am A longer break was necessary to set the stage for Iriepathie and Luciano, both backed by the Austrian Irievibrations Band. Mattia, Ganjaman and, most of all, Berlin-based artist Vido Jelashe, hailing from South Africa originally, helped to pass the time. It was worth the wait. Iriepathie has earned a surprisingly huge and devoted following already, making it easy for them to turn their 20 minutes slot into a veritable party. Professa and Syrix gave a best-of summary of their oeuvre before clearing the stage for Luciano. The Austrian brothers had produced Luciano's last album Rub-A-Dub Market, with Irievibrations playing the instruments. They had been touring Europe for about a week together already, were well-rehearsed and brought in. Easy skanking time!

Luci played his classics mostly, with pretty much the only exception of the title track of his mentioned album with the Austrians. As the album is selling very well, it was no surprise that the massive new the lyrics by heart. Same with Sweep Over My Soul. The Messenjah wore his standard camouflage warrior suit, a heavy pith helmet, had an empty sheath attached to his belt and his African cepter in the other hand. Few artists show the spiritual and physical energy of Luciano on stage that culminated in a somersault during Stay Away on the Water Pumping riddim, a permanent favorite of the German reggae massive. Luciano ended his performance with a tribute to Jacob "Killer" Miller (Tenement Yard) and his huge Who Could It Be, leaving the audience screaming for more.



SPECIAL STAGE 1:15am Following Luciano was another devout singer who has voiced rhythms across Europe and around the world. Chezidek is usually a dependable performer and tonight was no exception.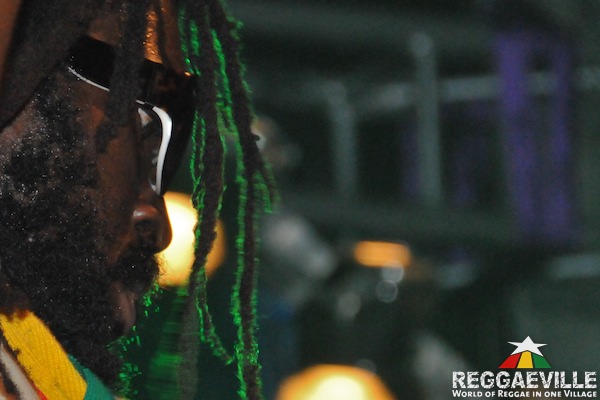 Wearing shades in the dark and backed by the Dub Akom band he swaggered across the stage singing hits like Inna De Road (cut for Bobby Konders) Walk With Jah (for Dutch production house duo JahSolidRock and NotEasyAtAll) and of course, the fragrant Leave The Trees.

When he turned to a similar topic for the Irie Vibrations creation Bun De Ganja his soft tones transformed into a terrifying roar. Chezidek's voice on record gives the impression of sounding frail. But live the St Ann parish Rastaman has a power many artists lack.
MAIN STAGE 2am Finally there was some rain though at the end of Friday. Well, it was more some kind of a storm which hit Reggaejam at the end of day one. In fact it was a hurricane by the name of "Elephant Man". He had not been announced in the line up so this was truly a surprise for most of the crowd. It must have been pure horror for the avid roots supporters as Ele's dancehall show is not the kind of music one expects to hear at Reggaejam. But for an overwhelming part of the massive it was like a work out. At some point it seemed like hell had broken loose when Ele delivered his "dancehall/rave/disco/really don't know how to call it properly" show to the enjoyment of thousands. Or as one commentator put it: "To bring a predominately roots audience to cheer and jump like crazy and then even manage to get them to sing Michael Jackson's 'Heal the world' like a huge choir is just unbelievable."
watch ELEPHANT MAN