Review
Review: Bobby Hustle - Can't Hold Me EP
06/29/2018
by Dan Dabber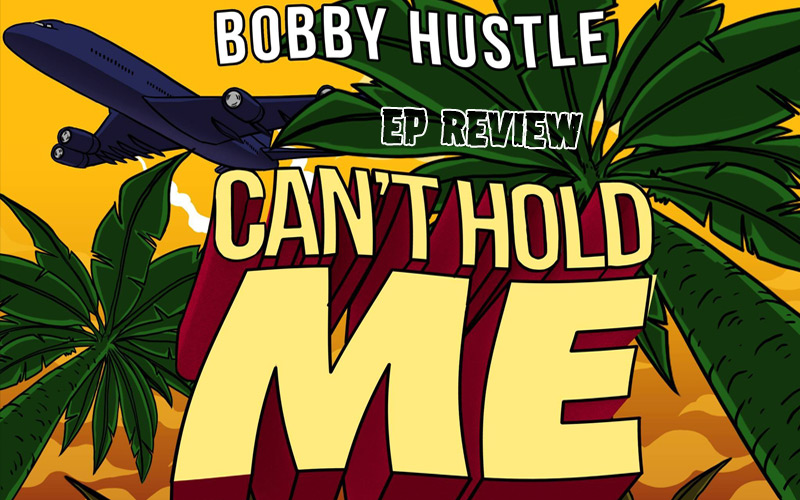 After a two-year hiatus awaiting trial for cannabis trafficking while on tour in Costa Rica, Bobby Hustle returns with a new EP, Can't Hold Me. Partially inspired by his time abroad, the project leads off with the titular track, a poppy tune that mixes up synthesizers and acoustic guitar. In the hook, Bobby sings, Dem courthouse cyaant hold me. Mi buss di case and fly out pon dem, alluding to the December 2017 verdict, where a panel of judges quickly determined that the international recording artist was completely innocent of all charges. He immediately left the country for the first time since 2015 and returned home to his friends and family in Seattle. At the end of Can't Hold Me, Bobby takes a moment to speak to his fans. I must say, it feels good to be home, man! Back in the homeland!
Back in Seattle with his childhood friends and main production team, MG and Dan of Loud City Music, Bobby was able to focus his creative energies with full force. The result is some of the best music of his career, like With the Kush, a fun combination with Lutan Fyah that also features brief vocal appearances by Dan and MG. Production-wise, With the Kush is 100% retro-dancehall vibes, essentially an adaptation of Madhouse Records' classic 90's riddim, Pepperseed. The pop/dancehall vibe is maintained fairly consistently throughout the first five tracks with tunes like Frass Right Now, and the Costa Rica-inspired Better Way, but Bobby stands out, again, when in combination with another Caribbean-descended artist, this time Cali P, on the hip hop-inspired track entitled Real Family. In his opening verse, one of the strongest from Bobby in recent memory, he sings, Mi have friends all over. That's why I always gotta look over my shoulder. Keep my friends close and my enemies closer. When it come to my family, mi nah put nuttin' over.
So much dancehall, pop, and reggae on one project is a bit of a departure for Bobby, who has generally stuck to the pure reggae sound in the past. However, fans of that more traditional vibe will be pleased with the last two songs of Can't Hold Me, both of which have an authentic one drop feel. Rolling is the obligatory ganja tune, with clever metaphors like I'm trying to hit the green just like a traffic light and broccoli up on di dinner plate. Bobby keeps the high calibre lyrics coming until the very last tune, Take Me Away, which careful listeners will note as a comparison between the addictive and euphoric aspects of music and heavy drug use, a creative way for the singer to describe his relationship with the artform he loves so much. There had been some talk about including the popular 2018 one drop single, Reggae Party, but it appears the final Can't Hold Me tracklist will be entirely comprised of previously unreleased, Loud City-produced songs.
Bobby Hustle is the missing link between Caribbean reggae artists like Lutan Fyah and Cali P, and their American counterparts - bands like SOJA and Rebelution. While many very successful American acts seem to struggle with certain cultural aspects of reggae music, Bobby thrives on those details without losing his own identity, winning over even the most hardcore Jamaican reggae fans with a healthy respect and understanding of their music, dialect, and cultural sensibilities. Bobby is also able to effortlessly slide right into pop and hip hop soundscapes, another trait unique to him as an American-born, non-Caribbean reggae artist. For all of these reasons, Bobby Hustle is as likely to bring authentic, Jamaican-style reggae vibes to a wide American audience as any artist, Jamaican or American, and that makes him someone who has the potential to make an impact on the broader history of reggae music. Whether or not there is a song on Can't Hold Me that could fulfill that promise is unclear, but even if there isn't, when Bobby Hustle does find his proper niche in the American scene, it is likely fans will look back and say that Can't Hold Me is when the tide started to turn.
---
Release details
Bobby Hustle - Can't Hold Me EP
Release date: 07/13/2018
Tracks
01. Can't Hold Me
02. Better way
03. With The Kush feat. Lutan Fyah & Loud City
04. Frass Right Now
05. Real Family feat. Cali P
06. Rollin'
07. Take Me Away
Featured artists
Lutan Fyah
/
Cali P