RIP Robert 'Bobby Digital' Dixon - Legendary Producer Has Died
05/22/2020 by Gardy Stein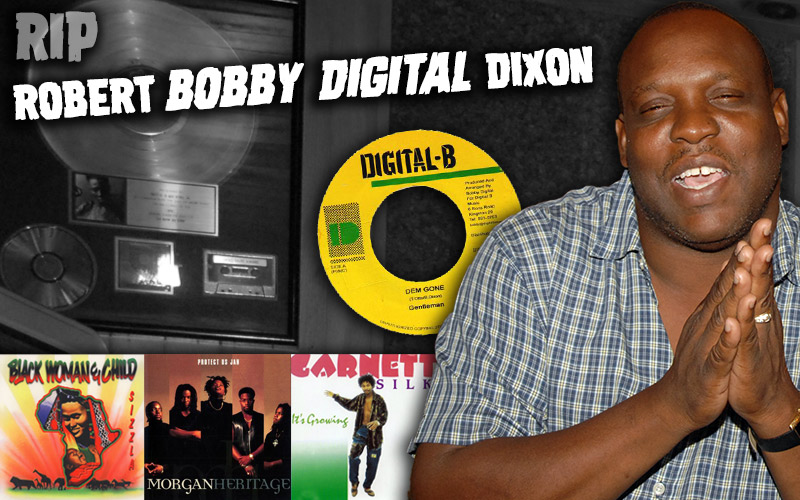 As painful as the loss of a singer or musician is for our beloved genre (and, Lord, we have lost far too many over the last months), the passing of one of the most influential Jamaican producers has left the Reggae community in shock: Robert Dixon, better known as Bobby Digital, has died yesterday (May 21, 2020) in Kingston at age 59. According to Dixon's son, Sheldon "Calibud" Stewart, the legend died from a kidney-related disease (source: Jamaica Observer - May 22, 2020).

Bobby Digital grew up in Olympic Gardens in Kingston and did an apprenticeship as an electrical engineer, gaining practical experience by fixing TVs and radios in his brother's shop. His passion for music brought him to the mixing desks of Channel One, where he soaked up every bit of knowledge and was soon able to put his natural talent to the test when he became King Jammy's first engineer. The release of their Sleng Teng Riddim in 1984 heralded the era of Digital Reggae, and after he left Jammy's in 1989, he founded his own studio and label, Digital B. The riddims he produced for the budding Dancehall genre of the late 80ies and early 90ies are legendary, but Bobby Digital, a believer in the positive impact of love, unity and friendship, also provided beautiful instrumentals for modern Roots Reggae hits such as Morgan Heritage's Don't Haffi Dread, Sizzla's Black Woman And Child or Buju Banton's Til I'm Laid To Rest (on the seminal Kette Drum riddim) or Gentleman' Dem Gone.
In an interview with the German Riddim Magazine (issue 02/2005), he said "You just have to try to make good riddims, riddims which will be appreciated even after you're gone!" And appreci-loved he is indeed: his bright yellow labels are a must-have in every Vinyl collection, and his compilations Reggae Anthology Vol. 1 and 2 (released by VP Records in 2018) contain nothing but killer tunes. His diligent approach of quality over quantity ensured that each track leaving his mixing desk was a masterpiece.
He defined the sound of a whole genre and will be sorely missed, not only as producer, but also as person. Rest in peace, Bobby Digital!
Voices from the Reggae fraternity:
Buju Banton (IG): "BOBBY DIGITAL. Love you from the heart. Thanks for giving me the chance as a young man. The lord gave the word. Great were company of those that publish it. Rest..."
Una Morgan (Morgan Heritage): "There are no words right now to express the feeling right. Our brother Peter jus let us know you are now flying with the angels. Your talents have touched everyone's career in today's reggae music fraternity and for MORGAN HERITAGE ... YOU were THE BEGINNING. (...) We will miss you Bob, I'm gonna miss mi friend bad. I will always love you my brother, friend, producer. You take good care. Shine on from heaven."
Perfect Giddimani: "Yad on King Bobby Dixon (Rock Of Ages). I walked into your studio with Rebel Chris in 2004 and came back out with the certified classical hit Handcart Bwoy. Thanks for your platform, knowledge, contribution, expertise and tons of unputdownable music for the genre we call Reggae. Nuff repect boss."
Cali P: "Bobby Digital forever! My condolences to the full digital family. Hold it strong. Give Thanks again Legend Bobby for every moment in music, thanks for you and special thanks for everything you teached me in musicand for all the precious moments we spent. I'm sad today but Jah know the way."