RIP Johnny Nash - 'I Can See Clearly Now' Singer Dies At 80
10/07/2020 by Gardy Stein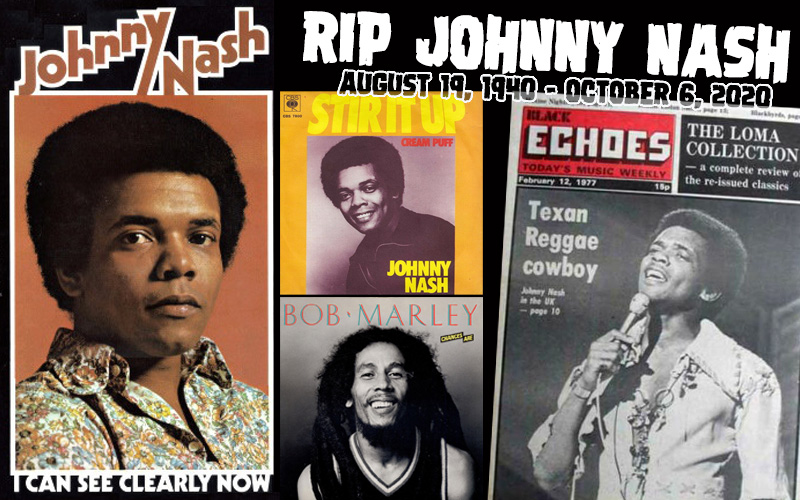 John Lester Nash Jr., born in August 1940, "passed away from natural causes at his home in Houston" last Tuesday (October 6, 2020), his son told CNN, at age 80 after a long and fruitful life. Not only was he a charismatic singer, composer and songwriter, but also an actor, label founder and family father.
Born and raised in Houston, Texas, Johnny started singing in a Church choir and became locally known by covering popular R&B and Blues Songs on a TV Show before recording and releasing his own music from age 18. In 1965, Nash and his manager Danny Sims moved to Jamaica, where he became one of the first non-Jamaican singers to record in Kingston. They founded Cayman Music and JAD Records, and among the first artists signed were Bob Marley, Peter Tosh, Bunny Wailer and Rita Marley.
Nash and Marley worked together on different projects, learning from each other, and according to Dennis Alcapone, "(a) lot of people don't know (...) that this man was the one who introduced Bob Marley to the world outside of Jamaica." Marley, in turn, introduced Nash to his style of playing instruments, and this collaboration clearly influenced Nash in his musical output. His Reggae-song I Can See Clearly Now from the 1972 album by the same name became a hit, reaching Nr. 1 on the US Billboard Charts, and again in 1993, when it was covered by Jimmy Cliff for the soundtrack of the movie Cool Runnings. The well-known track Reggae On Broadway (released in 1975 on Johnny Nash's album Tears On My Pillow) was written and later also performed by Bob Marley [listen here].
Johnny Nash continued to release singles and even an album in 1986 (called Here Again), but none of these subsequent works reached the success of his earlier hits. He leaves his wife, Carli, and two children, Johnny Jr. and Monica, and will be forever remembered for his great contribution to the world of music.
Voices:
The Wailers: "We are very sad to hear about the passing of a true legend, Johnny Nash. An American brother with Jamaican soul, who helped introduce reggae to the UK and the world in the 70s. May his legacy continue through his music."
Dennis Alcapone: "The Great Johnny Nash. A lot of people don't know The truth about the Bob Marley story That This Man was The one who Introduced Bob Marley To the World outside of Jamaica. Johnny Nash Brought Bob to England When He Did over Bob Guva Delly [Guava Jelly]. I Remember Bob Marley Telling me that Johnny don't Keep food in His Kitchen it is only Pills that was in There Bob said that Johnny Had Pills for every food Supplement. That Stucked with me ever Since. What a Beautiful Voice That Man Had. Great Singer.. We did not Hear Anything about Him for a long Time only to Hear now that He Has Past Away. I Can see Clearly Now Why That Was. May His Soul Forever Rest in Peace. Condolences to His Family and Friends. Salute to a Giant."
Trojan Records: "We are saddened to hear about the passing of singer/song-writer, Johnny Nash. One of the unlikeliest of Jamaican music heroes, John Lester 'Johnny' Nash, Jr, had previously enjoyed a successful career as a pop singer in his native US before introducing the sound of rock steady to a global audience. Our condolences to his friends and family."