OUT NOW: Reggaeville Yearbook 2015 & Poll Results
01/29/2016 by Gardy Stein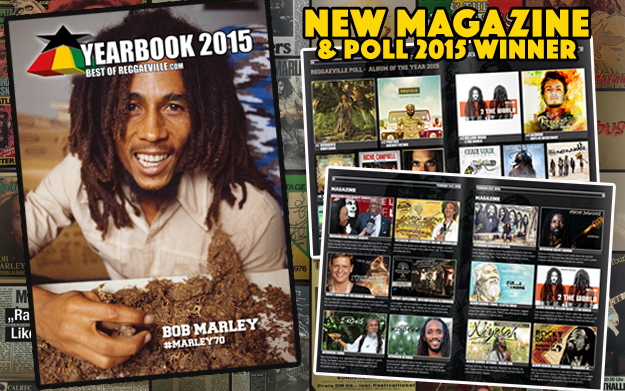 "You never know how strong you are until being strong is your only choice."

Looking back on 2015, it's clear that it was a turbulent year. On a global scale, governments were facing challenges like ongoing armed conflicts, intensified terrorist attacks, an influx of refugees and hostile reactions by "concerned citizens". In Reggaeville, heated discussions simmered around waste man, musical sell-out and the Billboard Reggae Artist of the Year. Other topics were celebrated: the events around Bob Marley's 70th Birthday in Jamaica, for instance. Likewise, the ongoing trend to legalize or – in the case of Jamaica – at least decriminalize the possession of Ganja, giving rise to brands such as "Marley Natural" and "Juju Royal" by Julian Marley. Plus, it paved the way for a Jamaican edition of the High Times Cannabis Cup which was held in Negril for the first time!

"Don't bury your thoughts, put your vision to reality."

Concerning our beloved music, 2015 was full of exciting news and uplifting developments as well. Thus, we were able to witness the inclusion of the so-called Reggae Revival into main-stream media: Vogue went Jamaica! The victory march of Reggae continued, and Reggaeville was there to share magical moments with you. Our international team reported live from Rototom in Spain, SummerJam & Reggae Jam in Germany, Ostroda in Poland, Reggae On The River in the US and Sting in Jamaica – we were even invited to cover the Welcome To Jamrock Reggae Cruise! With hundreds of interviews, album reviews, concert and festival reports as well as thousands of photos on our homepage (resulting in 3,4 million visits), 147 video world premieres on our Youtube channel (38 million views), 23 million plays on Soundcloud, 2 printed magazines and countless posts on our Facebook-page (that broke the record of 1 million fans in October), we did everything we could to keep you updated on the global community's happenings and interesting newcomers. Speaking of which: a new direction was taken in Reggaeville's presentation of the World Reggae Contest, we broadcasted the finals via live stream from the Ostroda Reggae Festival.

"Love would never leave us alone!"

Take some time out to look back on the highlights of the past 12 months, find the hot-off-the-press results of our Reggaeville Poll and indulge in images, words, sound and power with our Yearbook 2015. Enjoy a monthly time-travel to the heydays of Mr. Marley displaying a one of a kind memorabilia collection. And, just like Bob and Seeco here, never forget to smile – 2016 needs our positivity!!!
"I only have one thing I really like to see happen. I like to see mankind live together - black, white, Chinese, everyone - that's all."


One Love


GET THE NEW YEARBOOK HERE!