New CD-Release: John Tobler Interviews... Bob Marley [Samples & Giveaway]
09/22/2011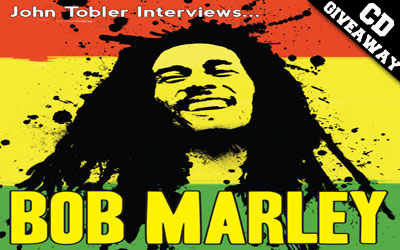 For the first time ever John Tobler makes his three interviews with Bob Marley available to the public. More than 50 minutes unheard interviews.
<object width="100%" height="81" data="http://player.soundcloud.com/player.swf?url=http%3A%2F%2Fapi.soundcloud.com%2Ftracks%2F23943242" type="application/x-shockwave-flash">
<param name="data" value="http://player.soundcloud.com/player.swf?url=http%3A%2F%2Fapi.soundcloud.com%2Ftracks%2F23943242" />
<param name="allowscriptaccess" value="always" />
<param name="src" value="http://player.soundcloud.com/player.swf?url=http%3A%2F%2Fapi.soundcloud.com%2Ftracks%2F23943242" />
</object>
► CONTEST
We are giving away three copies of "John Tobler Interviews... Bob Marley", signed by John Tobler!
We draw the three winners from all users, who will comment on this article, next wednesday sep. 28th! Check the ADD A COMMENT link below and make sure to include your email address, so we can notify you.
This is the official press release, written by John Tobler himself:
Jann Wenner, the co-founder of 'Rolling Stone' magazine, said at Bob Marley's 1994 posthumous introduction into the Rock and Roll Hall of Fame: "Bob Marley was the Third World's first pop superstar. He was the man who introduced the world to the mystic power of reggae. He was a true rocker at heart, and as a songwriter, he brought the lyrical force of Bob Dylan, the personal charisma of John Lennon, and the essential vocal stylings of Smokey Robinson into one voice".

Couldn't have put it better myself. This is how these interviews came about. Back in the years between 1976 and the early 1980s, my main occupation was as an interviewer for BBC Radio One's magazine programme, 'Rock On', working under the leadership of producers Stuart Grundy and later Trevor Dann. Among the many interviewees who crossed my path were The Sex Pistols, The Everly Brothers, Sir Elton John, Blondie and The Eagles, so when someone from Island Records asked whether an interview with Bob Marley was up my street, my answer was positive, not least because my parallel career as an author had started a couple of years earlier with a paperback titled 'Bob Marley & The Roots Of Reggae', which was co-authored by Cathy McKnight (nee Bacon), the wife of an Australian acquaintance. In all honesty, this was not a great book, but the excuse is that it was my first, and also the first (to my knowledge) written about Bob Marley. He probably hadn't actually read it, but when we first met, he was very friendly. The earliest of the interviews took place in a house in West London, maybe in the Shepherd's Bush/West Kensington area.

Although the interviews were very audible and without background noise, it was felt that Bob's Jamaican patois would alienate listeners, who would find him incomprehensible, so the interviews were never broadcast. A second interview was conducted in Paris probably the day after a brilliant gig, probably in 1978, and the third interview ? Who knows ? Not long afterwards, Island Records asked to borrow my interview tapes, and in all honesty, their existence slipped from my memory. None of the three interviews were ever aired by Radio One or anyone else.

About five years ago, a phone call came from America; a film documentary was being made about Bob Marley, apparently produced by Jonathan Demme, who had produced the 1984 concert movie about Talking Heads, 'Stop Making Sense', and could they maybe use bits of my interviews ? Not having seen the interview tapes for a quarter of a century, my first query concerned establishing my ownership and they came through the ether as MP3 files. My wife has listened to them many times and played them to visitors, and has often asked what my plans for them are.

It has been 30 years since Bob Marley's sadly premature death, and according to a website, he initially contracted the cancer which killed him when he injured a toe while playing football. The film referred to above is now nearly complete, and includes less than a minute of my interviews. They remain my copyright, and while they may not reveal much about Bob Marley, hearing him in conversation with me, sort of explaining what inspired songs like 'No Woman, No Cry' and others, and that Brazil is his favourite national football team, will hopefully be of interest to someone. Bob Marley remains the greatest ever reggae musician, despite occasional pretenders and contenders.
The CD is available @ RGFRECORDS.co.uk