Meet the 'Marleys & Co' - Musical Scammers Ripping-Off Popular Artists
06/01/2021 by Steve Topple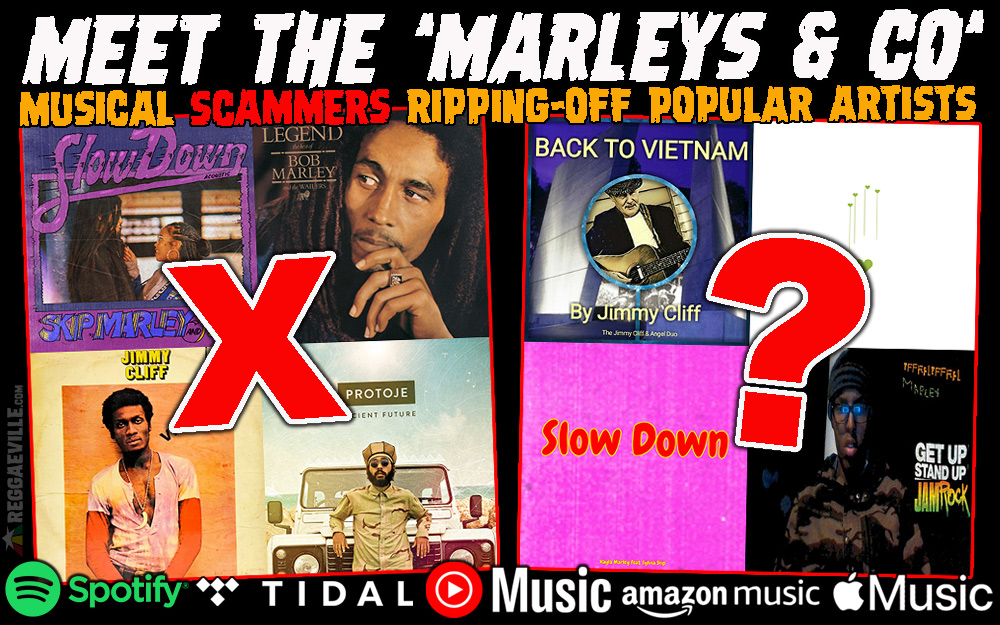 PEOPLE ARE LIKE MUSIC - SOME SPEAK THE TRUTH - AND OTHERS ARE JUST NOISE

There's a new wave of Marleys emerging on the music scene. But don't get too excited, because none of them have anything to do with the legendary family. They're all just using the name to try and get clicks, but the surge of artistic catfishing points to larger issues in the music streaming business.
The team at Reggaeville spend a lot of their time keeping up-to-date on new releases. We search the streaming sites just to make sure we don't miss anything. But recently, we've started to notice some rather unusual artists appearing. And they're not what they seem. We should warn you at this point that none of what we've discovered can be considered 'good' or 'bad' music - it's all just trash. Nevertheless we have compiled a link list at the end of this article. Listen on your own risk!
The first example is people using a famous artist's name to try and gain clicks. Perhaps the most remarkable (not in the good sense) example is an artist called Love.
This curious individual has a real talent – for making the most painful musical concoctions possibly ever know to humanity. They're little more than bad chopping and scratching.

Take the album release Ganjâiyah [released March 14, 2021]. Love has blessed the world with 13 variations of the title track, if you can call it that. Because it's little more than some tuneless, incoherent rambling with a heavy dose of reverb thrown in. But how does the Marley name come into Ganjâiyah?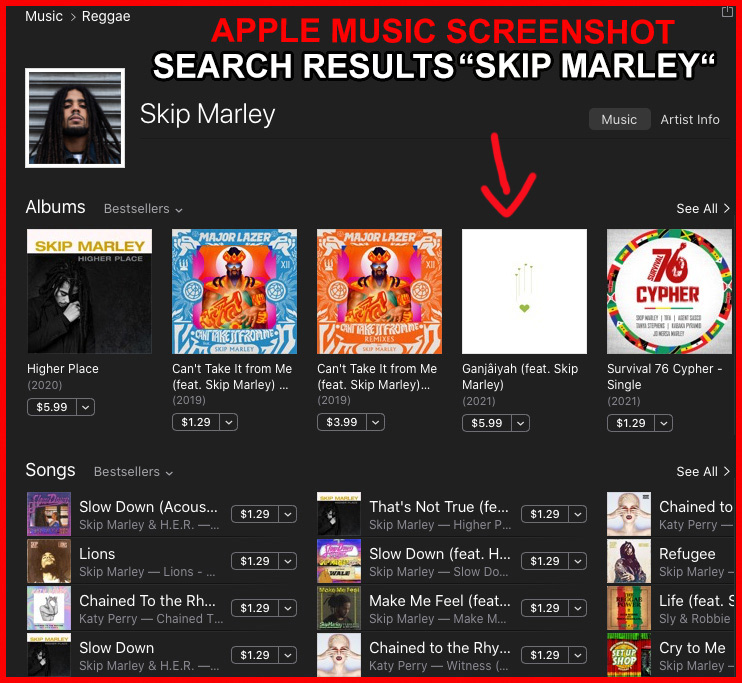 Well – Skip Marley is listed as feature artist on all the tracks. If you can find Skip Marley in Variations on Ganjâiyah, then all power to you, because we couldn't hear anything - except the caterwauling, obviously. Spotify has removed the release in the meantime. But Apple Music and YouTube don't appear to have spotted this dubious album, yet.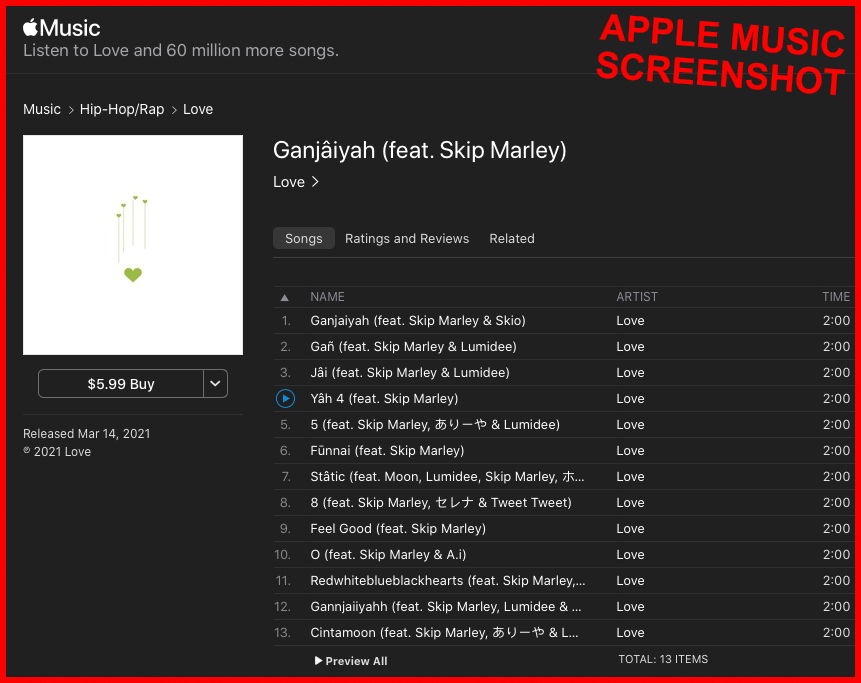 Moreover, Love is not the only to do this. For example, meet Son Diezel. Again, he appears to be real. Much like Love, however, he credits artists on some of his tracks when they don't actually feature. Apparently, Diezel has worked with Protoje on 46(!) songs in 2020 and 2021. The most recent release is from May 28.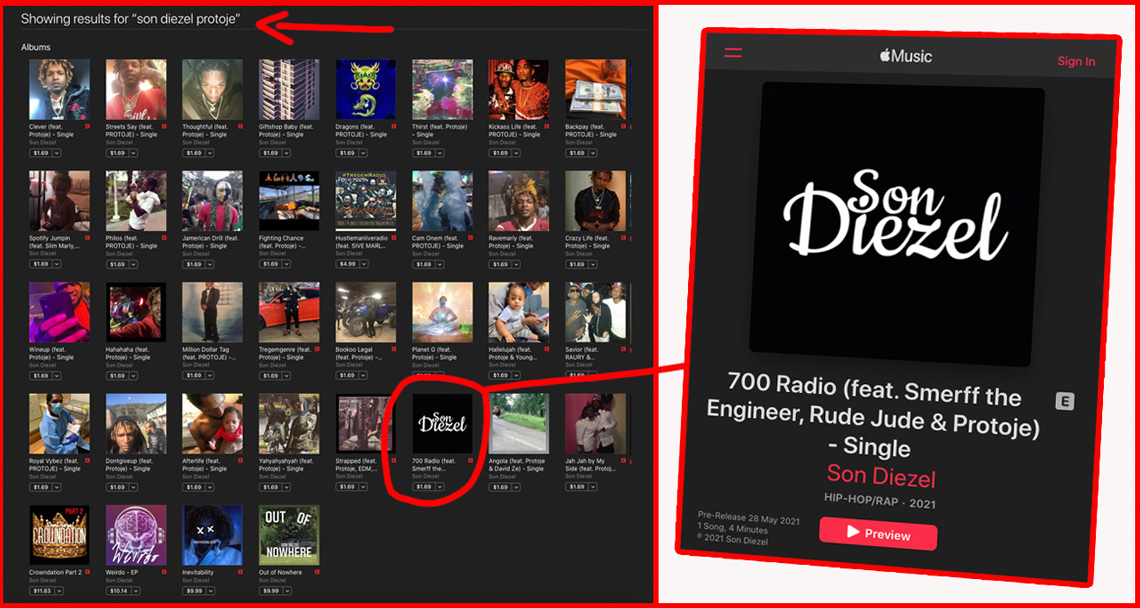 And then, he takes things one step further: the track WineUp supposedly features Protoje (it doesn't, obviously), but it actually uses a sample of the Shenseea & Boom Boom smash Wine. It's even more than a sample: the entire hook is on loop for the whole song. He's done the same with the track YahYahYahYah – ripping off Aidonia's Yeah Yeah.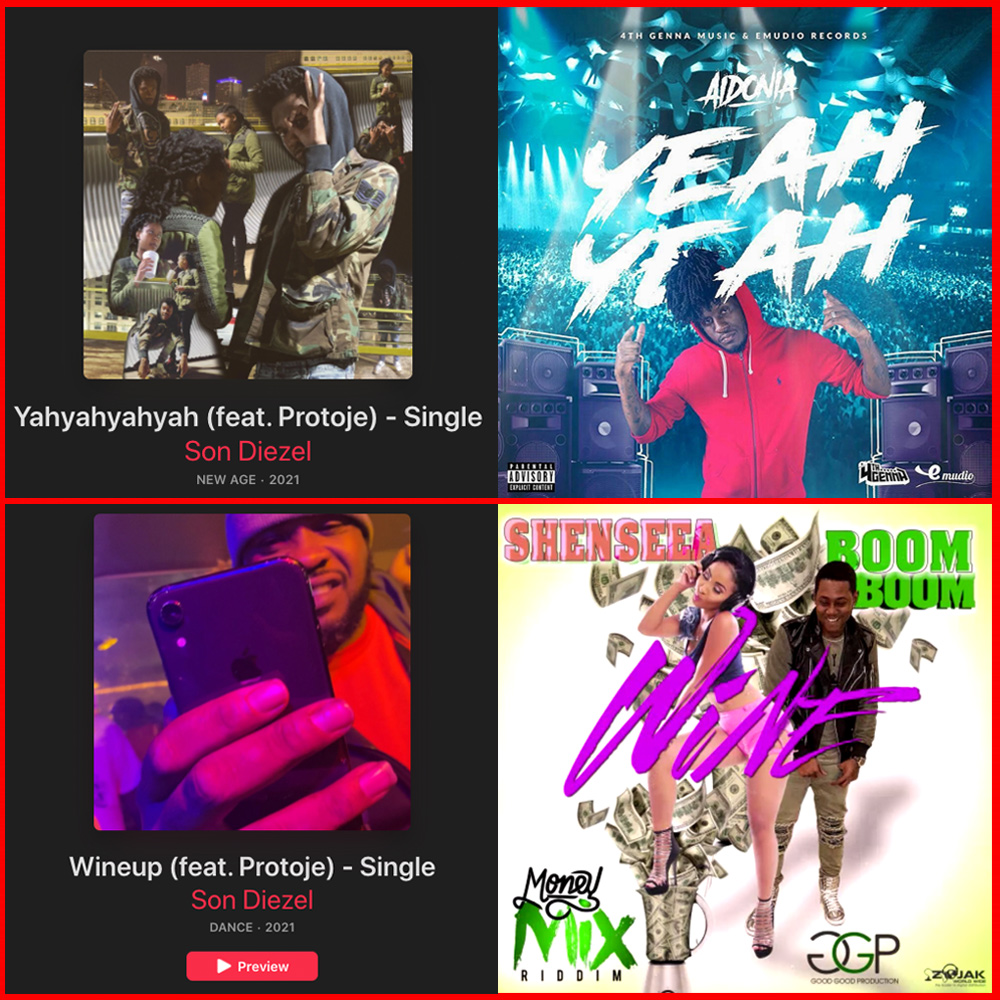 Then we have a verified Spotify artist called LSTINTRNSLTN. They've credited Wayne Wonder on the track N L G. Jah Cure apparently features on another track, Take Me Back, but once again, we can't hear either artist's contributions.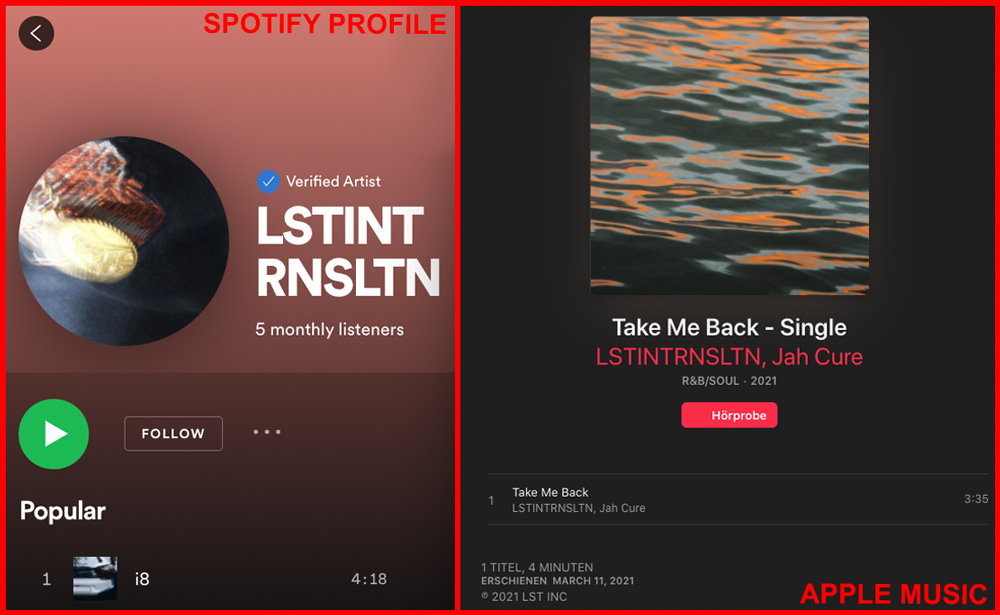 But crediting an artist to generate hits is not the only method these musical monstrosities use. Another example of this skulduggery is when someone literally rips off an artist in their entirety. Well, why not just take the artist's name and be done with it?
Meet Bob Marley Jr. Of course - no relation to the real Marley family whatsoever. He appears to be a guy from South Africa who is around since some years under several aliases: David JasonMan, Jofes Skillzmen, David SkillzMen or TffRelTffRel TekGong Marley.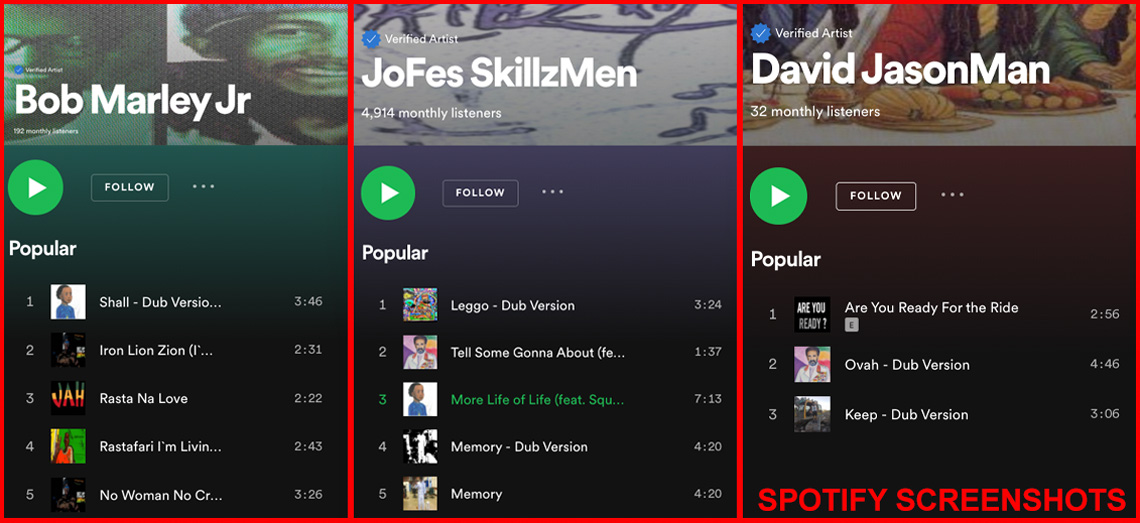 Not that streaming sites have noticed this fake artist. Bob Marley Jr has his own topic and channel on YouTube. He also has his own verified Spotify page, which even includes an entire album of Marley work. And it's paid off: Bob Marley Jr has had over 20,000 streams on Spotify. One track called Shall has had over 12,800 listens. The song is a rip-off of Jah Shall Reign by UK legends Twinkle Brothers with Jah Shaka. Yet clearly Spotify's algorithms haven't spotted this.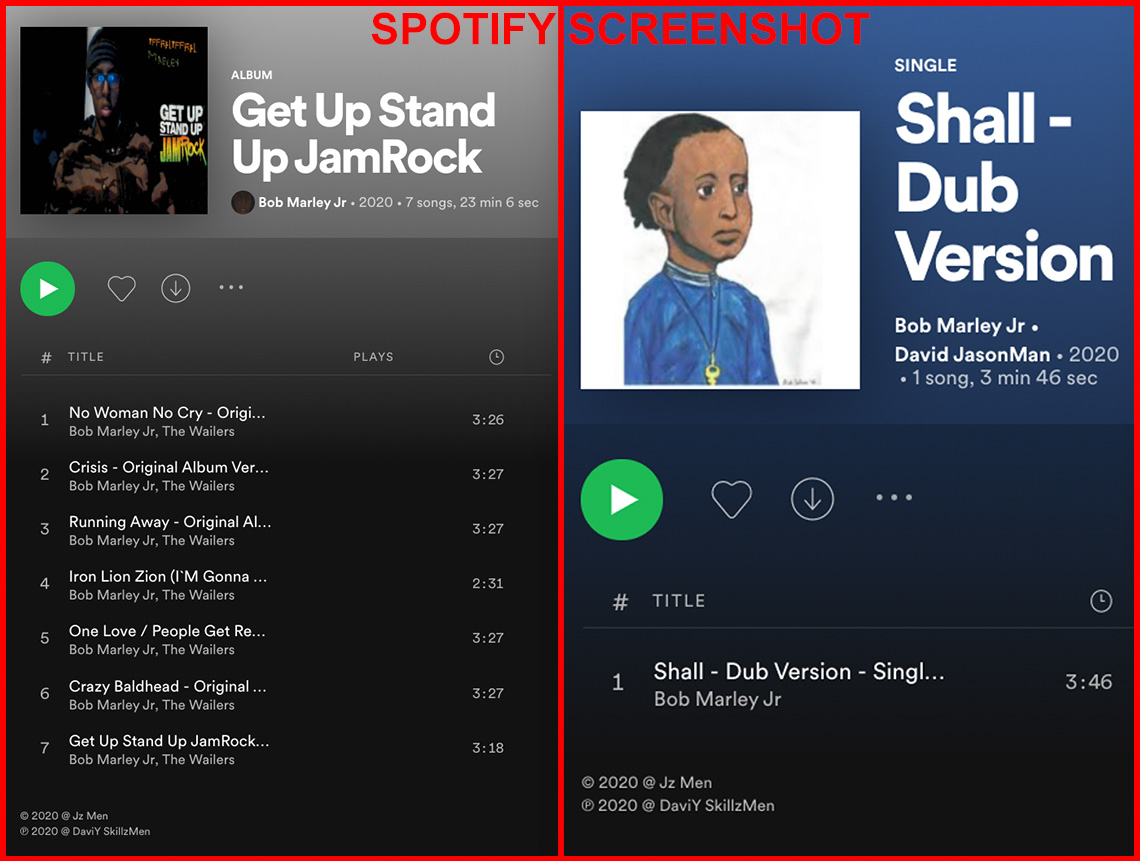 To be fair, the algorithms did spot some of Bob Marley Jr's other tracks that weren't his – because several of them have been removed. One that stands out is Kokoo (Dub Version). It was actually a riddim by well-known producer TEKA, but Bob Marley Jr credited the label and composer as Tuff Gong Records/ Bob Marley Music respectively.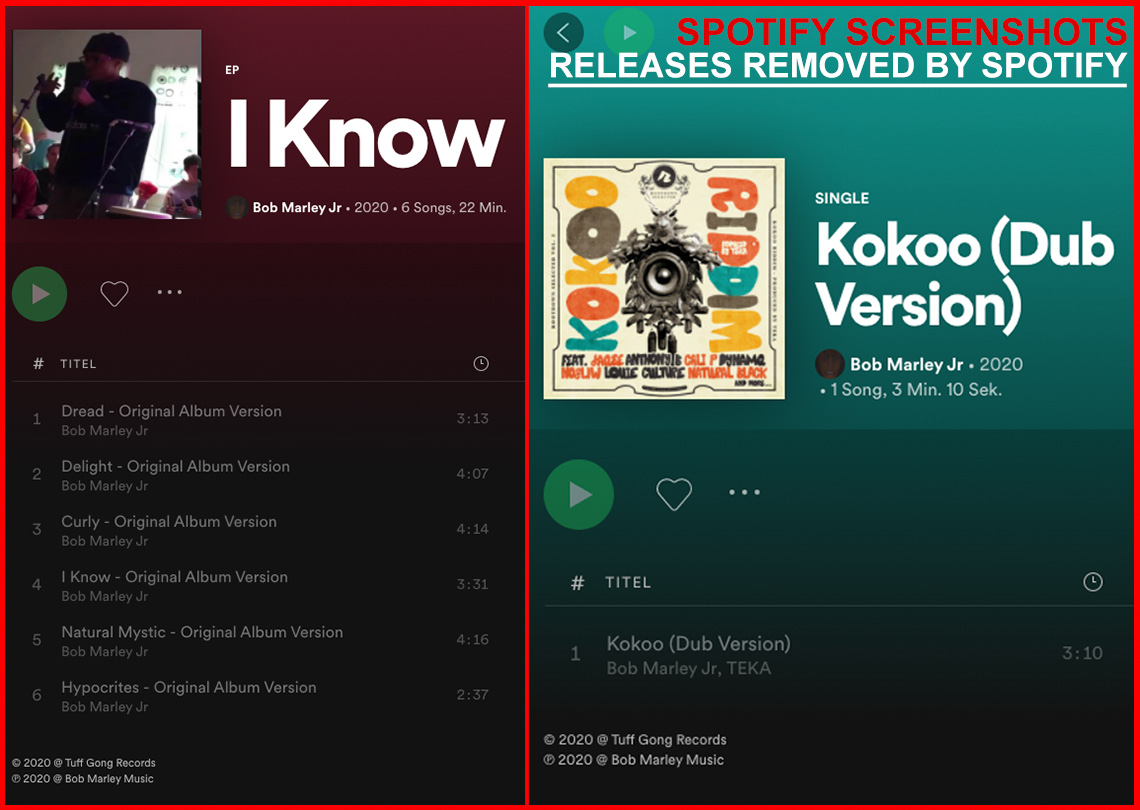 Finally, there's also a relation of Bob's we apparently didn't know about. Meet Kayla Marley: a young, female vocalist who's released an attractive cover of the Skip Marley and H.E.R. hit Slow Down. It also features the talents of another up-and-coming artist called Sylvia Skip. No, really. Sylvia Skip.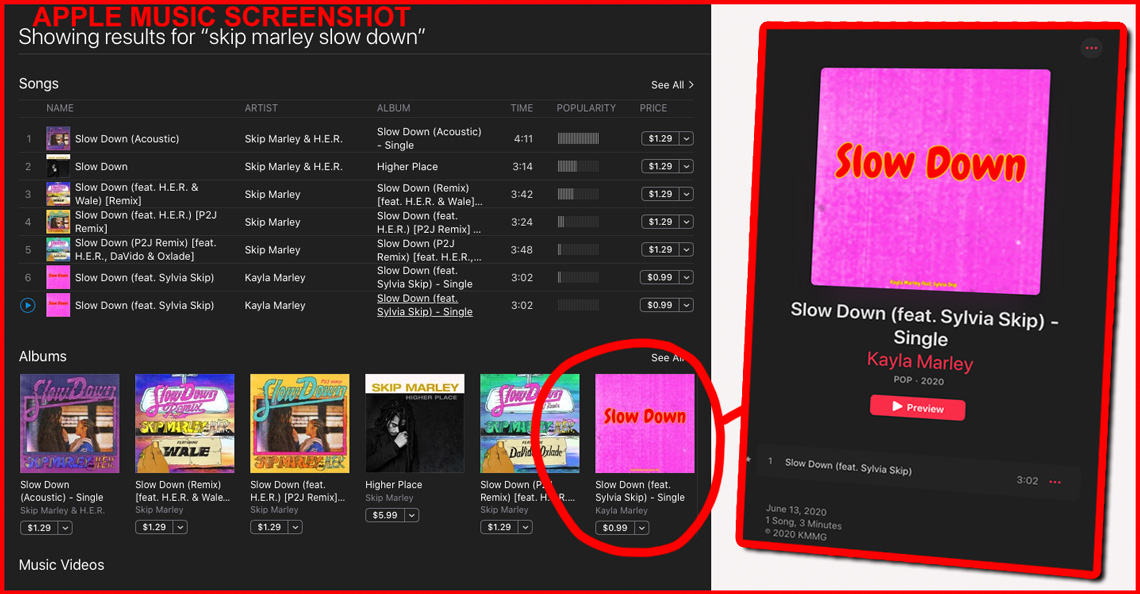 Except, of course, neither Kayla nor Sylvia exist - a YouTuber called Nez actually did the vocals. Solid works, Nez. Unfortunately, someone else has ripped off your pleasing cover version – seemingly hoping to gain clicks. [Click here to watch 'Nez - Slow Down']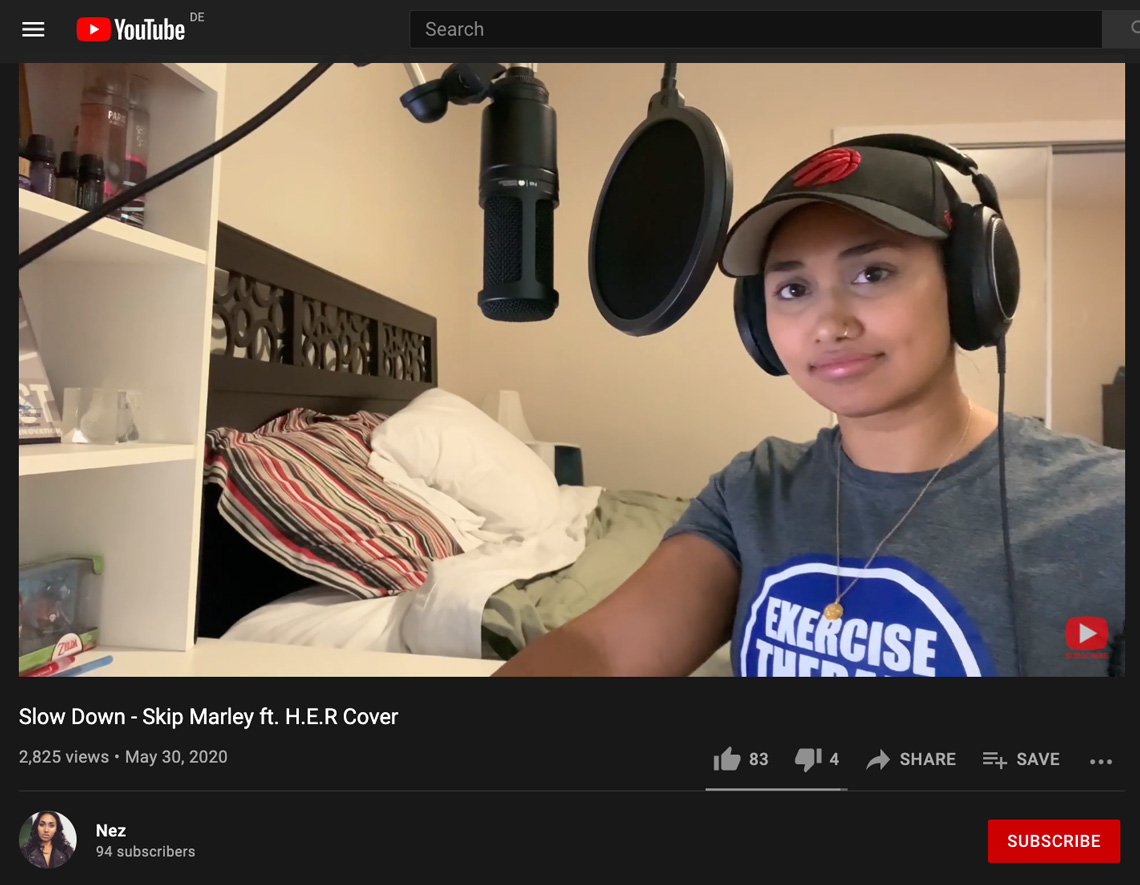 Now, we could go on. And on. And on. The examples of this kind of musical catfishing are numerous. For example, take the country singer calling himself James W. He released a whole album in 2018, and six of the songs allegedly featured Reggae veteran Jimmy Cliff. Of course, they didn't, but James W even went as far as releasing some of them as singles under the name of another artist – this time, one Teressa Dykes. Most ­recently (April 16, 2021) Jimmy Cliff was featured on two singles released by Diversify: Away From U and A Mess. Guess what? Of course Jimmy Cliff does not appear in these songs.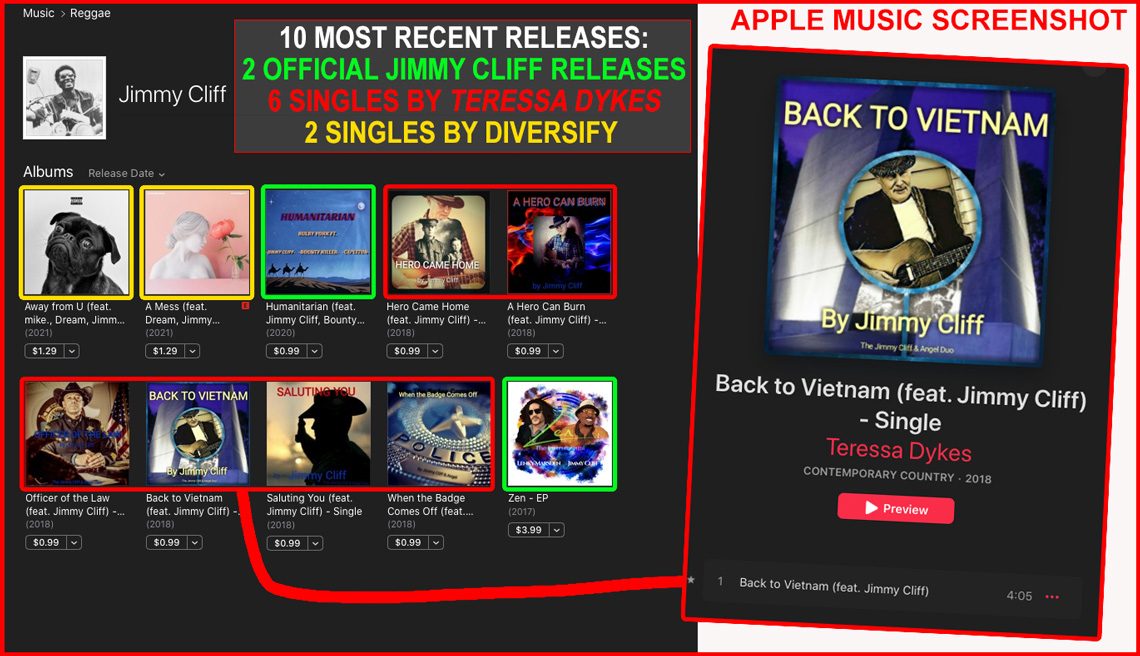 ­­
But why does any of this matter?
Firstly, because all these cases expose the faults in modern streaming services. Reputable distribution companies are putting their names to what is essentially trash – like UnitedMasters distributing Love's album and Son Diezel's tracks. Sites like YouTube's algorithms aren't even questioning this. And we found all these artists on streaming sites.
Secondly, we found most of these fake artists by searching for the real ones. So, it means streaming sites are muddling the genuine content with the trash stuff. In an age where sites like Spotify already routinely pay genuine artists somewhat unfairly – having their work watered down even further is not OK.
Finally, the story poses bigger questions about the music industry more broadly. Gone are the days when the only way to ensure a hit record was via a label. Now, everyone can share their music with the world, and people you've never heard of can suddenly become stars overnight. But this presents challenges of its own.
With a marketplace now saturated with artists, people desperate to get their music noticed (and therefore, earn money) will try anything to achieve their goals. They'll even got to the extent of feeding off one of the greatest names in music history to do so. Sadly, it's endemic of the 21st century "attention economy" – where fame and talent are disposable yet everyone wants these things. If the joy of true artistry is to continue to thrive, then streaming services need to up their game. Because the musical catfishing is becoming a major problem.

So, in the words of Diversify allegedly featuring Jimmy Cliff, it's indeed "A MESS", and a massive one at that. Luckily (except if you're the scamming artists), the streams we were able to identify on Spotify and YouTube are not big in numbers. Reggaeville hopes that the artists' labels and their managements pay close attention and ultimately take action.
RELEVANT ARTIST AND STREAM LINKS:
LOVE @ SPOTIFY / APPLE MUSIC / TIDAL
LOVE feat. SKIP MARLEY - GANJÂIYAH
@ APPLE MUSIC / YOUTUBE MUSIC / UNITEDMASTERS

UPDATE JUNE 9, 2021: MOST OF THE PROTOJE RELATED LINKS BELOW HAVE BEEN TAKEN OFFLINE AFTER THE PUBLICATION OF OUR ARTICLE!
SON DIEZEL @ SPOTIFY / APPLE MUSIC / YOUTUBE MUSIC / DEEZER / TIDAL
SON DIEZEL & PROTOJE @ SPOTIFY / APPLE MUSIC / AMAZON
SON DIEZEL feat. PROTOJE - WINEUP @ SPOTIFY / APPLE MUSIC / YOUTUBE MUSIC
SON DIEZEL feat. PROTOJE - YAHYAHYAHYAH @ SPOTIFY / APPLE MUSIC / YOUTUBE MUSIC
LSTINTRNSLTN feat. WAYNE WONDER - NLG
@ SPOTIFY / APPLE MUSIC / YOUTUBE MUSIC
LSTINTRNSLTN feat. JAH CURE - TAKE ME BACK
@ SPOTIFY (offline) / APPLE MUSIC (offline)

BOB MARLEY JR @ SPOTIFY / APPLE MUSIC / TIDAL (offline) / YOUTUBE MUSIC
aka JOFES SKILLZMEN @ SPOTIFY / APPLE MUSIC / TIDAL
aka DAVID JASONMAN @ SPOTIFY / APPLE MUSIC / TIDAL
'BOB MARLEY JR - GET UP STAND UP JAMROCK' Album
@ SPOTIFY / APPLE MUSIC / YOUTUBE MUSIC / TIDAL
BOB MARLEY JR - SHALL DUB VERSION
@ SPOTIFY / APPLE MUSIC / YOUTUBE MUSIC

KAYLA MARLEY feat. SYLVIA SKIP - SLOW DOWN
@ SPOTIFY / APPLE MUSIC / YOUTUBE MUSIC / DEEZER / AMAZON
JAMES W @ SPOTIFY / APPLE MUSIC / YOUTUBE MUSIC
aka TERESSA DYKES @ SPOTIFY / APPLE MUSIC / TIDAL / YOUTUBE MUSIC
TERESSA DYKES feat. JIMMY CLIFF @ SPOTIFY / APPLE MUSIC / YOUTUBE MUSIC
DIVERSIFY feat. JIMMY CLIFF
Single AWAY FROM U @ APPLE MUSIC / YOUTUBE MUSIC / DEEZER / AMAZON
Single A MESS @ APPLE MUSIC / YOUTUBE MUSIC / DEEZER / AMAZON
IN THE PRESS:
The described issue is not new and has been addressed a few times in recent years. We have compiled some articles. In the most recent article, which was published three weeks ago, you will recognize a familiar name...

The Artist Impostors of Spotify [Slate.com - May 10, 2021]
"Diezel described his method to me: sampling a song in his own music and publicly crediting the sampled artist as a featured guest. […] I sampled Protoje, a reggae artist from Jamaica. I made a beat with one of his songs—you can't tell he's in it, but I sampled him—and when I uploaded the song,[…] In other words, he wasn't getting many streams until his music Spotify misleadingly flagged this song, titled "Afterlife," for Protoje fans."

How Artist Imposters and Fake Songs Sneak Onto Streaming Services [Pitchfork.com - August 21, 2019]
"When songs leak on Spotify and Apple Music, illegal uploads can generate substantial royalty payments—but for whom?"

'Fake Artists' Have Billions of Streams on Spotify. Is Sony Now Playing the Service at Its Own Game? [RollingStone.com - May 15, 2019]
"Large record companies – who have been complaining about the "fake artist" practice for two years – appear to be adopting a "if you can't beat 'em, join 'em" approach"
PLAYLIST
A selection of the songs just mentioned is included in the YouTube playlist below. LISTEN AT YOUR OWN RISK!

In the second video embedded below you will find the most enjoyable, authentic piece of music we came across while researching this article: Nez's lovely cover of Skip Marley and H.E.R. – Slow Down: