Lost Negatives - Bob Marley & The Wailers Photo Collection Auctioned for £27,0000
11/27/2018 by Reggaeville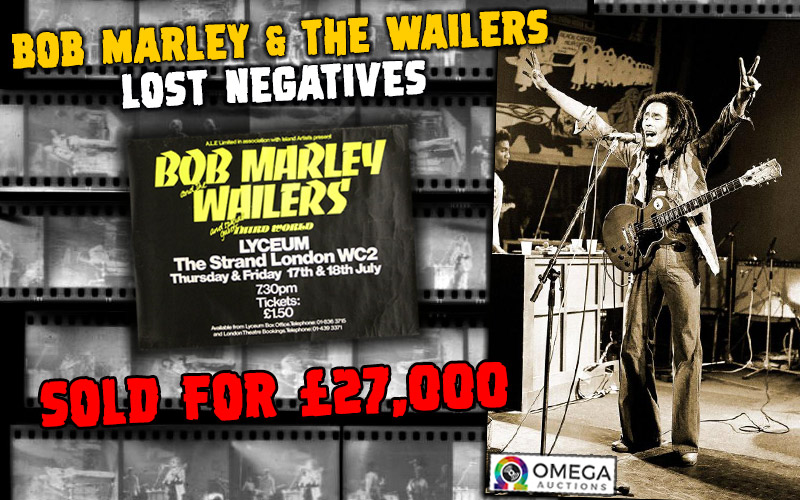 Omega Auctions based in the UK are one of the top auction houses worldwide for music memorabilia and vinyl records. Today the Music Memorabilia, Instruments & Equipment auction took place with a total of 503 lots. Included were just a few Reggae items. Several UB40 record awards were offered, but remained unsold without any bids.

The auction's highlight was an extremely rare collection of 72 previously unseen Bob Marley & The Wailers black and white 35mm photo negatives. The photos were taken by David Crowe in London in July 1975 at the Lyceum Theatre. Crowe was part of the Sex Pistols entourage and attended the concert that night with John Lydon, Sid Vicious, Jah Wobble and Keith Levine. The images had largely been forgotten about until they were unearthed during a house move.

Marley's concerts in London are known as the most widely-discussed live shows of its era. Rolling Stone magazine wrote: "Bob Marley's two concerts at the Lyceum Theatre in London in July 1975 were more than just musically transcendent shows: they were the triumphant peak of Marley's first proper tour as a solo artist and would elevate him from cult act to international icon – in part thanks to Live!, a concert document from the shows that gave him his first international Top 40 hit, "No Woman, No Cry."

The photo collection was estimated with a value of £30,000 - £50,000. The guide price of £30,000 was obviously a bit too high. After a short time without any bids the auctioneer asked for £13,000, which was the start to a lively bidding. 11 bids via floor and internet made it reach £27,000! With the usual buyers premium fee it will be approximately a total of £35,000!