IN THE PRESS 1981... RIP Bob Marley - May 11, 1981
05/11/2021 by Reggaeville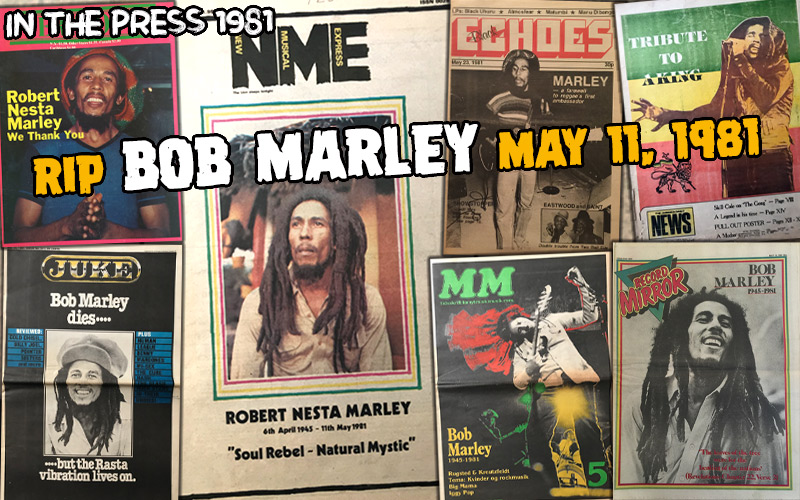 Today (May 11, 2021) marks the 40th anniversary of Bob Marley's death. Marley died on Monday May 11, 1981 in in Miami, FL. We have compiled press coverage to take you back to 1981. Watch the video animation above. It starts with the PR Newswire news release. Read it below:
FROM PR NEWSWIRE IN NYC… TO WORLD NEWS
"Kingston, Jamaica. May 12, 1981 - Jamaica House: The executive offices of Prime Minister Edward P.G. Seaga of Jamaica this afternoon announced that the body of Bob Marley, 36-year-old Reggae Musician who died May 11 and who was a recipient of the Jamaica Order of Merit, will lie in state at Jamaica National Arena in Kingston on May 20 and 21.
On May 21 at 1:30pm an official Funeral Service to be attended by the Prime Minister and his family will take place at the Arena, which can accommodate 10,000 people. Following the service, a procession will stop at the Bob Marley Tuff Gong International Headquarters and at the Ethiopian Orthodox Church at Maxfield Avenue in Kingston. It will then proceed to Tinson Pen Airport, where the body will be flown to Marley's birthplace, Nine Miles in St.Ann Parish on the north coast, near Ocho Rios. Marley will be buried and a shrine established at Nine Miles.
Prime Minister Seaga has rescheduled his annual budget address to Parliament from May 21 to May 28 to be able to attend the service.
The Marley Family has asked that no floral tributes be sent and requested donations be made to the Honorable Bob Marley Memorial Account, the Royal Bank of Jamaica LTD. PO Box 96, Kingston, Jamaica. Contributions will be divided between the Cancer Society and the Ethiopian Orthodox Church."
Full list of press coverage used in the video:
PR Newswire NYC (May 12, 1981)
Official Funeral Service Program (May 21, 1981)
New Musical Express (May 16, 1981)
JUKE Magazine (May 23, 1981)
Black Echoes (May 23, 1981)
Reader - Los Angeles's Free Weekly (May 22, 1981)
Melody Maker (May 16, 1981)
Record Mirror (May 16, 1981)
MM Magazine (June 1981)
Merry-Go-Round (June 11, 1981)
Rock & Folk Magazine (June 1981)
BEST Magazine (June 1981)
Pop Rocky (June 10, 1981)
Bravo (May 27, 1981)
Rennbahn Express (July 1981)
Everybody's (July 1981)
The Jamaica Daily News (May 21, 1981)
PLUS adverts from the Jamaica Daily News:
Tuff Gong
Island Records
Randy's Record Mart / VP Records
Dynamic Sounds Recording Co. LTD.
WLIB Radio
Chalice
Jamaica Pegasus
Federal Records
The I.C.D. Group of Companies
British American Insurance Co. Limited
Disco Inferno
John Deere
Antillean
Ital Craft
Black Image
FiWi Incorporated