Bob Marley Ice Cream Flavor – Satisfy My Bowl
09/25/2014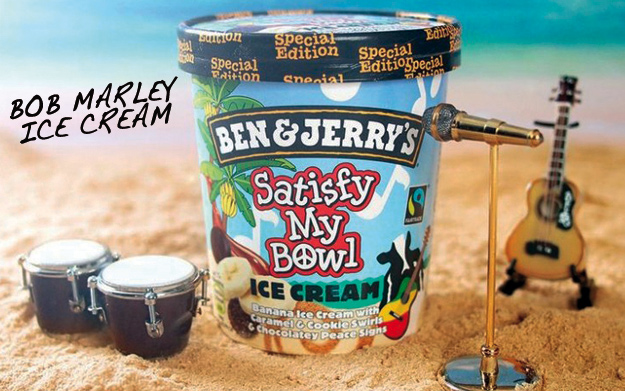 A new Marley product? An Ice-Cream? Surley this will get the usual "Sell Out!", "That is soooo Babylon!" and "This is not what Bob Marley stood for :(" feedbacks.

So we start this article with a quote from Cedella Marley:

"I don't think lots of people know daddy was a very smart businessman. He started his own record label, built his own studio, started his own distribution company where he was pressing records. He was very strict when it came to his business. He was the first person to print a Bob Marley T-shirt." [Wall Street Journal - January 2014]

Ben & Jerry's in partnership with 1Love Foundation are celebrating the 30th Anniversary of Bob Marley's Legend album with the launch of a special ice cream flavor called Satisfy My Bowl, which was named by a Ben & Jerry's fan.

It's a banana ice cream with caramel, cookie swirls and chocolate peace signs.

Proceeds from the special-edition flavor will enable the 1Love Foundation and Partners for Youth Empowerment to empower young people in Jamaica.

Satisfy My Bowl is available across the UK, the Netherlands, Ireland, Denmark, Finland, Sweden and Norway.

That the new flavour is not available in America resulted in a BRING IT TO AMERICA petition, which got more than 5,000 signatures already... check it and join it @ IPETITIONS.com.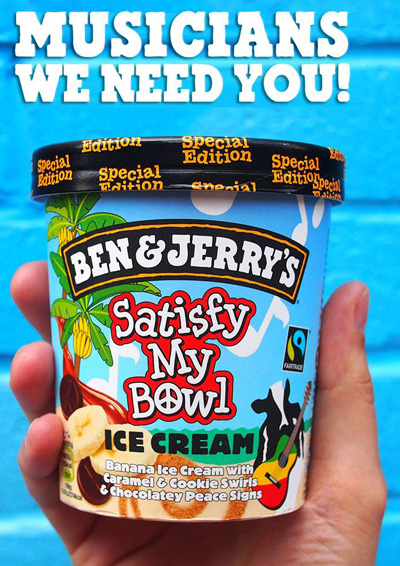 Leading lifestyle magazine Thrillist.com made the Taste-Test and came to a positive conclusion:
"Honestly, I was looking hard for criticism here. But -- its novelty nature aside -- this is actually a really great ice cream. Everything's well-balanced, tasty, and scarily moreish" [read the full article @ THRILLIST.com]

The Satisfy My Bowl flavour will get its own official launch event in the UK on October 15th. Artists of all styles are invited to send in their own version of a Marley classic from the 'Legend' album. A jury will choose five of favourites to appear at the Legend Session and be introduced by the one, the only, David Rodigan MBE.

All details and ways to submit (deadline September 30th) your song to be part of the Legend Session @ BENJERRY.co.uk