Bob Marley Awarded English Heritage Blue Plaque in London
10/02/2019 by Press Release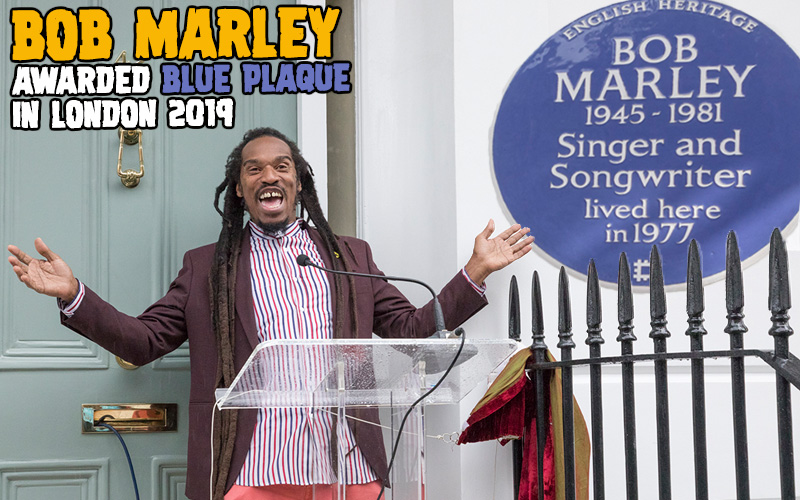 Jamaican singer-songwriter Bob Marley has been honoured with an English Heritage blue on October 1, 2019, joining the likes of Jimi Hendrix, John Lennon, George Frideric Handel and Wolfgang Amadeus Mozart. The plaque marks number 42 Oakley Street, the Chelsea house where Marley lived in 1977. It was while living here that he and the Wailers finished recording their album Exodus, which featured some of his biggest hits, including 'Jamming', 'Waiting in Vain', 'Three Little Birds' and 'One Love'. With this address as his Chelsea home, Marley said he regarded London "as a second base," often playing football with his bandmates at the pitches in nearby Battersea Park.

Poet, writer and actor Benjamin Zephaniah, said: "It's very difficult to say what Bob Marley would have said about this plaque, but he did once say, 'Live for yourself, you will live in vain, live for others, and you will live again.' So I'm quite sure he would say that this is for his people and his music.

His music came from a small island in the Caribbean and shook up the world, and his words are even more relevant today when there is so much division. But the truth is although he was at the forefront of our music, the longevity of this music and his words have shown that he was one of the best songwriters of all time. We should all be proud that he chose to live with us for a time."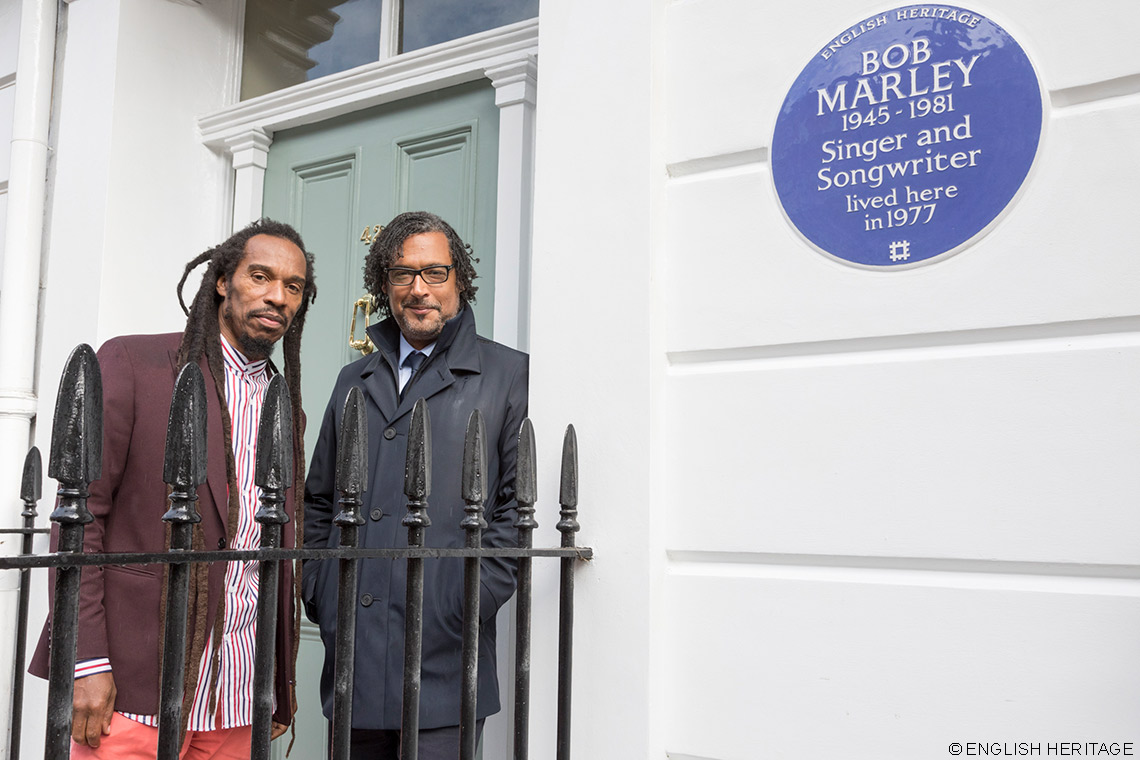 Blue Plaques Panel member, David Olusoga, said: "Bob Marley was the first superstar to emerge from the developing world. More than a brilliant musician, he became a cultural icon who blazed a trail for other black artists.

It's wonderful to – finally – be able honour him with a blue plaque here on Oakley Street today, after all the time and determination that went into proving that this was indeed Bob's house. Thanks to new testimonies there is no longer any doubt.

While the number of blue plaques to black and Asian figures from history is still unacceptably low, Bob Marley's plaque is a testament to how our scheme is changing, as English Heritage continues to work to overcome the obstacles that have led to this underrepresentation."

Currently only 4% of the 900 plus Blue Plaques across the capital are dedicated to black and Asian figures from history. This is partly explained by the low number of public nominations fulfilling the blue plaque criteria and by the all too frequent lack – or relative inaccessibility – of historic records establishing a definitive link between the person in question and the building in which they lived. Marley is a case in point, being absent from the sources usually used to confirm addresses, such as electoral registers and phone directories.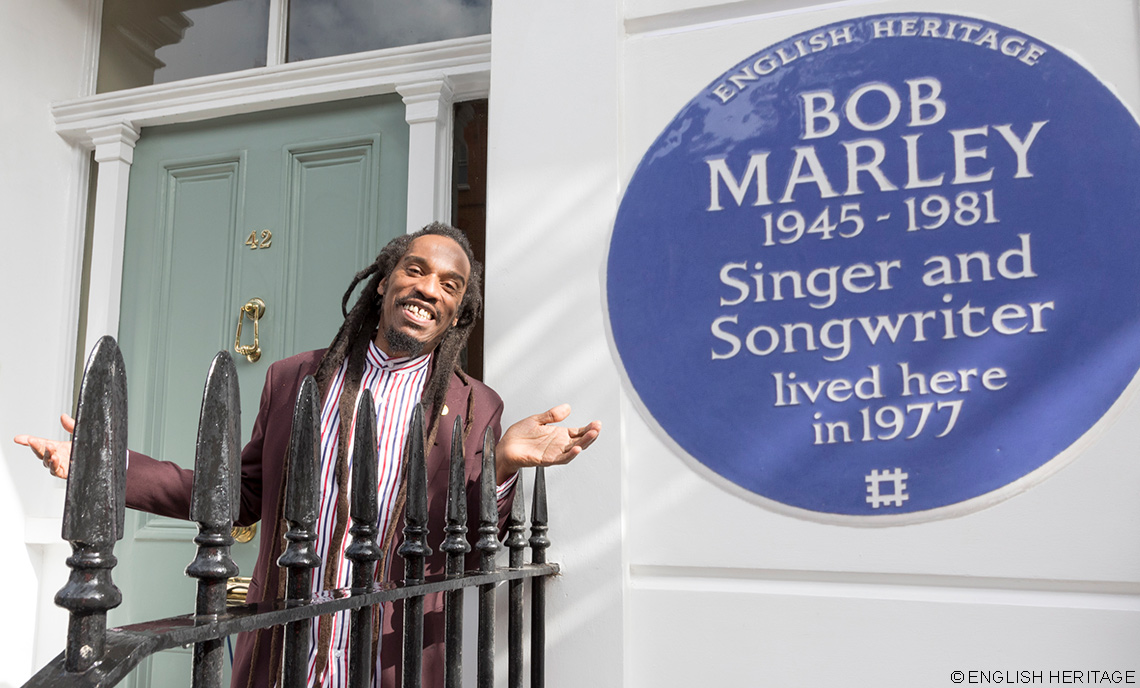 A year after it became an independent charity in 2015, English Heritage established a BAME working group tasked with advising on diversity in the Blue Plaques Scheme. That same year, English Heritage's Blue Plaques team opened a cold-case review initiated by both our Senior Historian, Howard Spencer, and the BAME working group – thanks to new and re-examined evidence, the plaque commemorating Bob Marley's house on Oakley Street was approved in 2017.

The most tantalising piece of primary evidence arose from Marley's arrest for possession of cannabis on 10 March 1977, along with his bassist Aston 'Family Man' Barrett. On the court records, Barrett's address is given as 42 Oakley Street, and though Marley's is cited as 27 Collingham Gardens, anecdotal evidence suggests that he may have given this address – where his backing singers were staying – in a bid to prevent the police from searching Oakley Street for drugs. The unanimous recollection of those who were contemporary witnesses is that Oakley Street was both the band headquarters and Marley's own primary address at this time.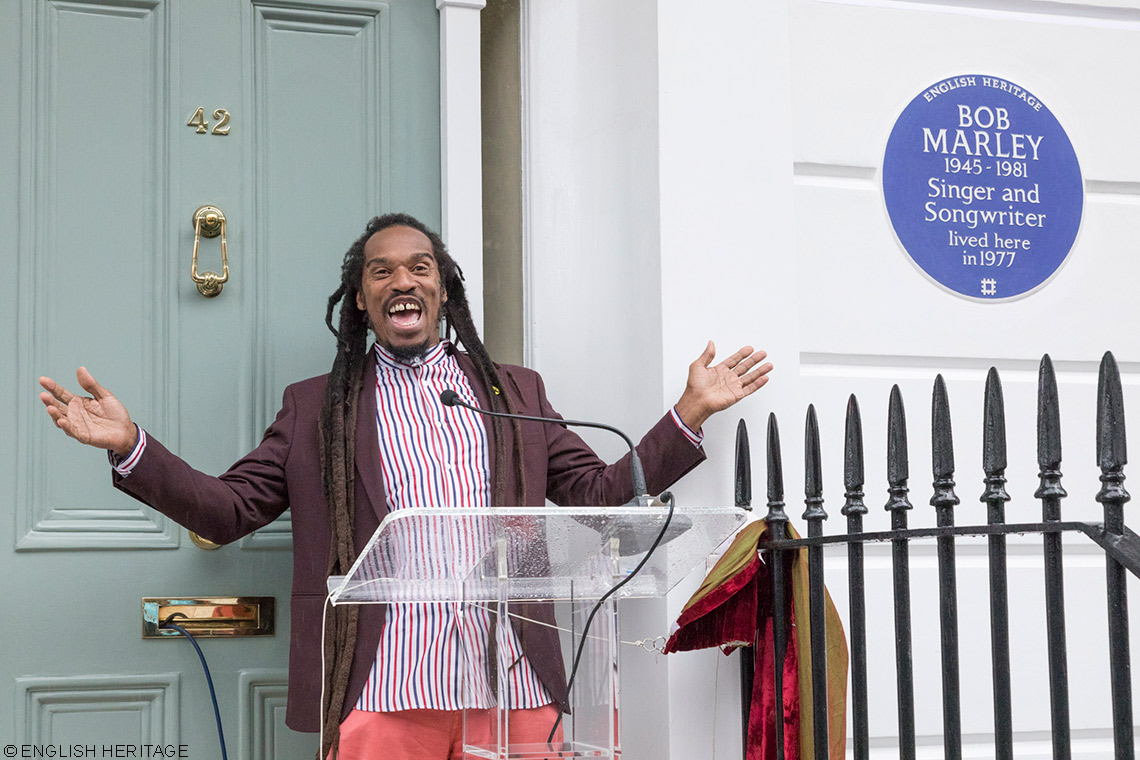 It was during the band's residence at this four storey terraced house in Oakley Street, that the later stages of the recording and production of Exodus were carried out. According to Marley's long-time manager, Don Taylor, the musician's habit while living here was to rise late and play football in Battersea Park for what was left of the morning, before going to the studio, where he would often remain until the early hours.

ABOUT: The London blue plaques scheme celebrates the link between significant figures of the past and the buildings in which they lived and worked. All nominations received by English Heritage are judged by the same strict criteria:
they should be regarded as eminent within their own profession or calling,
their achievements should have made an exceptional impact in terms of public recognition or their achievements deserve national recognition,
they must have been dead for twenty years,
they should have lived in London for a significant period, in time or importance, within their life and work,
the London building in which they lived or worked should still survive and must not have a significantly altered exterior.

Other musicians commemorated by the Blue Plaques Scheme include:
Jimi Hendrix, 23 Brook Street, Mayfair
John Lennon, 34 Montagu Square, Marylebone
Freddie Mercury (Fred Bulsara), 2 2 Gladstone Avenue, Feltham
Wolfgang Amadeus Mozart, 180 Ebury Street, Belgravia