Bob Marley 2011 - So Jack Seh... #5
04/04/2011 by Jack Low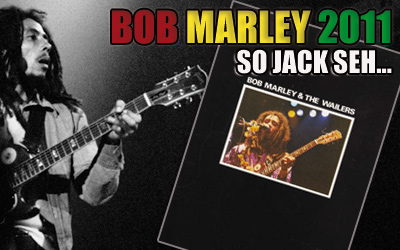 Hello, hope everyone is feeling irie!!!! I have been busy doing research for the upcoming So Jack Seh in the last few weeks. This week I wanted to talked about Japan and Bob Marley & The Wailers time there. Japan was one of Bob's favorite places in the world. This is where Bob Marley first found out about Sushi and how it was made. This ended up being a piece of his diet until he went to Zion. I hope all of you had the chance to check out some of Bob Marley & The Wailers Japan shows they are magical.

What we need to do right now is focus on Japan and its people. I hope all of you can donate to the Red Cross. I also hope some news of Bob Marley in Japan in this weeks So Jack Seh will bring some of Jah's Love for Japan and her people. As some close friends of mine have a song called "Lets do what we can for Japan". - M. Ross and C Nyberg. This song is very positive and is very important to me and should be to the reggae world. One of the strongest Bob Marley collectors out there Mr. Hideki from Japan has helped many collectors with data research about Bob Marley and the Wailers concerts in 1979. I wanted to let everyone know he is doing his fine and he is helping his country recover.

My story about Japan comes from 2001 when I met up with some other Bob Marley collectors from the Distant Drums magazine in New Jersey for the first and only so called Wailers fest. I have to say it was a meeting on the brains of a global magnitude. There where the main men who collected Bob Marley's music. The names are names that can go down in the history books. James Wilson of the famous bobmarley.freeserve.co.uk , Gael Doyen from France, Matthew Smith of Jamaica, Hideki from Japan, Paul Johnson from the United States, Mohammed from Pakistan, Cory Nyberg from the United States, Lowell Taubman from United States, and myself. There are some serious Marley collectors that were not there that I wish were here are just to name a few, Lex Poindexter, Jeremy Collingswood, Julian Schimdt, Roger Steffens, Glen Lockley just to name a few.
To make a long story short while we where all meeting we got wind of some one in Japan that recorded all of the Japan shows from the audience. What a score!!! I almost fell over when we found out. It was not just some bogus person it was the real deal. Luckily he loved soul and we found some soul music to trade this person to get the full 1979 Bob Marley and the Wailers Japan Show.

Most people might look at set lists of the Japan shows and say to themselves that these concerts do not seem to be the set list tour as many 1979 shows. Many fans do not realize that the Japan tour is part of the Babylon By Bus tour and not the Survival 1979 tour. The set lists might be similar to the 1978 tour but the songs themselves are extremely different all together. The reason why the sound is so different is that the Bob Marley and the Wailers got a chance to go to the Yamaha production plant and pick out new instruments. This in itself brings a different sound to the tour of Japan and makes it historic.
On
the left is the cover of the Japan 1979 concert program.
This is also a new place Bob Marley and the Wailers have never played before. The Wailers seem to taking a liking to Japan, and play extended versions of each song. For me personally the show from Japan that is the most amazing is the April 6th show from 1979. I personally am not a huge fan of "I Shot The Sheriff" but this night makes me a believer. Bob pulls out all the stops and keeps on singing when the band stops. This leads to a 2 min jam with Bob on vocals. This to me shows how special Japan is to Bob Marley and the Wailers and in turn this is why us as fans of Bob Marley and Reggae Music need to do all we can for Japan. I hope you all can help because you know Bob would be helping.
Until next time.

Take it Easy,

Jack