RIP Bob Andy
03/27/2020 by Gardy Stein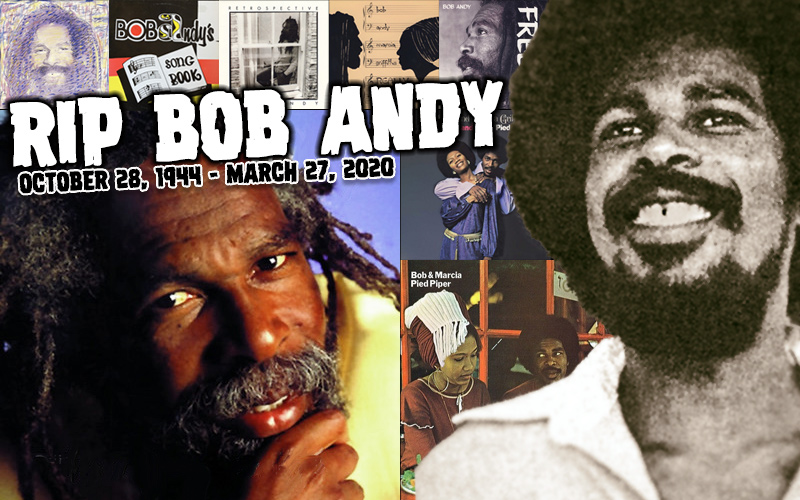 Sad news about deceased loved ones seem to reach us daily in these trying times. Today, it has been revealed that Keith Anderson, better known as Bob Andy, has passed away after battling cancer for some years at his home in Stony Hill, St. Andrew, among his loved ones. (source: Jamaica Gleaner)
A founding member of The Paragons, he is counted among Reggae's most influential songwriters, delivering to the world not only solo staples like I've Got to Go Back Home, Feeling Soul or Too Experienced, but also writing hit songs such as I Don't Want To See You Cry for Ken Boothe or Feel Like Jumping for Marcia Griffiths. With the latter, he formed the successful duo Bob & Marcia, managing to conquer the international market with songs like Young, Gifted And Black or Pied Piper in the 70s.

When Marcia left to become a part of the I-Threes, Bob Andy turned to dancing and acting, playing Luke in Children Of Babylon (1980) and Raisen in The Mighty Quinn (1989). He never left the musical side of things, though. Moving to London and, later, Miami, he worked briefly as a producer before releasing the album Hangin Tough in 1997. Tours followed, a highlight being his performance in Addis Abeba (Ethiopia) at Bob Marley's 60th Birthday Celebration Africa Unite in 2005. One year later, he received the Order of Distinction (CD) for his contribution to the Jamaican music industry.

His death, which leaves many in shock, was confirmed by Marcia Griffiths according to the Jamaican Observer: "He died this morning at 8:00 am. (...) Yesterday, I did a video call with him."

The Reggae community joins her in mourning:

Buju Banton: "I'm gonna miss you friend, thanks for the life lessons."

Clinton Fearon: "My brother Bob Andy passed away. He is one of my favorite song writers of all time, a big influence in my songwriting. I remember meeting him briefly in Jamaica when I was just coming in Kingston. At the time he was living with Marcia Griffiths. Memories are coming up... R.I.P. bredrin."

David Rodigan: "It is with great sadness that I leaned of the passing of Bob Andy this morning at his home in Kingston; a true icon of Jamaican music and a dear friend whom I have had the honour of knowing for over 35 years. He was unquestionably one of the greatest singer-songwriters ever to grace this planet. His 'Songbook' album alone is testimony to the huge contribution he made to music and humanity. May he find eternal rest now that he is no longer in pain. My heartfelt condolences go out to his children and loved ones."

Leroy Sibbles: "Condolences to the family of my good bredren Bob Andy. Rest In Peace."

Kumar: "On the day I released my first single :( - All the songs we made. The times we spent I will cherish forever. I am happy I got to see you the other day and played you my album. I love you BOB.YOU are the strongest most honest human I have ever met. PLZ Let's keep his legacy alive!"