Review: Sierra Nevada World Music Festival 2014
06/30/2014 by Justine Amadori Ketola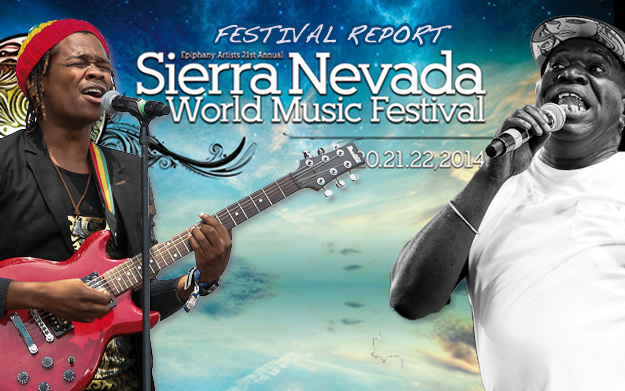 The 21st staging of the Sierra Nevada World Music Festival had a lineup that could be termed, "classic" as the reggae artists present offered a true anthology of the greats throughout the various eras of the genre. The 2014 lineup had the typical flavor of this world music-oriented event with exotic takes on reggae, actual "world" music as well as dance and drum performances and an authentic Jamaican-style dancehall. One of the most unique aspects of this event is their tendency to book artists who often make their debut on this major festival in the U.S. thereby exposing these artists to a very discerning audience, one that is fiercely devoted to the festival. Inside the gates of a show often deemed, "life changing" by its attendees, an ongoing theme throughout the weekend was a call to action, for unity and for an increased understanding of one another's dreams and realities in order to make a better way for all.



DAY ONE – June 20nd
Friday's festivities kicked off with an opening blessing from Pomo Native American elder Clayton Duncan which gave particular attention to the females, and outlined how the society was once organized in a matriarchal system. The opening reggae artist on the village stage, Kabaka Pyramid, showed us all why he is at the forefront of the "reggae revival" movement. In an audience that was packed with fans, Kabaka showed us his skills as one of reggae's most talented lyricists and performers, with conscious, confident interplay between him and his stellar band The Bebble Rockers. Kabaka exhibits variety, he shows his passion musically on stage, focusing his energy on how he uses music to heal and educate. Like a modern day Jimmy Cliff, yet influenced by hip-hop, his presentation, in true African griot style is an extension of what his African tradition teaches him.

As Kabaka Pyramid moved through the set fully engaging the audience, the Bebble Rockers went on an extended Jazz segment during Higher Love - the great tribute tune to relationships. The Bebble Rockers exhibited their expert marksmanship by hitting the heights of their flexibility as a band demonstrating their support to the lead singer, but making a case to the audience that they had come to make a lasting impression.

The Sierra Nevada World Music Festival has a very active press area and Kabaka delivered eloquent, insightful comments there in relation to the "reggae revival" as it exists under the current conditions in Jamaica and how the musicians in this movement work together in unity. He also delved into a reading list related to his Kemetic spiritual knowledge and discussion on Egypt's Temple of Man.

Kabaka cited many artists, Protoje, whom he called a "bonafide bredren", Raging Fyah, No Maddz, as part of building this momentum. When asked about Chronixx, he reminded us that he and Chronixx are always there for each other to record tunes on, it is a given and they work closely together. When asked about the climate for the reggae revival in Jamaica, he noted that what is happening there is "good and bad" because of "Vybz Kartel, everyone is listening to him all the time, getting told to sell the girls bodies.." He also pointed out that on a larger scale while this is happening, the natural resources of Jamaica are being exported off of the island and environmental pollution, litter and its impact in Jamaica are what make a severe impact on the island. Kabaka also discussed his concerns about genetically modified foods and agriculture, particularly in Africa and how it is affecting local food supplies and farmers.

Another unique aspect of SNWMF is the DJ roster. Some of the region's best selectors from the West Coast network are interspersed with artist sets on both stages. To follow Kabaka and to hold the space for Chuck Fenda was the Bay Area's Jah Warrior Shelter with King I-Vier & Jah Yzer who rolled out some of their best dub plates from artists like Gappy Ranks and Chronixx. Irie Dole also of Jah Warrior Shelter, and now Q103 Maui, was doubling as an MC for the festival and was present behind the mixing console.

Chuck Fenda made the crowd light up with his commanding call and response style and fiery presentation. As the sole 'singjay' from his generation present on the lineup, he represented for many the state of the industry where many artists can no longer travel or receive bookings do to the incendiary nature of their speech or lifestyle.

Ozomatli performed on the main stage to close the festivities on day one, their flight was delayed so they traded places with Seun Kuti. Between these two acts, a female selector from the Bay Area, Selecta Green B made a great global mix that highlighted the explosion of dance-oriented grooves worldwide, including Major Lazer's Bumaye, and dance mix tracks from artists like Sean Paul. The mix moved to the tide of the crowd, with great transitions and a world beat music vibe.

Clinton Fearon closed out the village stage, with his folk singer-songwriter presence. His fans were singing along to songs he recorded as an original member of The Gladiators as well as originals like the uplifting Love Light. Mr. Fearon is a multi-instrumentalist, playing percussion, guitar and bass as a true pop or rock and roll style entertainer, engaging the audience with his own brand of reggae.

Even though the outdoor stages may go dark at midnite, Sierra Nevada hosts an after party that is inside one of the Mendocino County Fairgrounds' exhibition halls. It is there that Adrian Sherwood mixed up a strong brew of cultural tunes in classic UK dancehall style. Josey Wales performed a second time, following up his appearance on the village stage, this time volleying back and forth with Sherwood. One of the most telling comments of the weekend, related to unity was from Josey Wales, following lyrical content chanting about peace, and the inclusion of everyone in the quest for it as well as the necessity to be "tough in Babylon, he stopped and commanded Sherwood to "ease off" the riddim, at which point he said, "Man, when I leave here this morning, I am going to Florida, and when I go to Florida, I go back to Jamaica, and the next month, I come back to California, and I want to say this, I am living my joy, Jah know all tings, you know some tings, I know most tings, so we know a lot of tings, I'm living out mi joy. If you love it say gwan…"

The festival organized a panel discussion, The Status of the Reggae Music Business to open the press area activities on Friday afternoon. On the panel were music industry attorneys Lloyd Stanbury and David Baram, as well as artist Bob Andy, DJ Sista Irie and Warren Smith, organizer of the festival since its inception. Mr. Smith outlined the extreme reach that reggae has globally and as part of the context for the panel he identified five issues that have affected the business over the past several years.

Mr. Smith opened this outline by stating that "there is not an island or continent without reggae". He further explained that it comes "as a mission to speak about the injustices people face and offers ways for them to speak about their community." He also noted that "there is a real challenge that needs to be realized in Jamaica about how to adapt and thrive outside of Jamaica in the business world." The five issues he outlined were first, that "when Bob was around and the Heptones, Jacob Miller, Dennis Brown, they spoke in correct English and told a story." He further explained that with the advent of dancehall, the lyrical content is delivered in patois which means people don't understand what is being said. His second point was that the music became continuously more "religious and Rasta-oriented." He made the point that with this trend towards "religious music", "you are not going to turn the rest of the world into Rastas." His next point was in relation to the music becoming discriminatory, stating "When we sign a contract, one of the things that we will not have is any entertainer that discriminates." Mr. Smith also stated that with the proliferation of digital recording, there is "a lot of it, but it's gotten sloppy." His concern with it is that there are so many riddim compilations, this has become more prevalent than actual album-oriented recordings. His final point regarding the state of reggae was that "Babylon" affected things, and 911 with the U.S. changing security systems and these systems affected how foreigners were treated. "It's a lot different now, a very large percentage of Jamaican artists cannot come to America."

Bob Andy pointed out the disparities in terms of revenue from his perspective as an artist. He explained the situation in Jamaica in the music industry was a result of a combined situation of culture, financial equity and an ongoing concern for equal rights. Making an association to his own situation he used metaphors to explain that he was," fighting a record producer" himself for royalty shares, and as he explained, the littlest blade of grass should not be missing the water and if you put $10 in the bank cannot write a check for $12. He also said he appreciated producer "Warren Smith et al, who has spent most of his lifetime identifying with my culture." As he explained the components of music are "audience first, then the creative people."

DAY TWO – June 21st
To open up the village stage on Day 2 was the inimitable Jahdan Blakkamoore, and by the looks of his crowd, he has cultivated a great crew of people that would appear at 11:00 am to see him. His band was tight and organized well, and the set list included his great single, Mountains that encourages us all we've got "mountains to climb" and that it is now "the ghetto youth's turn."

Raging Fyah finally got their turn on a major U.S. festival with Sierra Nevada, this highly-anticipated crew opened the Valley stage with the wide array of sweet tunes found on their phenomenal Judgement Day debut album. They made their new single Nah Look Back shine bright like the solstice sun with its lyrical content that addresses freedom and the avoidance of stepping inna "Babylon trap". This single is found on their new album Destiny that released the week of the festival. The band provided splendid artist merchandise and plenty of smiles and focus for the press and fans that clamored for their attention as they made their debut appearance in Northern California.

For this writer it was Raging Fyah that I was looking forward to finally seeing for the first time, to hear the songs live, is to hear them in their pristine state. With no compression in the mix and the ability to hear the harmonies in real time, to feel the strength and range of Kumar Bent's lead vocals, it was a joy to behold. At one point they broke into the guitar riff to Hotel California which exhibited the true classic rock influence that this band has on their music, a classic group, one that will reach many stages in the U.S. and beyond for years to come. Their current European tour looks mighty, and they are definitely up to the challenge.

Hollie Cook made her second appearance at SNWMF in celebration of second album, Twice. Already a big artist in the mainstream in the UK and Europe, Hollie's hipster style, girl group delivery and solid one drop grooves made her the lone female to rock the Valley bowl.

The Tamlins were to follow Hollie and to my surprise, they were not backed by Sly and Robbie. It didn't register until the band change happened, even though I was privy to an amazing rehearsal with the "Riddim Twins" the day before that had included Bitty McLean and Michael Rose. Although the Tamlins make a great presentation, performing lovely tributes including the best-ever Dennis Brown tribute, their key song Baltimore that was recorded with Sly & Robbie was early in the set and somewhat hazy without the classic rhythm section that originally recorded it. They pointed out to the audience that this was how they sounded after just two rehearsals which garnered an enthusiastic response for their Bay Area- based backing band that included the legendary Herb Daly on bass.

Daddy U-Roy continued to carry the tune on the topic of more "Unity in the community" making the festival this year after an illness kept him from the stage last year. To follow was Prezident Brown who replaced John Holt. Mr. Holt had canceled his appearance due to illness. Prezident Brown exhibits what is best about reggae music and touring often to a particular area, in this case California where he has a large following. His Northern California-based band was so well rehearsed and his music so well-received, that he was a welcome late addition to the lineup. He sauntered through his set like a lion, calculating his prey which was the riddim, a sound that he and his band have down to a science. He too gave his sound lyrical commentary on GMO's with his song Say No 2 GMO. He is a tall person in stature, so his nickname is "Tower" and he highlights this in his lyrics, "they want to pull me down so that we are the same size." An original Jack Ruby sound system dancehall performer, he altered lyrics to relate to the present festivities with class and finesse, really towerful performance from Prezzi.

Zvuloon Dub Sound System, Israel's biggest reggae band gave an interesting set that followed up with a press conference where they announced their final date on their tour in this hemisphere would be at Reggae Sumfest in Jamaica which was well-received by all.

Sly & Robbie took over the Valley stage with Nambo Robinson on trombone delivering a Taxi Gang dub session that presented the wide array of riddims that are so recognizable, you can make an entire set just of these. They do however, delve into the realms of dub and riddim exploration, moving through a riot of Sly's moves with Robbie's sliding bass and effects peppering the experiment. It was great to hear such a lengthy solo for Robbie, it is so critical now to spotlight what these people are capable of.

It feels like reggae history during these sets with Sly and Robbie and here with Nambo Robinson on trombone, with the original punctuation, a horn line that was an inspiration in the studio now coming alive for the massive. It mends the fences of all the overused riddims, all the twisted meanings and turns of the music business. The meal ticket songs, those that they recorded and others made famous and made careers from….all of that did not matter on that stage. Nambo made the hooks come alive in the mix with limited vocals.

Bob Andy was the elder statesman that came to sing in place of Horace Andy who was double booked on a date with Massive Attack in Iceland. Bob was resplendent wearing a dashiki as he ran through his hits such as Fire Burning that he first made famous with Marcia Griffiths. One of several UK reggae artists on the lineup, Bitty McLean then came out to show the audience his incredible vocal agility as he ran through tunes in his own retro-lover's style. These originals with their unforgettable hooks that he has written over classic rhythms of yesteryear were a highlight of the festival and highly anticipated. Mykal Rose as an artist whose vocal style defined the body of work recorded with Sly & Robbie as Black Uhuru was really well received and had the crowd singing along to the bag of tunes from this era, with his set reaching a crescendo point for the evening's package with Sly & Robbie.

Shaggy closed the night out in a controversial mix of his hits and commentary that was less than family-friendly. It's a common set that he has performed for the past several months, and part of what reggae has meant to the mainstream, with songs that can crossover without the same themes that are part of the grassroots reggae movement that has prevailed for so long in the hearts and minds of the SNWMF typical demographic.

Charged with keeping the vibe cultural, with no slackness permitted at SNWMF by sound systems, Mighty Crown simply ignited the dancehall, they launched with a tremendous dub plate set that first featured Buju Banton, then some from Warrior King, Brigadier Jerry, Terry Ganzie, Sanchez, it was just endless. The duo, of Japanese and African-American descent made a point of bigging up all "white, black, Asian Rastas in the house. They moved into more deep cultural songs and then another champion dub from Chronixx in the form of "Champion" then a segue to "Reggae Music Again" from Busy Signal. It was at this point that J Boog, who was a festival guest all weekend, ascended the dancehall platform to hail them up personally and they in turn gave him respect on the mic. Barrington Levy was in the dance at one point taking in the vibes as well before his Sunday appearance, he slipped in unnoticed by Mighty Crown.


DAY THREE – JUNE 22nd
As the final day of Sierra Nevada opened, I linked with J Boog at his trailer, he was there all weekend "just chilling" with his ohana taking a break from his hectic recording and touring schedule. He later appeared on stage with Tarrus Riley and Blak Soil to sing Do It Again over the same riddim (Wildfire) that Tarrus performs, Protect The Nation over. The moment was electric and the fans were cheering a hearty "cheeooo" in honor of J Boog's Polynesian roots.

Morgan Heritage performed an early set that ran through their string of conscious hits, it occurred to me that they have a very vast catalog, there was so much singing going on with the audience and love, it was an important sign for them after their "return" to the live scene in the U.S. as a group after pursuing their solo careers for some time. In their press conference, the band commented on the mission of reggae to educate and organize people, "In our little break we realized while we are singing about the same things, they are still going on which means we have work to do."

Cultura Profetica hail from Puerto Rico and their own reggae style draws from the wellspring of rich cumbia rhythms with vocals that move in this rhythm as tribal harmonics reminiscent of 1970's Latin supergroups and the way these groups used Jazz and bossa nova to forge a style. They have a really big sound with two keyboard players, a percussionist a full horn section and a hard hitting rhythm section, while trading vocals amongst several band members. A true example of unity and strength and just one of many on the lineup who exemplify reggae's far reaching musicianship around the globe.

Tarrus Riley and Blak Soil have what could possibly be the most entertaining, well-rehearsed, "current hit"-heavy set in reggae today. With audience interplay, sound effects between songs, five part harmonies, guest singers from their own tour crew, they are a true representation of unity and strength. Performing his album concept for the current album Love Situation, Tarrus told me what the meaning behind it really is. The context is a heart shaped logo that has been developed for the song, with one side rounded and the other outlined in sharp edges. The logo is featured on merchandise and was fashioned into a gold pendant the artist wears. He explained that when a man and woman get together, the man "loves" and the woman is in a "situation" whereas she is seeking to make this situation work, and the man simply loves. In any event, his singing, writing and band make the future look bright for reggae, he is the man to watch along with the great king, maestro Dean Fraser who is playing sax and performing harmonies and musical direction on this magnificent full sound, replete with two keyboards.

Tarrus tours with manager Shane Brown, son of Errol Brown and management for Tarrus, it was a rare occasion where father and son were working on the same stage. Errol Brown is front of house engineer for Rebelution who closed the Valley stage for Sierra Nevada 2014. The sound for Rebelution was reminiscent of Bob Marley & The Wailers and Melody Makers mixes as was only fitting, with Errol Brown at the controls, it filled up the entire arena with deep layers that created a smooth bed for lead singer Eric Rachmany's Waterhouse-influenced vocals.

Perhaps the deepest vibes of the weekend were from another group that made a rare U.S. appearance in true SNWMF fashion. Black Slate from the United Kingdom took my heart at the Village stage with a sound that is so much a statement on how reggae was and is part of the Diaspora from Africa. They use 60s and 70's R&B vocal style and African cadence and tones and mix it with the energy and pulse of UK rock set to a deep roots reggae beat. They even move on stage like a rock and roll band, very physical and ensemble oriented. Although they may be quite obscure, they are a group to discover as is often the case with the festival offereings.

WATCH THE FULL BLACK SLATE SHOW HERE!

They came to SNWMF as part of a UK package that included the vocalist Carroll Thompson who was one of the few female vocalists on the festival. Carroll is a classic UK Lover's Rock performer, which was a refreshing sound on Sunday afternoon. Another strong female performer, Saritah from Australia performed on the Village stage on Sunday night presenting her unique compositions and guitar to a devoted fan base that continues to grow worldwide.

Non-band activities that made the event shine included a parade with an authentic Carnival drum corps made up of Loco Bloco, Capoeira de Beber and the kids of the festival who learned and performed drum and dance patterns and participated in the "mas". Brazilian-themed dance and drumming, a part of the extensive kids and cultural programming at SNWMF contributed to the festive atmosphere of the 2014 World Cup.

SNWMF makes the most of a niche in the music industry that consists of musicians and artists from all corners, many of whom are rarely given a chance to work together on the same stage. It is truly unique in the global festival scene, providing a place for so many interesting artists, there is really no other festival that compares to it in terms of its presentation of both reggae and world music. The offerings are deep and the DJ's and sound systems, the camping scene and family friendly activities all contribute to the special vibe of the festival that offers music and activities beginning at 10 in the morning and end at 2:30 the next morning! Big up to all involved and to those that missed it, make it a date for summer solstice 2015!