Review & Photos: London International Ska Festival 2011
04/26/2011 by Angus Taylor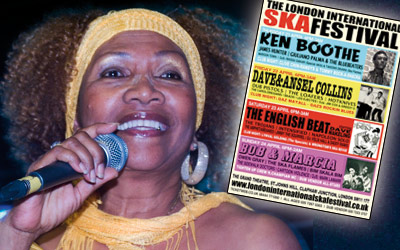 Galleries: Marcia Griffith, Ken Boothe, Dave & Ansell Collins, Impressions
The International SkaFestival in London, UK @ Grand Theatre 4/21-24/2011

2011 has been a year when vintage festivals came back to London. In July Dexter Rickets' famous One Love Festival is scheduled to make its return as the One Love Peace Festival in Wembley. And Sean Flowerdew's London International Ska Festival, which he first promoted at the Brixton Fridge in 1988 made a thunderous South London homecoming to Battersea's atmospheric old theatre the Clapham Grand. There, rude boys and girls, punks, original skinheads and even Rasta elders like the singer Little Roy - who was mobbed by fans after Reggaeville blew his cover by asking for a photo! - mingled in harmony over the 4 day Easter weekend.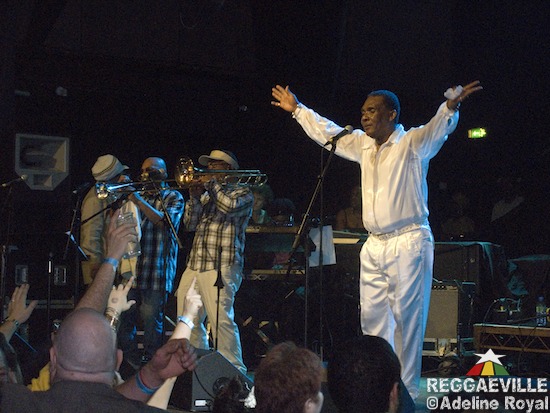 Ska has many faces now and each day was carefully curated to have a certain feel. The Thursday had a slick soulful vibe courtesy of the likes of the Guiliano Palmer and James Hunter, building to a smashing set from a spangly white and silver-checked Ken Boothe. Accompanied by a roll call of UK based musicians including the great Bigga Morrison on keyboards, Black Steel on guitar and Buttons Tenyue on trombone, Ken took to the theme with teen hits like You're No Good adding the brilliant rocksteady of When I Fall In Love. His voice, while deeper than in his heyday, is still flawless, and while happily admitting he is 63 years old on stage, he even added a dancehall breakdown to Artibella - recorded aged 15 with Stranger Cole in 1963.


The Friday had a rawer, more intense lineup, typified by the punk ska of 1988 festival headliners the Hot Knives, who filled the Grand to capacity with their following. This time the top slot went to reunited singer and organ duo Dave and Ansell Collins, who, in light of the sad cancellation of Bob Andy due to health problems, were the main historical draw of the weekend. Backed by southern soul soaked South Belgians the Caroloregians, Dave and Ansell worked up a frenzy with their percussive danceable hits like the 1971's UK number 1 smash Double Barrell, and Dave's own phenomenal Bunny Wailer combination What A Confusion, a tune that simply had to be played.
The two tone-flavoured Saturday saw a surprise appearance from the immortal Rico Rodriguez MBE on trombone. He joined fellow Alpha Boy "Tan Tan" Thornton in scene mainstay (and son of 60s "blues boom" guitarist John) Gaz Mayall's collective the Trojans. The Sunday heard Andy's replacement, yet another Alpha alumnus Owen Grey OD, play a short set with Madness saxophonist Lee Thompson's entertainingly vaudevillian Ska Orchestra - themselves replacements for Japan's disaster-affected Ska Flames.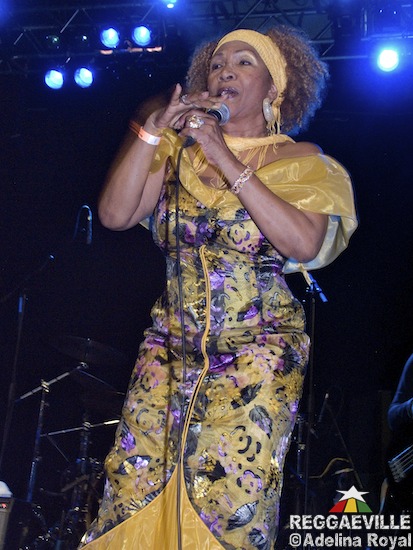 Despite the disappointment of missing a performance with her collaborator Andy, headliner Marcia Griffiths demonstrated why she is still a formidable force in Jamaican music today. Resplendent in yellow, and joined in beautiful harmonies by Bigga, Buttons and Black Steel, she unleashed a deluge of standards including Israelites by Desmond Dekker and Millie Small's My Boy Lollipop as well as her own Feel Like Jumping and her and Bob's now over 4 decade old cover of Young Gifted and Black. She assured us that Bob was recuperating nicely and had given her his blessing to close the weekend alone.


Huge thanks is due to the organisers for bringing back this easygoing pleasant festival back to the UK. Likewise the players of vinyl, with honourable mentions for Clive Chin and his selector Twice, DJ Greedy G and the Tighten Up Crew who kept the original Jamaican sounds spinning between the live shows.