Review: Jimmy Cliff, Bob Andy, Derrick Morgan @ Respect Jamaica 50th
08/09/2012 by Angus Taylor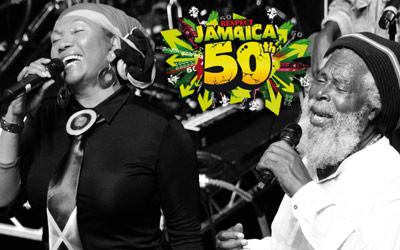 Review: Respect Jamaica 50th in London, UK @ Indigo2 8/6/2012
After the excitement of Sunday's concert at Greenwich's Indigo2 - where Morgan Heritage paused their show to watch Usain Bolt win Olympic gold - the final night of Respect Jamaica 50th was upon us. For Independence day itself, Copeland Forbes and Rob Hallett of AEG Live had curated a line-up devoted to the architects of the music at crucial stages in its narrative: the singer of one of the first great songs of independence; Studio 1's first three part harmony stars; two of Jamaica's greatest songwriters; and two men who helped reggae cross over in foreign parts before Bob Marley.

A grey Monday evening saw immense queues for both the event and the nearby Marley exhibition in the O2 complex. Fortunately, with legendary selector David Rodigan booked to play until 4am after the live segment, the organizers decided not to start too quickly so the heaving masses could make their way inside. The lines outside remained were a fixture for much of the night - indicating the sheer magnitude of the 12 day finale date.

At eight fifteen the red curtain drew back to reveal regular announcer, Mandingo, standing with Lloyd Parks and the We The People Band - who had previously backed Tappa Zukie, Yellowman, Dennis Alcapone and U Roy plus the Abyssinians and Mutabaruka. The writer, producer and Garveyite gave a brief history of Jamaica from the Arawaks to what he stressed were the "invasions" of Columbus and Cromwell, through slavery to independence. Announced as "Reggae's finest backing band" Parks' players (including guitarist Bo Pee and keyboardist Robbie Lyn) broke into some suitable ska before Lloyd sang Michigan and Smiley's Nice Up The Dance (Papa Michigan was actually in the audience - as was Bunny Lee). He followed with his own Mafia, and on request, Officially - asking the crowd to supply backup vocals.

"I'm not seeing none of you out there but the more you clap the more I sing" said Derrick Morgan - active in Jamaican music for several years prior to 1962. He was referring to the visual impairment that meant he had to be carefully led to the microphone. But as anyone who has seen this veteran of R&B ska and rocksteady knows, the great man comes alive on stage as if shocked by electricity. Dressed all in white he shared a selection that included Forward March - perhaps the greatest song for Independence - as well as Conqueror, Rudies in Court and Fatman, leaving the way he came.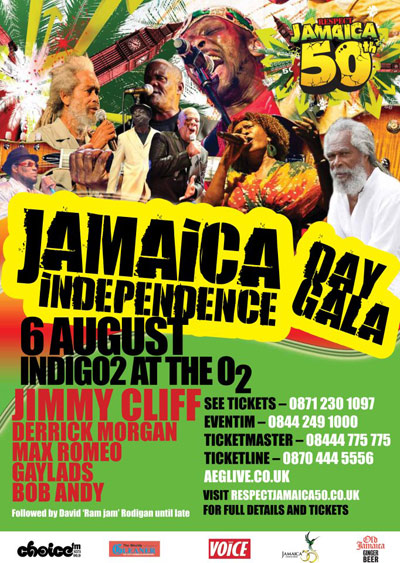 The next piece of living history was recently reformed trio Gaylads - comprising BB Seaton, Maurice Roberts and Randall Thaxton (Winston "Delano" Stewart suffered from a stroke in 1997). BB whose small stature, blazer and songwriting chops liken him to a Jamaican Paul Simon (or Simon is an American BB Seaton) stood between his larger groupmates as they sang as many hits as they could fit into 45 minutes, such as their first smash Lady In The Red Dress, You Should Never Do That, and Joy In The Morning. "You should be up here. You're better singers than we are" joked the self deprecating Seaton to the participating fans - and to be fair the harmonising was less than pleasing at times. Even so, the audience still responded warmly, to the songs and to these crucial figures reuniting in the capital (it was being overlooked by Coxsone Dodd for a London trip in 1967 that led to their departure from Studio 1). When they closed with a concluding a capella chorus to their proto roots milestone Africa - they left to impressive applause.

Reggaeville had previously dubbed Ernest Ranglin meeting Sly & Robbie on Sunday 29th the one unmissable aspect of Respect Jamaica 50th. But in hindsight both that show and Morgan Heritage screening the 100 metres met their match in an extraordinary performance from a rejuvenated Bob Andy and We The People at ten. "I nearly dead last year you know. I went right through and come out other side" said the master songwriter (Bob Dylan to BB Seaton's Paul Simon) referring to the illness that prevented his appearance at the 2011 London International Ska Festival with Marcia Griffiths. At Rototom in Spain in 2010 his voice was barely there - yet the people gave him a standing ovation for his songs. Now, glad to be alive and gazing adoringly at his fans, his distinctive wailing tones were revitalized on Unchained, Too Experienced, and his 80s lovers hit Honey where the band swung a beautiful jazz interlude free of self indulgence. He did not play My Time but did share another of his compositions sung by Gregory Isaacs - Sunshine For Me. "London you put on a damn good show" he remarked of the Olympics "I've never seen you so united before. Make sure it continues after". Then, just as it felt like the experience couldn't get any better Bob did what everyone was hoping for - and brought his former duet partner and previous Wednesday's headliner Marcia Griffiths on stage for Young Gifted and Black - her bell peel of a voice intertwined with his. The best moment of Respect Jamaica 50th bar none.

We The People took their well deserved rest and at 11pm Max Romeo, dressed in saffron, gave his ever-dependable renditions from his famous War In A Babylon LP. Backed by premium musicians like Black Steel on guitar and Noel Tapper on drums his movements were sharp and abrupt and his vocals in their usual good form. It seemed he wasn't going to do anything special for Independence, until he sang We Love Jamaica, before bringing on his sons - singer Ronaldo and deejay Romario AKA Rominal. The venue went wild at their precocious performances of their own We Need More Love and plea for respect Kids Are People Too. They then joined Max on I Chase The Devil - rather suddenly exiting after just 35 minutes. Nonetheless they had made a big impression. Mandingo, himself an essential supplier of historical context to the events, took the time to salute another of the 13 day series' hardest workers DJ Rudy Ranks as he spun his final set.

Jimmy Cliff came on after midnight, introduced by Mandingo as from the same parish as Samuel Sharpe: whose quoted defiance in the 1832 Christmas slave rebellion - "I would rather die among yonder gallows, than live in slavery" - inform the lyrics to Cliff's the Harder They Come. As per his appearance at the Indigo2 in May, Jimmy's voice seemed rusty during You Can Get If You Really Want but by Rub A Dub Partner it had warmed (it's odd that he chooses such a vocally demanding opener). His band aren't big on subtlety - each song rose to a finishing crescendo of noise - yet made it a rare night's hat trick of continuous live brass. At times Jimmy was biting (Vietnam/Afghanistan's lyrics were changed to include Syria; new track Children's Bread from latest album Rebirth could almost be aimed at Wall Street or the banking firms) and at others bombastic (immense singalong versions of Many Rivers To Cross and Wild Worid). At times he was violent (acting out scenes from THTC including the grizzly face slashing) and at others peaceful (sitting for a nyabinghi session taking in Bongo Man, Rivers Of Babylon and The Lion Of Judah). Such is the multifarious nature of the man. As Jimmy was winding down, Reggaeville left the celebrations in the capable hands of David Rodigan and headed off in need of some sleep. Despite an early no show and variable attendance, it has been a unique near fortnight that reminded how reggae can stand in the spotlight in London to repeatedly celebrate - and make - history. And we hope AEG Live will be inspired to promote in this area again.