Garance Reggae Festival 2012 - Photos, Videos & Live Stream
07/26/2012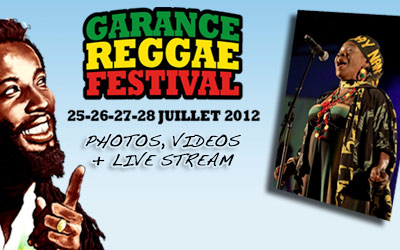 Garance Reggae Festival kicked off on wednesday, July 25th with performances by the I-Threes, Bob Andy, Derrick Morgan and many more...
► PHOTOS: I-Threes feat. Rita Marley, Marcia Griffiths & Pam Hall HERE # Johnny Osbourne
► VIDEOS: Bob Andy # The Gaylads # Derrick Morgan # Israel Vibration # I-Threes
Sizzla, who was scheduled to perform on the final day, will not perform. His tour has been cancelled. Alborosie & The Shengen Clan have been added to the line-up most recently.
Garance also announced, that King Jammy isn't able to appear, because of health problems.
French website partytime.fr streams live from the festival.. make sure to watch it every day/evening :