Celebrating Bob Andy's 76th Earthstrong - October 28, 2020
10/28/2020 by Press Release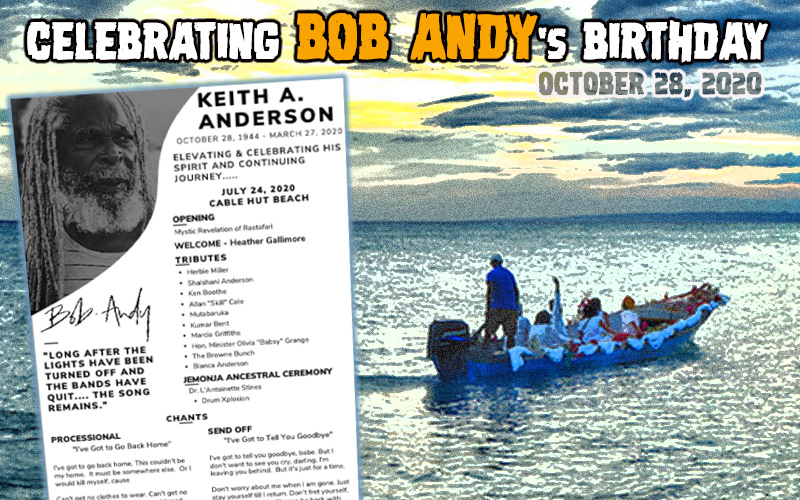 CELEBRATING BOB ANDY'S BIRTHDAY OCTOBER 28, 2020,
On Bob Andy's 76th Earthstrong, following his passing in March of this year, we celebrate his enduring legacy and remarkable catalogue of songs covered by over 60 Jamaican and International Artistes.
Bob's lyrics are as relevant today as when they were written, imploring us to dig deeper into his catalogue to find other gems of riveting wisdom, astute political commentary and unforgettable melodies that earned him the title – "one of reggae's most influential songwriters".

Check It Out: "The rise in the price is to make more money for who's got plenty. And the trick of the trade is to keep all the hungry bellies empty"

You Think It's A Joke: "The children are absent from school every day. More teachers can't get no pay. The health of the nation is under debate, the doctors and nurses say"

Fire Burning: "I was drawn into myself, observing all the time…They get very little pay, the ones who clean the mess. Minority who sits on top, just rate themselves the best."

Superpowers: "Futile is man's attempt, nature is the only way. Still we hold her in contempt, but she will have the very last say. Oh how far – oh how long Superpowers recognise wrong"
Friends: "We could start this world over, turn the magic on again. We wouldn't have to run for cover 'cause everybody could be friends"

Bob Andy (Keith Anderson) was born in Kingston, October 28, 1944. For his outstanding contribution to reggae music he was awarded Jamaica's Order of Distinction (Commander Class) in 2006. He died March 27, 2020 shortly after he was diagnosed with pancreatic cancer. As he requested, his send-off was held in an outdoor space with poetry.

This event, 'A Celebration and Elevation of his Spirit' was held on July 24 at Cable Hut Beach and attended by a gathering of family and close friends. The video of the event can be seen at below. Bob is survived by three children, family, friends and fans all over the world.
"Long after the lights have been turned off and the bands have quit, the song remains." Bob Andy 2011.