Review
Album Review: Zulu Bob - Road To ReggaeVille
01/25/2021
by Gardy Stein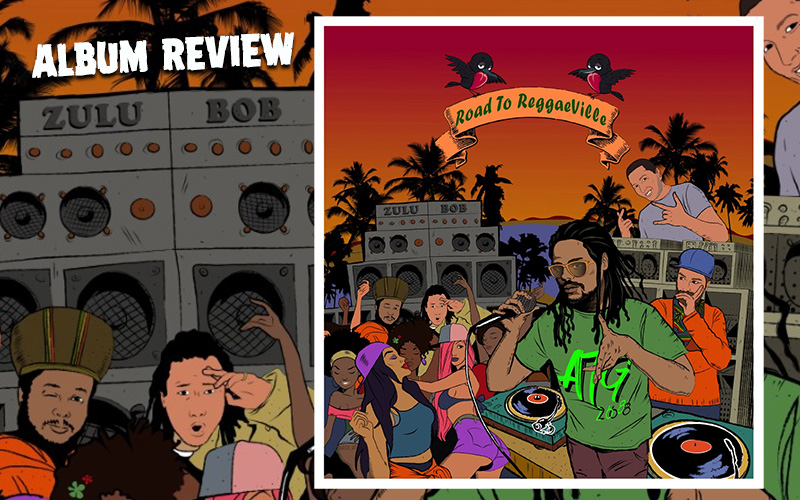 Some releases are reviewed because of the global importance of the artists involved, some because of the sheer beauty of their songs, and some because of the originality of their cover-art or title. The latter is the case with Zulu Bob's sophomore album Road To ReggaeVille, reason being... well, you get the point, right?
First of all, Norris Angelo Hodge III aka Zulu Bob is a unique personality worth introducing. Growing up on the twin islands of Antigua and Barbuda (a paradise where less than 100,000 people live), he sang in school and church choirs before relocating to China where he started his studies. In Beijing, he indulged in his passion for music by working as DJ and MC, soon extending his ambitions to releasing his own songs. For this purpose, he collaborated with Island Trap Records, WhyBeatz and DB Bros, who are also involved in the current project. Founder Hugo Poncet aka General Huge changedthe name from DB Bros to ChinaMan Yard recently; it is the first (and possibly only) Reggae-devoted label and soundsystem in the people's republic of China, and as such signs responsible for the executive production of Road To ReggaeVille.
With nine tracks in total, the album has a pleasant listening length; its trumps, however, are played right in the beginning. Wah Know, for me the best track musically, captivates with a sweet and groovy track produced by Lionsriddim and a solid vocal delivery by Zulu Bob, who seems extremely comfortable in the lower ranges of his voice.
The subsequent Ms. Joy, a completely different flavour created by Nii-Jin, has the potential to become a club-hit (if only we could go to clubs again!), and the final track, an EDM-infused remix of it by WhyBeatz, suggests that the creative team thought so, too.
The rest of the album is a matter of taste, really. While the well-placed brass elements upgrade the instrumentals of Victory (including the only feature, Blvk H3ro), the underlying riddims of Dis Vibe, Nuh Business and Guns & Roses come across rather average, and Zulu Bob's voice doesn't succeed to lift the tracks to a higher level.
Happy Heights, on the other hand, is remarkable because of the recurring guitar-theme and the singer's heart-felt praise of his homeland's natural beauty. A touch of Afrobeats in Ent It, sprinkled in by producer Zikynuel, brings a fine stylistic diversity to the whole, although the autotune-overload impairs the listening experience a little.
Generally, the big plus of this release is its exotic touch - which other album can you name that was produced in China with an artist from Antigua? Zulu Bob certainly is a great DJ and MC, and while he might not be the most talented vocalist out there, he is a one-of-a-kind entertainer, and what he has to say should be heard. We are curious where the Road To ReggaeVille will lead him!
---
Release details
Zulu Bob - Road To ReggaeVille
DIGITAL RELEASE [Chinaman Yard]
Release date: 01/22/2021
Tracks
01. Wah Know
02. Ms. Joy
03. Dis Vibe
04. Victory feat. Blvk H3ro
05. Nuh Business
06. Guns & Roses
07. Happy Heights
08. Ent It
09. Ms. Joy (Remix)
Featured artists
Blvk H3ro