Review
Album Review: Black Roots - Son of Man
01/30/2016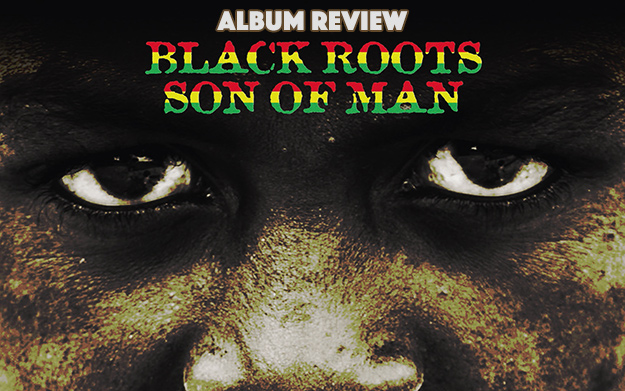 Black Roots from out of Bristol played a leading role in the British reggae movement of the 1980s, mesmerizing audiences all over Europe and amazing critiques from their self-titled 1983 debut album to their 1990 studio album Natural Reaction that prefaced the temporary end of their career in 1993. It was only in 2007 and thanks to the now out-of-business French label Makasound that the band got together for a few selected shows in France.

In September 2012, Black Roots was back with a fresh studio album, called On The Ground and released on Sugar Shack Records/Nubian Records. Two years later, the band presented a follow-up, Ghetto Feel (Soulbeats Records), that had critiques and fans alike enthuse about. Staying true to Soulbeats, Black Roots now present Son Of Man.

Coming with a rather meager eleven tracks, Son Of Man follows the tried and tested recipe of the band's trademark tight, melodic roots sound with its prominent, spot-on brass section. Consciousness is king when it comes to the mostly very repetitive lyrics, and biblical references, imagery and metaphors are legion.

"A who you/son of man/where is your heart": that's the question that obtrudes itself anytime one opens a newspaper or switches on the TV. Mankind seems to be headed towards self-destruction, and the title track doesn't answer this eternal question, either. We're living in a War Zone, after all. Just ask your friends in Aleppo or Sana'a. Or in Baltimore, Berlin, London, Paris. "It could be me or you/that's what they all want us to do."

All Sing The Song Key reminds you to "look no further than yourself for your savior" and praise His Imperial Majesty "to make ends meet". One Ebony Girl celebrates the promising start of a new life. There's practical life advice, too: Prevention "is better than cure". Guess Who sums up hundreds of pages of Biblical history in a few verses.

Wake Up has the feel of a Nyabinghi chant, but not its beat. Can't Get Out Of That is one of the strongest songs on Son Of Man: "Police siren ah wail/can't get you out of that". Trickle Trickle Treat is a subtle Ganja song. Poor Old Mama calls for respect and love for the elderly people of our societies. The final One Thing is less optimistic even: poor people will go down the drain. "It's a thing that you can't win."

Son Of Man is not Black Roots' strongest album, but their seventh studio album is a solid effort that shows that the band is serious about continuing their way. Their bass player, Derrick King, has passed away, but everything else that made Black Roots big in the 1980s is still there.


---
Release details
Black Roots - Son of Man
DIGITAL RELEASE [Soulbeats Records]
Release date: 01/22/2016
Tracks
01. Son of Man
02. War Zone
03. All Sing the Song Key
04. One Ebony Girl
05. Prevention
06. Guess Who
07. Wake Up
08. Can't Get out of That
09. Trickle Trickle Treat
10. Poor Old Mama
11. One Thing