Review
Album Review: Beres Hammond - Never Ending
10/30/2018
by Gardy Stein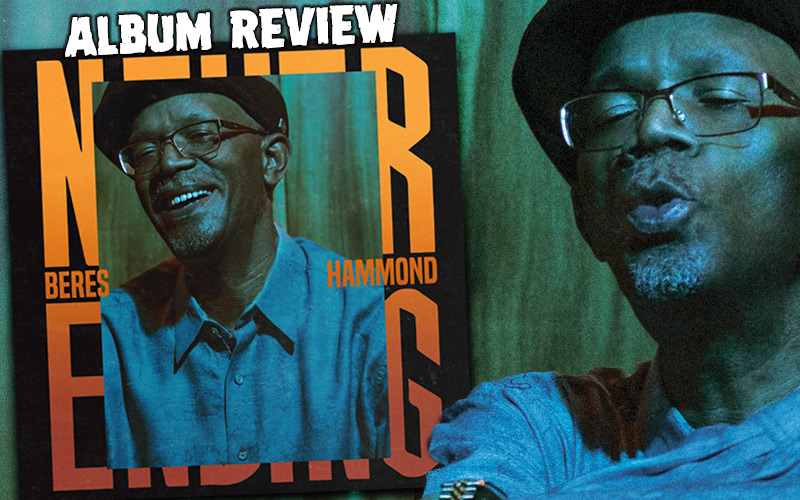 Jamaica's top vocalist Beres Hammond is back, and thousands of ladies' hearts will skip a beat: with Never Ending, the veteran crooner presents "a musical guide to love, life & affairs of the heart", as the official Press Release states. Released under the prestigious VP Records label, it's the first album after Hammond's Grammy-nominated One Love, One Life in 2012. Its musical quality rests on the firm foundation of the skills of masters like Willie Lindo, Kirk Bennett, Errol 'Flabba' Carter, Leroy & David Heywood aka Mafia & Fluxy, Winston 'Bopee' Bowen, Dean Fraser and Robbie Lyn, recorded at Beres' own Harmony House Studio by engineers such as Kenyatta Hill, Richard Brown or Solomon 'Triple Ess' Salmon.

Together with producer, singer and songwriter Hammond, they created a grooving soundtrack that draws on the successfully tested Reggae recipes of past decades, making for an overall organic composition that however lacks a spark of innovation here and there (stylistic variation is present in tracks like I Will Take You There and Love Foreclosure, which however don't really get under my skin).

As usual, the thematic direction is clear as well: of the 14 songs included, 9 circle around the subject of love and romance. Of these, most noteworthy are My Kinda Girl, which was released as single in early 2018, the lover's rock anthem Only One and the melodic All Love, riddim and vocals of which remind me strongly of the unforgettable They Gonna Talk.

Stepping out of this bitter-sweet realm of relationships, the remaining five songs touch on less personal and more wordly subjects. Land Of Sunshine, also released as single, is a musical love letter to Jamaica, stressing the beauty of the island and its people despite poverty and ongoing political struggles. Crying freedom, Survival is a rallying call for all the troubled souls out there, while Lose It All is a warning to not build your house on sand.

With the title track Never Ending, Beres closes the circle of gratefulness for being alive drawn with the first song I'm Alive (make sure to watch the video here to see Mr. Hammond in full swing!). Both have a very exceptional take on music, and the last one transports a shining, golden positivity that will carry you through the day and thus is the perfect closing song.

At age 63, Beres Hammond delivers a musically, vocally and lyrically strong album that will certainly become a collector's item for many. For me personally (and I write this with all due respect), none of the songs reaches the timeless heights of Rockaway, Come Down Father or Tempted To Touch, and I was a bit disappointed that not a single combination tune was included. For the fans of Beres Hammond, however, this release is surely a welcome reason to celebrate the end of the long wait for new material - the sweet notes of Never Ending will accompany you for the rest of your lives!
---
Release details
Beres Hammond - Never Ending
CD / ALBUM DIGITAL [VP Records]
Release date: 10/12/2018
Tracks
01. I'm Alive
02. Land Of Sunshine
03. I Will Take You There
04. Only One
05. My Kinda Girl
06. Sleeeping Beauty
07. Hold You Till It Hurts
08. Seasons Change
09. All Love
10. I'll Try
11. Love Foreclosure
12. Loose It All
13. Survival
14. Never Ending