Review
Album Review: Sly & Robbie and Spicy Chocolate - The Reggae Power 2
09/18/2015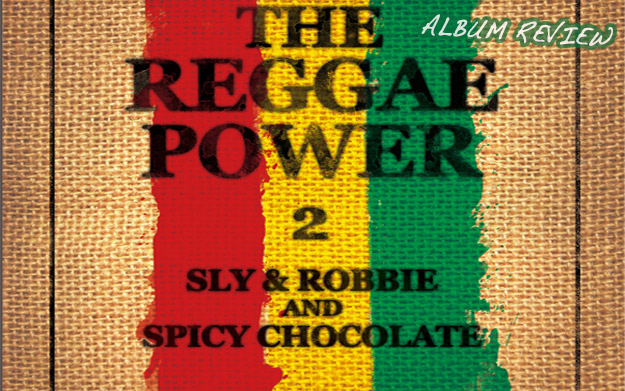 Tuff Gong, the record label founded by Bob Marley back in the day is re-emerging as a label and this compilation is one its newest productions in the can. It's part two as a follow up to the Grammy-nominated first volume, perhaps this one will get a nod as well. A collaboration between producers Sly & Robbie, Taxi Records and Spicy Chocolate, this set leads off with the first single from Skip Marley, son of Cedella. Entitled Life it's a contemplative, philosophical tune that picks up where Black Uhuru left off when they asked the question: "What Is Life?" The keyboard lines take one back to the digital era of reggae as Skip's husky voice with it's strong range injects power to this young man's musings.

Los Angeles based Latin Pop/Rock band Ozomatli performs Affinity over a rocksteady ska rhythm fused with lines from the band's bright horn section. Ozomatli's band supports with harmonies, a short rap breakdown that contribute to the festive atmosphere this band brings to live performance.

The vocal production for some of reggae's greatest singers on these tunes is stellar. Morgan Heritage sets the pace for several love songs in the sequence with a one drop song You in tribute to a partner's loyalty and a positive outlook that it brings. Brothers Peetah and Gramps have the pop-style phrasing down and it shines here. Maxi Priest breezes in with Give It To Me Baby a signature lover's rock tune listing the attributes of his desire. Demarco sings his love a serenade in Beautiful Feeling which could be the most straight up reggae tune, sung partly in patois with glorious soprano saxophone seasoning the lines.

Romain Virgo sings Dancing In Love over lush horns exhibiting his influences from American vintage R&B. His supreme vibrato is on display as he sings about the joys of the dance floor and how much of a release it can be from stress.

Beenie Man and Cherine Anderson team up for the dancehall rhythm Missing You Like Crazy with fun horn lines and chime synth sounds seasoning the groove. Cherine shines here and the chemistry is great between both of them on this pop-influenced love song. Vocal quartet T.O.K has what could be the EDM/dance track on the set with Feel So High a tribute to partying it up in the club.

Davin Di Dakta & JL sing Ayo Ayo which uses the same sound on keys that Gyptian's Hold You uses and feels like an answer song to it, with one of the vocalists actually asking the girl to "hold me" in the lyric. It's a lover's promise of satisfaction over a playful dancehall pop groove.

Shaggy appears on this set after the great Out Of Many One Music
album he released with Sly & Robbie in 2013 which also received a Grammy nomination. Continuing with this theme of romantic love he sings Be There For You over a rhythm that feels tailor made for his vocal delivery. He keeps it real stating "no matter if we cuss and fight it won't break us" proclaiming that riding through the storm he's going to be there.

No Maddz, the group whose debut self-titled album was produced by Sly & Robbie sings For Your Love over a rhythm that has Robbie Shakespeare's inimitable bass up front in the mix. Vocalists O'Neil Peart with his epic falsetto and chanter/dub poet Sheldon Shephard as the foil to the pledge of devotion. Discussion of ganja, cooked food and more of the comforts of playing house together are illustrated

Richie Stephens sings Golden Heart another lover's rock tune that lists the greatest attributes of a lover sung in his distinctive quality tone. Tanto Metro & Devonte sing I Love You over a sweet groove lush with trombone and sax lines and vibrant support vocals. The tune with its trade off of lines between the two vocalists infused with true patois lyrics and style has a classic Jamaican reggae/soul/gospel feel to it. Richie Spice comes in with Lay Back a reality tune that directs the conversation with Jamaica about development and the potential for growth versus the lay back approach as he sings the catchy hook: "slow boat gonna spoil your stroke."

To close out the compilation and harken to the lead track Loyal Flames sings Make It in a gravely voice that is full of vibes encouraging advice to "know you can make it" and "take control of your life, your destiny is yours of course." The rhythm is a smooth steppers rhythm with an evocative tonal chorus that stays with the listener.
 
---
Release details
Sly & Robbie and Spicy Chocolate - The Reggae Power 2
DIGITAL RELEASE [Tuff Gong International / Taxi Records]
Release date: 09/18/2015
Tracks
01. Skip Marley - Life
02. Ozomatli - Affinity 
03. Morgan Heritage - You 
04. Maxi Priest - Give It To Me Baby 
05. Demarco - Beautiful Feeling 
06. Romain Virgo - Dancing In Love 
07. Beenie Man & Cherine Anderson - Missing You Like Crazy 
08. TOK - Feel So High 
09. Ayo Ayo - Davin Di Dakta & JL
10. Shaggy - Be There For You 
11. No-Maddz - For Your Love 
12. Richie Stephens - Golden Heart 
13. Tanto Metro & Devonte - I Love You 
14. Richie Spice - Lay Back 
15. Loyal Flames - Make It 
Featured artists
Beenie Man
/
Demarco
/
Loyal Flames
/
Morgan Heritage
/
The No-Maddz
/
Richie Spice
/
Richie Stephens
/
Romain Virgo
/
Skip Marley
/
Tanto Metro & Devonte
/
TOK
/
Shaggy