Review
Album Review: Lutan Fyah - Longest Livah
09/15/2019
by Dan Dabber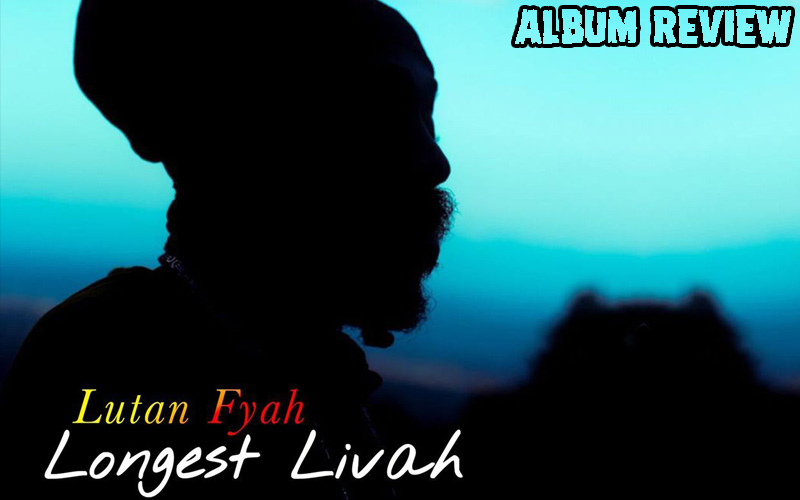 The release of Lutan Fyah's newest album, Longest Livah, marks the 20th year of the reggae singer's incredible music career, and the title seems to hint that we shouldn't expect him to quit anytime soon. This is fortunate for reggae fans because, even though he remains one of Jamaica's most underrated artists, the man has talent on the same level as icons like Dennis Brown and Garnett Silk, and his ability to consistently release good music over such a long period of time is remarkable.

Longest Livah is filled with quality tunes, but what might stand out to listeners is the diversity of the music incorporated into the project. As one would expect, there are certainly a few hard-hitting contemporary reggae tracks like Don't Put Yuh Trust, Sing Praise, and The Farmer Man, grounding the album in Lutan Fyah's unmistakable Rasta roots. Don't Put Yuh Trust may even be the top selection from the record, with a haunting hook that wisely warns, Don't put yuh trust inna politics. But Longest Livah is simultaneously a testament to Lutan Fyah's strengths and a demonstration of his ability to remain relevant, even outside of his perceived musical category.

His most dedicated fans know that Lutan Fyah is no stranger to dancehall riddims, and there are a few tunes on Longest Livah that crossover in that general direction. Money and Bankbook, for example, isn't a traditional dancehall riddim by any means, but it fits right in with many modern dancehall riddims by blending elements of reggae, dancehall, R&B, and hip hop. Meant to Be, Longest Livah's biggest push into the mainstream, is a bit more pop, but it also fits into this modern dancehall paradigm. Other nods to the dancehall scene include the retro approach of Never Say Never, which features the disputed "King of the Dancehall," Beenie Man, and Nuh Hail Dem, a heavily African-influenced tune that is congruent with the rise of Afrobeats in global dance music. Nuh Hail Dem may be the biggest shock on Longest Livah, as it is perhaps the furthest departure from Lutan Fyah's standard reggae style.

Longest Livah is rounded out with a few heartfelt acoustic ballads and a touch lovers rock, giving it a well-balanced feel with broad appeal. But while the majority of this album in one way or another demonstrates Lutan Fyah's relevance in the current state of reggae and world music, there is one track that shows the artist's reverence for the deep musical history of Jamaica. The title track, which features the un-Google-able Johnny Live, is a first wave-type ska tune, in the style of The Skatalites, and one of the most compelling tunes on the album. Weaving his lyrics around frantic horn licks and a bouncy bassline, Lutan Fyah concurrently associates himself with Jamaica's rich musical history while reminding his listeners of the undeniable energy built into the uptempo rhythms of ska. Officially the Longest Livah in modern Jamaican music, ska is the most appropriate vessel for this tune, as it gives the song the historical vintage that the title demands.

While Longest Livah delivers on nearly every song, there are no tracks that particularly stand out as potential hits. Even with several tunes that crossover into pop and urban territory, it is unlikely that you will be hearing Lutan Fyah next to Sean Paul or Cardi B on your local radio dial anytime soon. But this project, and Lutan Fyah in general, deserve your attention, especially if you are a fan of Jamaican music, and the potential IS there for Longest Livah or another album like it to earn Lutan Fyah a Grammy nomination in the near future. Whether he gets the recognition he deserves now or later, it is certain Lutan Fyah's music will live on for a long time to come.
---
Release details
Lutan Fyah - Longest Livah
DIGITAL RELEASE / CD [Lockecity Music Group]
Release date: 09/13/2019
Tracks
01. Don't Put Yuh Trust
02. Nuh Hail Dem
03. Please
04. Streetside Ghetto
05. Money and Bankbook
06. Longest Livah feat. Johnny Live
07. 7 Million Soldiers
08. Sing Praise
09. All For You
10. Meant To Be
11. Never Say Never feat. Beenie Man
12. The Farmer Man
13. 7 Million Soldiers (Acapella)
Featured artists
Beenie Man