Review
Album Review: Alpha Blondy - Mystic Power
03/12/2013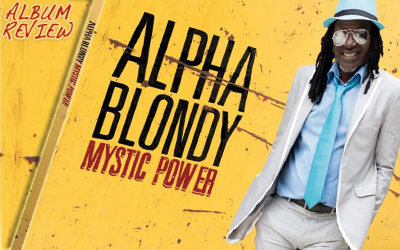 The slogan "roots, rock, reggae" had always been more important to Alpha Blondy than to his colleagues, with the exception maybe of Peter Tosh. With Mystic Power, the éminence grise from Côte d'Ivoire who sang lead vocals in a rock band at school, and still reveres that genre's greats like Pink Floyd and Led Zeppelin, is taking the fusion of rock and reggae one step further. Dirty riffs played by squawking electric guitars are so prominent a feature of Mystic Power, that only Blondy's Grand Bassam Zion Rock from 1998 bears resemblances.

Mystic Power sounds perfectly well-produced, with exact attention to small details. From Hope, the surprising combination with Beenie Man that allows both artists to showcase their strengths, to the quiet a cappella outro Exil (Malavoi), performed solely by Blondy's background choir. Between those two titles are, without exception, felicitous tunes. Many of them bring everything it takes to become a huge hit. Like Crime Spirituel, a reminder to those "holy warriors" not to abuse the name of Allah for their purposes. Or France A Fric, the insisting indictment of France's neocolonialist system of rule in its former colonies. The title is a pun that plays with "Françafrique", a term that denotes the neocolonialist chumminess of France in Africa, and "France a fric". In English, that phrase translates roughly to "France has money". Here, mainly the almost aseptically clean brass section provides melody. Seydou features the Senegalese Jèlimuso Coumba Gawlo Sèck on vocals.

One of my favorites is La Bataille d'Abidjan: "In this country/it is necessary to beat each other/and afterwards/we respect each other". All albums of Blondy have dealt with more or less recent political events in Côte d'Ivoire, and Mystic Power is an account of the current transition period after the civil wars and the contested presidential elections. La Bataille d'Abidjan pleases with dancehall-infused sounds one would never expect from Kòrò Jagger. He doesn't leave his own role during the conflict aside. Pardon is his apology to all those on whose toes he had or might have stepped. Alpha walks up a step towards his adversaries. A grand gesture that most of his opponents didn't bring themselves to do so far. Mystic Power is not limited to coming to terms with past issues, though. Danger Ivoirité admonishes of the danger of the ideology of ivoirité. This concept can be compared to the fascist German blood and soil ideology that, based on essentialist, ultraconservative, and academically long outdated concepts, wants to decide who belongs to a nation and who doesn't. In the Ivorian crisis, politicians used ivoirité to exclude their rivals as supposed "aliens" from political participation. Alpha refers to it as "Negro Nazism".

Mystic Power contains two cover versions. The first, J'ai Tué le Commissaire, is a French translation of Bob Marley's I Shot The Sheriff. The second one is Le Métèque. It is based on the eponymous classic of the Egyptian-Greek French chansonnier Georges Moustaki, a song about a slightly melancholic stranger who doesn't feel at home anywhere really.

With Mystic Power, Blondy sticks to his musical style, but progresses it gently. The album offers more points of contact for the reggae mainstream than its predecessor, Vision. The only exception is Réconciliation, which features Tiken Jah Fakoly, the other living legend of Ivorian reggae. Alpha Blondy had seen him as an enemy until spring last year. The tune is soaked in pathos. It aims, however, directly at the Ivorian public, which is why Ismaël Isaac, Meiway, Monique Seka, and Wiper Sabeherty are also on board. Fans have been waiting for decades for this meeting of the troika of Ivorian reggae. And the slightly cheesy synthesizer pads are better produced than anything else in this direction, at least.
---
Release details
Alpha Blondy - Mystic Power
CD / DIGITAL RELEASE [Wagram]
Release date: 03/15/2013
Tracks
01. Hope feat. Beenie Man
02. My American Dream
03. J'ai tué le Commissaire
04. Seydou
05. Crime Spirituel
06. La Bataille d'Abidjan
07. France A Fric
08. Ouarzazate
09. Soutra
10. Woman
11. Le métèque
12. Danger Ivoirité
13. Réconciliation feat. Tiken Jah Fakoly
14. Pardon
15. Exil (Malavoi)
Featured artists
Tiken Jah Fakoly
/
Beenie Man