Review & Photos: Sting 2015 Launch in Kingston, Jamaica (December 1st, 2015)
12/05/2015 by Christian Moll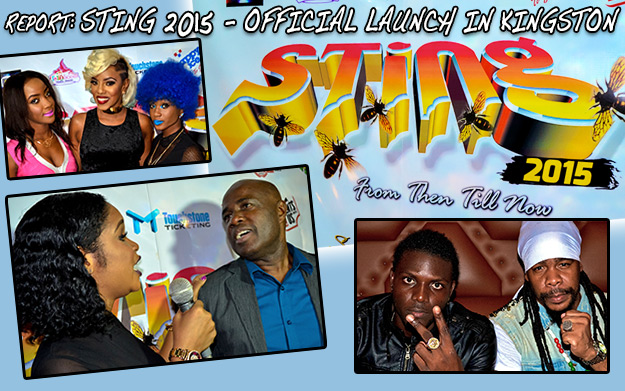 Sting Launch 2015 – 'From Then Til Now:' 32 Years of Sting and No End in Sight!

Whoever says Dancehall is dead must be sick. Truckloads of up-and-coming artists as well as veterans gathered at Triple Century in New Kingston last Tuesday [December 1st, 2015] to celebrate the advent of Jamaica's oldest ongoing live show, Sting. Organizers, promoters, and most of all artistes came to see and be seen; media coverage was guaranteed. Teams from TVJ, Hype TV, BOJ TV, the Jamaica Star, the Jamaica Observer and Irie FM were lining up for short interviews or spontaneous freestyles, and artistes were eagerly responding by bussing tunes in front of the video light. Especially young artistes who are relatively new to the business used the Launch to raise awareness for their respective brands with eccentric costumes and their own extravagant selves. After the four hosts, renowned dancehall academics Dr. Donna Hope, Dr. Sonjah Stanley-Niah, Dr. Dennis Howard and Clyde McKenzie opened the stage another long-term supporter of Sting, Dr. MacDonnald from 'Suretime Emergency and Medical Services' took the opportunity to contribute a minute of mediation and prayer for a successful Sting 2015. The hosts reminded the audience that "there is nothing called dancehall without Supreme Promotion," hosting Sting now for over 30 years. Tributes were given to several supporters of the festival from way back when and the hosts highlighted the fact that Sting was the first event to bring international Hip-Hop acts to Jamaica. After this very ceremonial-like introduction, none other but the founder of Sting Isaiah Laing shared his favorite memories. He made it very clear that this years' line-up will bring the past back to the present, the theme for 2015 being "from then til now." He remembered how the very first Sting festival in 1983 created 100% profit with only 5000 visitors and continued to talk about the legendary Shabba Ranks vs. Ninjaman clash of 1990. Laing also told the story of how for the first time in history, he put three artistes on stage at the same time in '91, when Tiger mercilessly slued Papa San and Admiral Bailey with his Cry Cry Baby in what is called a "Three The Hardway." Laing furthermore mentioned that there will be tribute sound systems for Buju Banton and Vybz Kartel, exclusively playing their respective music. The mysterious promise to bring back the past might partially become true, I thought, when I saw dancehall veterans Lady P and Lady Junie aka Lady Platinum entering the party. They are some of the first female DJs ever to enter the Sting stage in the late 80s. Howard Macintosh, director of Supreme Promotion and member of the planning committee finally brought Burru Banton on stage and invited him to buss a tune over the Answer Riddim; Burru was followed by a guest appearance of the Japanese duo Ackee & Saltfish.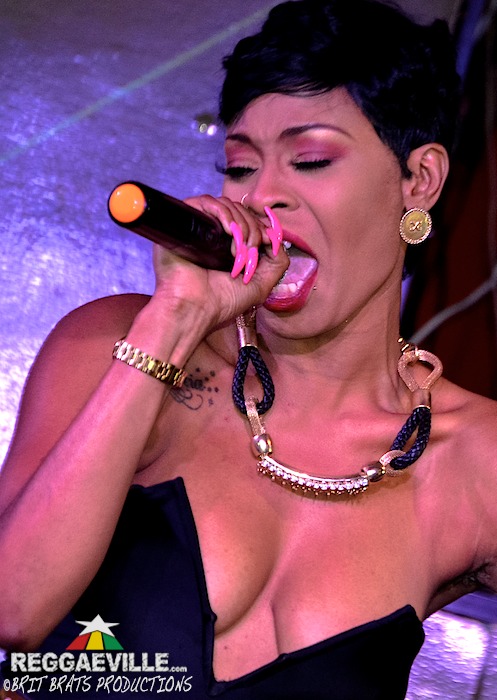 After this opening of the stage, dancehall divas and dons came on one after another, encouraged and provoked by Stings' long term MC Nuffy. Dozens of artistes entered the stage between 10 and 12 o'clock and most of them either jumped on the Answer Riddim too, or performed acapellas while dancehall queens bruked out every once in a while. Although the stage was filled with experienced acts like Professor Nuts, Major Mackerel, Powerman, Tiger, Junior Cat and Silver Cat, the majority of performing artists that night were young and upcoming. Next to young men like Tanto Blacks, Vershon, Jahmiel and Innovata, a whole lot of young female artistes such as Stylysh, Starface and Lavish showed their talents in highly sexualized performances. According to Jason Newman, who is part of the management team, this year's festival will have a lot to do with the event of 1994, when artistes like Beenie Man, Bounty Killer and Shabba Ranks had just entered the world scene. "We brought back as many people from that show as we could in order to bring back the spirit of the 90s. We want to give way for young artistes, let them see the great ones at work and then pave their own path from this year on."

In the face of all the great statements about Sting 2015 last Tuesday at Triple Century, I did not get the feeling that these people were exaggerating given the quantity of dancehall artistes present and the quality of their performances. The night proved to be but a very small foretaste of the actual festival in four weeks. Jamaica's dancehall audience can look forward to an event that will bring back on stage classics like Tiger's Bam Bam, Burru Banton's Boom Wah Dis, and Josey Wales It Haffi Bun. At the same time it will inspire new trends within the fluid and ever changing mechanisms of dancehall. We do not know what exactly Sting 2015 will bring, but one thing is for sure; around 15000 gun fingers will pull their triggers as soon as only the first line of one of these tunes will be heard from stage. Get ready fi slaughter!



CLICK HERE TO VIEW THE PHOTO GALLERY