Review
Album Review: Banda Senderos - Oase
06/30/2019
by Gardy Stein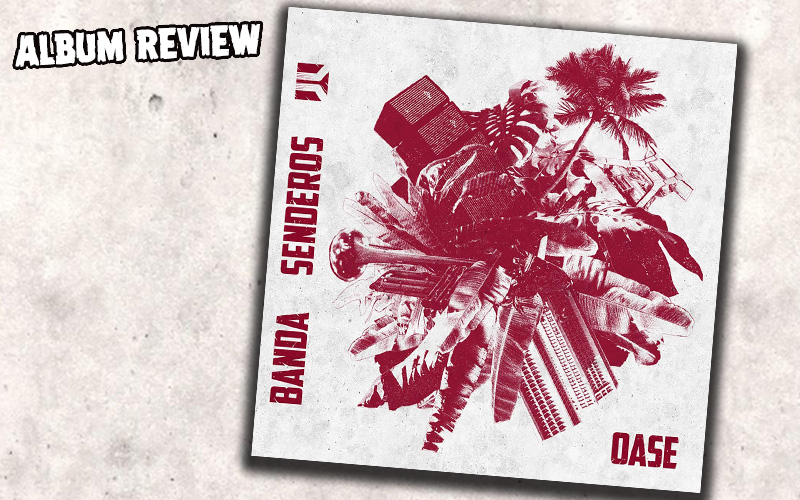 Oooh, new beginnings are so exciting! How a band/ producer/ artist starts a song has, at least for me, a tremendous influence on the way I perceive their music. In the case of Banda Senderos, their new album Oase drops on virgin ears, as I seem to have missed their debut Mobulu in 2015 and every single since - about time to catch up!
The group formed 2012 in Essen, a rather large industrial city in Germany's coal belt, and has grown into an impressive multicultural, 9-headed live sensation with roots in Germany, Chile, Poland and Kongo. Their current oeuvre is a joint venture with producer Guido Craveiro, whose proficiency has already accompanied celebrated artists such as SEEED, Cro and Dub Inc. But back to the beginning.
Mala Vena not only has a creative radiophonic onset, it's also a perfect starter, flooding our ears with that special "Reggae/Dancehall/Pop/Cumbia-Fusion", as the band describes their output. And with bass! Bass actually is a pleasant characteristic permeating most of the tracks in one way or another. In the Peter-Fox-like Es wird gut ("It will be fine"), for instance, it drones so compactly that it creates a pinching atmosphere, while in Schicksal ("Fate"), it is a continuous massage underscoring the passionate hommage to their home town.
Both El Tiempo and Respect start auspiciously, the musical elements used making them a fascinating listening experience, but somehow I can't really chum up with the singers' lyrics (too many forced rhymes for my taste) and timing. However, that's a rather subjective perception, and the equally extant linguistic diversity (we hear German, Spanish, French and English) deserves praise.
What sounds like an acoustic-style piece during the first notes of Weg Von Mir ("Away from me") develops into a pacy love-song, describing a fiery relationship. Sinkende Sonne ("Sinking Sun") continues the summer vibes with some Latin guitar, and on a groovy Reggae-beat, the title track sings about that Oase, that haven or happy place every one of us needs to recharge.
An instand favourite of my son, Elefanten compares the musical impact of the band to a herd of elephants, inviting all listeners to stomp along. When it comes to features, Banda Senderos didn't hesitate to add more talent to their already large group. Sonne in die Stadt ("Sun in the City"), which is promoted as a single and will be out on video soon, features Rap-duo 257ers and a Marley-Snippet. Jamaram, another German band, is heard in Lass Sie Reden ("Let Them Talk"), while So ist das Leben ("That's Life"), probably the oldest track, was released as single in 2016 with Columbian band-sensation Doctor Krápula.
Oase is a good-mood summer-treat you should allow yourself to have, even if you don't speak German (or Spanish). It might be less profound and serious than other Reggae albums, but it's truly remarkable because of the fine live instrumentation (and the beginnings of the songs), so let's give it up for David Fiege (guitar), Julian Kühn (drums), Jens Kolpatzik (trombone), Dominik Ohlmann (trumpet), Johannes Hartogh (saxophone), Pascal Wenske (bass), Jacek Brzozowski (keys) and of course singers Seba Campos and Dan Brown!
---
Release details
Banda Senderos - Oase
DIGITAL RELEASE
Release date: 06/28/2019
Tracks
01. Mala Vena
02. Sonne in die Stadt feat. 257ers
03. Lass sie reden feat. Jamaram
04. Es wird gut
05. El tiempo
06. Respect
07. Weg von mir
08. Hong Kong
09. Elefanten
10. Sinkende Sonne
11. Schicksal
12. Oase
13. So ist das Leben feat. Doctor Krápula
Featured artists
Jamaram