Review
Album Review: Arkaingelle - Nah Watah Down
09/19/2020
by Gardy Stein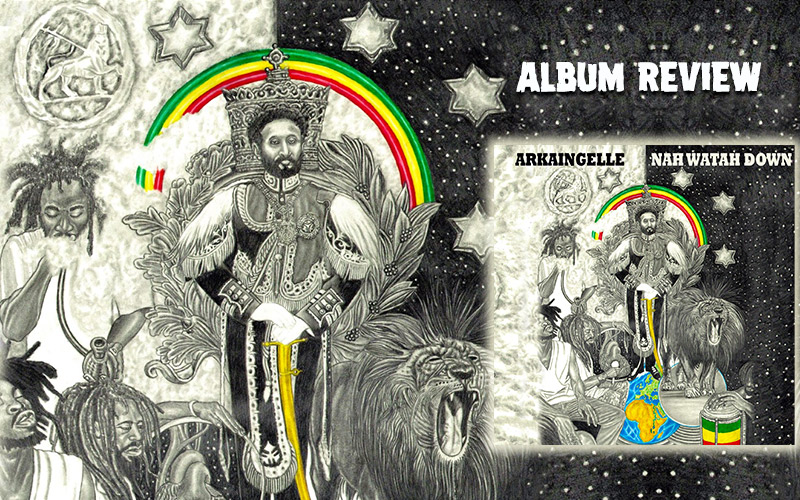 "And suddenly there appeared with the angel a multitude of the heavenly host praising God and singing: Glory to God in the highest, and on earth peace among men with whom He is pleased." (Luke 2:13-14)
Music is the sound of angels speaking, some say. The voices of the archangels, then, must have an even greater importance, as they transmit important messages from God to mankind. To adopt a name of such encompassing significance means you have large shoes to fill, but Roxroy Mykal Younge aka Arkaingelle does so with comfortable ease and undeniable talent.
After highly esteemed musical gems such as Tru Da Fyah (2017) and ...And Behold (2018), the Guyana-born artist now presents his newest feat called Nah Watah Down. Produced with the renowned Zion I Kings in close collaboration with Jah David Goldfine, the 11-track release is an impressive testimony of rock-firm faith, deep spiritual musings as well as vocal and instrumental excellence. Sign of the latter, you'll hear masters of their craft such as Robbie Lyn on keyboard, drummers Aston Barrett Jr. and Lloyd "Junior" Richards, Andrew "Drew Keys" Stoch on piano, trombone and synthies as well as Jonathan "Rankine Jedd" Rankine and Pau Dangla Valls of Jah9's Dub Treatment band, to name but a few. With additional input by producers Jah David himself (bass, guitar, percussion...) and St. Croix' legendary Laurent "Tippy I" Alfred, who plays rhythm guitar and was responsible for the mastering, the listening experience is a pleasant one and highly recommended on big speakers.
Three interludes make the voices of the Rastafarian Brotherhood be heard, represented by Bongo Isaac, Bongo Nanny, Bongo Cutty and, opening the album, Wonderful Counselor, an elder who blessed Arkaingelle with his artist name. The only other feature on the release is Light Tha Torch, a powerful, pumping track that assembles the like-minded lyrical spirits of Kabaka Pyramid and Pressure Busspipe in an evocative chant about Rasta principles and our collective responsability for what's happening on planet Earth.
All remaining songs highlight the flawless vocal performance of Arkaingelle himself, starting with the title track and ending in a heavy Dub version of Waan Pay Fah - and in between these there is not a second where you'll get tired of the singer's voice! Whether it is the relaxed chanting style in August Majesty or Thrones Of Judgement, the forceful determination ringing through in Dat I Am, the creative play with words and timbre in Substance or the melodious delivery in Daga, Arkaingelle unfailingly finds the exact right tone and intensity to fit the riddim and bring his message across.
Stand-out tracks for me are the beautiful Inna Lyfe, a masterpiece both in regard to the instrumental bliss and the sanguine lyrics it harbours, as well as the skank-inviting Guh Suh which instantly throws me in a festival setting, singing along the chorus with hundreds of people. Run come gimme di Roots and Culture!
With a special nod to the visual arts, as is Arkaingelle's habit, the cover artwork by Bro. Ato K. D. Roberts adds the finishing touch, leaving no doubt about the album's alignment with Rastafarian principles. Nah Watah Down is a reminder of what Roots Reggae music stands for, an important addition to this year's artistic output and a trusty companion for hours upon hours of pleasant ear massage and soul-feeding meditation. Hark now hear the archangel sing!
---
Release details
Arkaingelle - Nah Watah Down
DIGITAL RELEASE [Zion High Productions]
Release date: 09/18/2020
Tracks
01. Glory To World feat. Wonderful Counselor
02. Nah Watah Down
03. Inna Lyfe
04. Daga
05. Light Tha Torch feat. Kabaka Pyramid & Pressure Busspipe
06. Babyworng feat. Bongo Nanny & Bongo Isaac
07. Waan Pay Fah
08. Guh Sun
09. Dat I Am
10. Agust Majesty
11. Purify feat. Bongo Cutty & Bongo Isaac
12. Thrones Of Judgement
13. Substance
14. Waan Pay Fah Dub feat. I Grade Dub, Bongo Nanny & Wonderful Counselor
Featured artists
Pressure Busspipe
/
Kabaka Pyramid