Festiville 2020 - New Magazine Out Now
06/13/2020 by Gardy Stein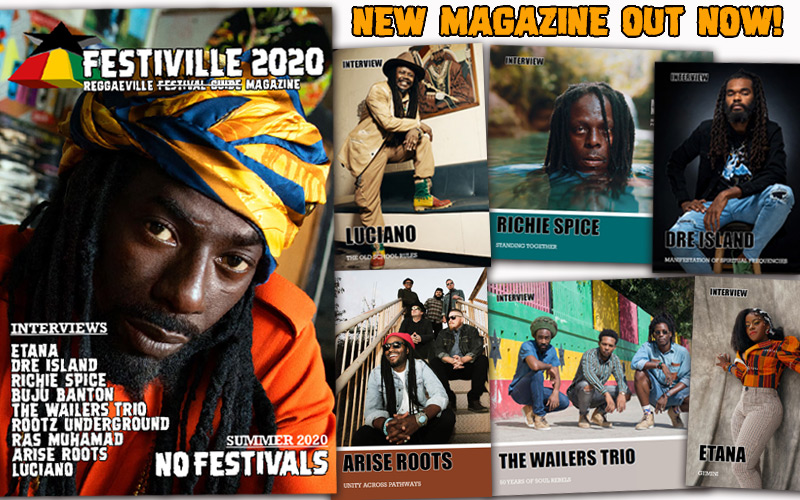 Corona and BLM are the characterising terms of this weird year of 2020 so far. The former – apart from the appalling numbers of deaths attributed to Covid-19, of course – is to blame for existential hardships felt by almost every member of the music industry, for a rather dull summer without our beloved festivals (and thus the reason why our Festival Guide turns into a Magazine this time around) and for the rise of alternative concepts such as the Instagram Verzuz Clash Bounty vs. Beenie or drive-in concerts, exemplified by Gentleman's recent appearance in Hanover, Germany which is captured in pictures on the pages 6-7.

Black Lives Matter, instead, is a welcome and long overdue international movement against the continued oppression of and discrimination against people based on the colour of their skin, tragically triggered by the violent homicide of US-citizen George Floyd. It finds its repercussion not only in society, as demonstrations make people unite on the streets around the world, but also in art and music.

Thus, Anthony B performed his brand-new song Mr. Officer on a rally in Vienna on June 4th, while many other artists voice their concerns in new releases or interviews.

To share these with you, we present the words, sounds and powers of bands and artists like The Wailers Trio who celebrate 50 years of Soul Rebels, Rootz Underground and their triple album Red - Gold - Green, the debut Now I Rise by Dre Island as well as Etana, Richie Spice, Arise Roots, Ras Muhamad and Luciano. A special place is reserved to the return of the Gargamel: Buju Banton is not only featured on the cover, but also with an extensive interview about his eagerly awaited album Upside Down 2020.

Other treats include album reviews of Chezidek, Rebelution, Groundation, Paolo Baldini and Jahmiel, plus an album feature on My Cup Runneth Over by The Wailers feat. U Roy.



Due to the ongoing and ever changing situation regarding live events, we will not include the usual Festival agenda in this issue. However, you can find all confirmed dates on our FESTIVAL AGENDA, so make sure you check that out! And to not let that sweet Festival feeling slip away completely, we will spoil you with a collection of rare festival photos from the Reggaeville archives: Reggae Sumfest, Reggae Sunsplash, Reggae Sundance, Rebel Salute, Reggae Jam, Africa Unite...

Unity is a good closing word, incidentally, because it is what we need, now perhaps more than ever. So: unite, people, both with your inner self and with others. We got your back!

CLICK HERE TO READ & DOWNLOAD FESTIVILLE 2020