RIP Apple Gabriel - Founding Member of Israel Vibration
03/26/2020 by Gardy Stein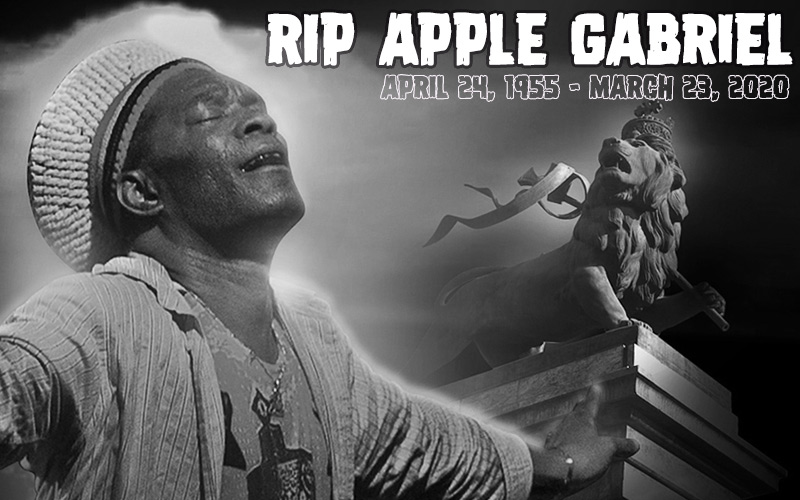 Albert "Apple Gabriel" Craig, co-founder and ex-member of the world famous Israel Vibration, has passed away last Monday, March 23, 2020. The cause of his death was said to be a "compilation sickness, not Covid-19", according to a post on Facebook by Roots Radics' Flabba Holt.

Apple Gabriel hasn't been well for quite some time. Struggling with the marks a Polio-infection left on his body throughout his life, reports suggested that, already 10 years back, he was in poor health and living condition. His last Facebook post from March 7th seems to herald the imminent tragedy, talking about a stroke he had suffered, leaving one side of his body limb, and how he is being discharged without a proper place to go...

His life was never an easy one, and it continued its bumpy journey of ups and downs after he left Israel Vibration in 1997. His first tentative steps into a solo career were quite promising. His debut album Another Moses (1999) found favourable acceptance, he collaborated with bands and artists (e.g. Groundation or Jahcoustix) and did occasional stage shows (e.g. 2009 in Israel - watch the full concert here). One of the milestones of the late Apple Gabriel certainly is the album Teach Them Right released in 2010, a testimony of his vocal and compositional talent. However, all these activities didn't provide him with a stable income, so that he was homeless time and again and not able to record all the music that kept simmering inside of him.

Many will remember this talented singer by the words so fittingly found by Heather Augustyn, published on APPLEGABRIEL.com, while he was still among us: "Apple Gabriel [...] has had a hard life. He has been a sufferer in many ways [...]. Apple Gabriel's days on this earth have been tough. But despite his warrior shell and words he throws like stones at his foe, Apple Gabriel is a kind and strong man, a funny and smart man, a creative and productive man, and he is a hell of a musician."

Indeed he was. Most of Israel Vibration's greatest hits stem from his feather, including We A De Rasta, Why You So Craven, Oh Jah Solid Rock, Mud Up, Rude Boy Shuffling, Friday Evening and Walk The Streets of Glory. May he do exactly that - walk onto the glorious paths of heaven - and may his music continue to inspire us.

Coincidentally, Apple left us on the same day on which, 21 years ago, he released his first ever solo album Another Moses in 1999.