Review
Album Review: Rekall - Unification
02/04/2021
by Steve Topple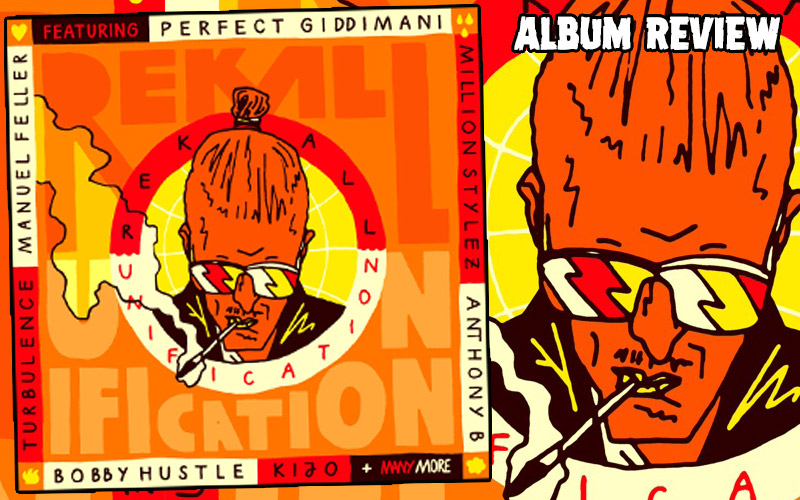 It's always pleasing to see the title of an album reflect the project in its entirety, along with the message the artist is bringing. Enter Rekall, with a perfect example of this.
Unification, released via Bassrunner Music, is the first full album from this interesting artist. The majority of the production across 13 tracks comes from the always-reliable and skilled House of Riddim – meaning the production, engineering and mastering are all of a high quality. And the compositions themselves are equally strong.
The album opens with the title track – thoroughly fitting given it features a huge roster of artists; (deep breath): 3gga, Deliman, John Dizzy, Kijo, Mad Noise, Elle, Miss Weirdy and S Pri. Ostensibly Roots in formation, what House of Riddim has done so well is to stick to the mantra 'less is more'. The composition is unfussy, meaning that the rather ambitious task of featuring nine artists on one track doesn't feel overwhelming.
Rekall and House of Riddim stick to the Roots theme across the rest of Unification; albeit with variations on the genre included which heavily lean towards Funky Soul.
I Will Never, featuring Turbulence, treads an almost modern Reggae Soul-Rock path (or is it the Panamanian Romantic Flow?), with its haunting, bending electric guitar line and use of a heavily vibrato'd electric organ. It's an impressive composition and both artists are extremely strong across the track. Bobby Hustle then comes on board for They Will Try – a pacey piece which again focuses on electric guitars: one haunting solo line, and one, heavily wah-wah'd, that partly mimics the bass. The grandiose, Funky/Philadelphia Soul-like orchestral breaks are particularly pleasing – but the one drop bass arrangement drags it firmly back to Roots.
Changes Gonna Come featuring Deliman has more of the same, strutting Funky Soul vibe. But here, the bass' arrangement is more heavily syncopated – making the BPM feel quicker than They Will Try, even though it's almost identical. And cue those intelligently-arranged, overbearing orchestral breaks again – juxtaposed with a brilliant Dancehall bridge, built around that 'oneeeeee-twooo-and' clave. Superb; as is Good Ova Evil, where Rekall is assisted by the always on-point Anthony B. Here, the pace is slowed and the arrangement hollowed out a bit. This creates a smoother, more fluid feel – but with the electric guitars still prominent, including a nicely growling solo at the end.
But Rekall and House of Riddim also know when to tone down the Funky Soul dial. My Generation, featuring Vearz, veers more towards straighter Roots, albeit with some nice touches: the electric organ swerving between a half time bubble rhythm and improv sections being one example. Ganja Love Remix with the talented Million Stylez is the one track produced by another outfit – here, Lion Riddims. They bring in a heavy horn section for the first time, running a countermelody to the main one, and a blissed-out use of a glockenspiel.
Water and Oil sees Rekall joined by John Dizzy across a further move towards straighter Roots – with a pronounced one drop, horns giving responses to the vocalist's calls and keys on a bubble rhythm with the most fleeting of reverb and decay used at points. Step by Step featuring Danjah takes the Roots vibe and brings in some nice intricacies, including some deep, rasping yet resonant synth horns and nods to more African percussion with the shaker and some tinkering blocks.
But Unification also breaks out into stripped-back, Old Skool vibes too. Smoke Some, featuring the delicious Perfect Giddimani, is a throwback to a Reggae Sound System vibe. Stripped-back and unfussy, it's a basic package of a rhythm section plus keys and organ – but the inclusion of a soaring G Funk Whistle is a genius touch. The remix of Clean Food, featuring Austrian World Cup and Olympic skier Manuel Feller (who is just as skilled here as he is on the slopes), keeps the Old Skool feel going, but this time more 80s Dancehall due to the increased BPM, syncopated bass and persistent drum line. Kijo and Rekall's track Online then takes this stylistic theme and develops it further. It uses basic Sound System musical devices and flips them. For example, the usual root to major 7th chord progression (seen on Smoke Some and Clean Food) is adjusted to be a root to major 4th. Well-placed synths drag it into the 21st century, while the rhythm section maintains an Old Skool arrangement.
Finally, House of Riddim's Sam Gilly helps close the album with Rekall across the Dub version of Rise Up. It's an impressive offering, not that that's a surprise from Gilly. Filled with heavy use of compression, reverb and decay across the vocals it leans towards a very modern Dub vibe: deep, brooding and sample-laden, with some highly effective off-key notation thrown in. Ethereal and trippy in equal measure.
Aside from the musical competency, Rekall has created a lyrically strong album, dealing with themes of love, the system, justice, cannabis and spirituality – which combine to deliver an overriding message of unity. The rousing and heartfelt They Will Try and Changes Gonna Come particularly stand out, because the powerful thematic content about our fight against the system marries exceptionally well with the punchy, emotive compositions. As an artist, Rekall is talented: possessing a good vocal range, natural flair for interpretation and strong control over his instrument. He is particularly effective across his singjay – delivering complex variations on rhyming patterns at an impressive rate of syllables per second, too.
Overall, Unification is a solid release from Rekall and House of Riddim. The emphasis on the funkier side of Roots is well executed as a musical theme but with enough variation from this, too. The compositions are all catchy and Rekall delivers both vocally and lyrically. One to watch in the future.
---
Release details
Rekall - Unification
DIGITAL RELEASE [Bassrunner Music]
Release date: 02/04/2021
Tracks
01. Unification Song
02. I Will Never feat. Turbulence
03. They Will Try feat. Bobby Hustle
04. Changes Gonna Come feat. Deliman
05. Good Over Evil feat. Anthony B
06. My Generation feat. Vearz
07. Smoke Some feat. Perfect Giddimani
08. Ganja Love Remix feat. Million Stylez
09. Clean Food Remix feat. Manuel Feller
10. Water & Oil feat. John Dizzy
11. Online feat. Kijo
12. Step By Step feat. Danjah
13. Rise Up Dub feat. Sam Gilly
Produced by
House Of Riddim
Featured artists
Turbulence
/
Bobby Hustle
/
Deliman
/
Anthony B
/
Perfect Giddimani
/
Million Stylez