Review
Album Review: Bramma - Rugged & Deadly
09/11/2020
by Steve Topple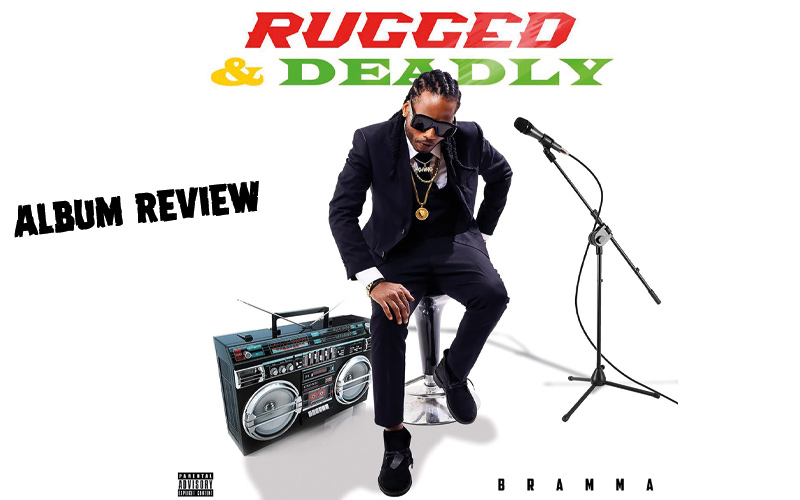 Rugged & Deadly, released via Riddim Force Records and Bramma's own label GGOD Records, sees the former take charge of executive production across the album. This always-reliable production outfit's influence shows – as the project is a solidly fluid, compelling and infinitely listenable journey through modern Roots and its derivatives.
Bramma and Riddim Force visit numerous genres and styles across Rugged & Deadly; utilise several production talents and bring on board some stellar artists to assist across various tracks. It should be noted that despite the various hands that have worked on the album, as a whole there's production and mastering synergy across it; a credit to the producers' and Riddim Force's skills; the latter doing the production on many of the songs.
The Roots tone is set from the album's opening title track (with its smart and effective nod to Sade's Smooth Operator). Belly a the Beast treads a distinctly Roots/Soul path, with its hard, kick-led one drop juxtaposed with the whining electric guitars and Doo-Wop-meets-call and response backing vocals. Anthony B effortlessly and powerfully assists Bramma with the Roots-y Dancehall Rock, a track that's classic in its formation with Dub breaks, a drop beat bass and lightly touched bubble rhythm across the keys.
More Pop-led Reggae also features on the breezy Big Chune, complete with a swaying horn section, and its remix with the incomparable Freddie McGregor. Sounds that would be at home in the Revival movement are incorporated at times, too. All Ganja Man is overly Roots (note those bubble rhythm keys), but with an imposing Hip Hop drum arrangement – with the kick driving the downbeats, not the usual one drop two and four. The sumptuous yet unsettling, Touch Point Records-produced My Love flips this, with the focus being on the Hip Hop while something akin to Lover's Rock (with a nice guitar skank) takes a background role. Rugged & Deadly's closer, Sensie Ride (with production from Sensi Movement Records) has rudimental Roots elements – but its minor key and melodic arrangement that works up in thirds, often just running around three notes, is all very brooding and Revival. And Hot Ah Street featuring Morgan Heritage's Mojo sees Bramma smash up Roots with some sombre production and a haunting melodica line.
But it's when Bramma branches out into other genres that the album really sparkles.
Luciano comes on board with Africa. It's a glorious, Nyabinghi-like affair featuring a soaring percussive arrangement and fulsome, heavily harmonised backing vocals. Wi Deya is produced by Emudio Records and features Zagga. It takes Rugged & Deadly straight into AfroDancehall territory, with its nods to Trap on the hi-hat buzz rolls, driving, stuttering snare rhythm and sharp synth strings. Di Genius and Bramma join forces across Warning – a smooth, AfroDancehall-RnB cut with both artist's outfits providing wonderful, Toronto-esque ambient production along with Riddim Force. Reggaeton even gets a look-in at points. Journey, while ostensibly Roots, sees the percussion occasionally stray nearer the South American-influenced side of the genre, with the snare's brief strikes of multiple offbeats.
Then, Hurt by Love ignores what's come before it and amalgamates elements of Roots (the drop beat bass), Afrobeats (the striking synth strings), and again almost Reggaeton percussive arrangements – with the production from S.H.S. Records and DJ Nico being first-rate. Blame Love feels like it should be Lover's Rock. But what producer DJ Smurf Musiq has done so well is to mix in elements of RnB – not least the wonderfully performed keys which go up and to the side of a straight bubble rhythm, a vibrato-heavy electric organ and rich, lower kHz-focused engineering. And Who'm Shall I Fear is out-and-out experimental Roots-meets-RnB with its relentless double time kick and lilting guitars. The two skits (Girl and Weed) coupled with the intro place nice bridges into the album. Overall, Rugged & Deadly is a musically detailed and colourful project – whose credentials are cemented by both Bramma's performances and lyrics.

He's a talented artist, sitting equally at home across straight vocal as he is singjay. Bramma has a rich yet crystalline tone to his voice, which sits naturally in a tenor range but can equally flip down to a high-end baritone. He delivers some complex, well-enunciated vocal runs at points – and like all the best Roots vocalists, could easily perform stirring Soul/RnB tracks; Blame Love, with Bramma's attractive vocal, full of light and shade, being a prime example. Then, his singjay is impressive - particularly across All Ganja Man, hitting eight syllables a second at points and using highly varied and complex rhythm patterns.
Lyrically, the album sits on that fine line between conscious music and something lighter; a tightrope that many artists are treading more and more often. From Belly of a Beast, with its narrative about the toxic nature of living under Babylon, to Big Chune's singing of Reggae's and Jamaica's praises, Bramma has created something accessible yet still thought-provoking. Hot Ah Street with Morgan is evocative and moving, as the duo discuss violence and the breaking down of society, while Africa is a glorious tribute to the Motherland. Overall, the whole narrative is well delivered and the music compliments it perfectly.
Rugged & Deadly is a strong album from Bramma. It was a smart move to get Riddim Force to co-pilot this vehicle, as the quality of the record is top-class. He's a gifted performer, the tracks are engaging and well-constructed and the whole project is impressive and classy. Nicely done.
---
Release details
Bramma - Rugged & Deadly
DIGITAL RELEASE [Riddim Force]
Release date: 09/11/2020
Tracks
01. Intro
02. Rugged And Deadly
03. Belly A The Beast
04. Bug Chune
05. Dancehall Rock feat. Anthony B
06. Warning feat. Stephen "Di Genius" McGregor
07. Skitt
08. Hurt By Love
09. Journey
10. Blame Love
11. Africa feat. Luciano
12. Whom Shall I Fear
13. Wi Deya feat. Zagga
14. Skitt
15. All Ganja Man
16. Big Chune Remix feat. Freddie McGregor
17. My Love
18. Hot Ah Street feat. Mojo Morgan
19. Sensie Ride
Featured artists
Anthony B
/
Luciano
/
Freddie McGregor
/
Zagga
/
Mojo Morgan
/
Stephen 'Di Genius' McGregor