Preview: HEMP! Tributo Reggae A The Beatles Vol.2
10/01/2013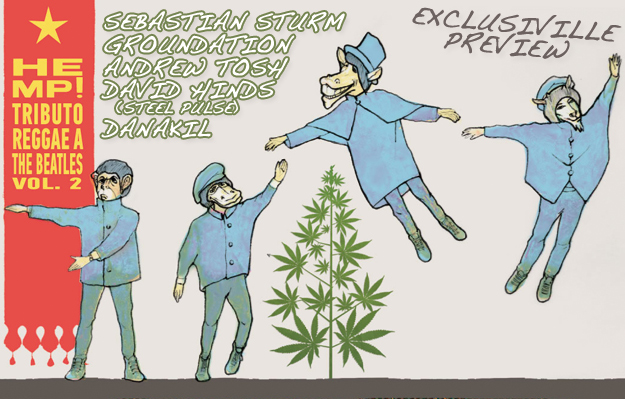 Reggae goes Beatles?
Stephen Marley sings Eleanor Rigby for Salaam Remi's new album [LISTEN HERE]. Anthony B covers John Lennon's Imagine on his recent album Tribute To Legends.
It's not a new concept and has done many times before, but there is more to come...
HEMP! Tributo Reggae A The Beatles Vol.2 is the title of a massive Reggae tribute to The Beatles to be released October 30th.

Producer Hernan "Camel" Sforzini, out of Argentina, put together an impressive list of artists doing their version of Beatles songs. 56 artists from 16 different countries are featured on 48 tracks. It was produced in Afro studios (Argentina) and in 35 studios around the world.

Just to name a few of the artists:

Andrew Tosh, Sly & Robbie, Ali Campbell, Mellow Mood, Ras Attitude, Big Mountain, Bambu Station, Raging Fyah, Nkulee Dube, Yellowman, Rebelution, Prezident Brown, Ras Michael, Don Carlos, Rootz Underground, Danakil, Sebastian Sturm, The Aggrolites, Mad Professor.

Surely all the big tunes by the Fab Four are on it: Yesterday, A Hard Day's Night, Love Me Do, Come Together, Help!, Let It Be... you name them! Check the full tracklist HERE!

HEMP! is the sequel to El Album Verde, a compilation of Beatles songs performed by the the biggest latin-american Reggae bands, which was released in 2005.


We picked 5 tracks for you to listen: