Review
Album Review: Tiken Jah Fakoly – Dernier Appel
06/02/2014
Tiken grows older, sure, but on Dernier Appel he is on top of the game. This album is a masterpiece.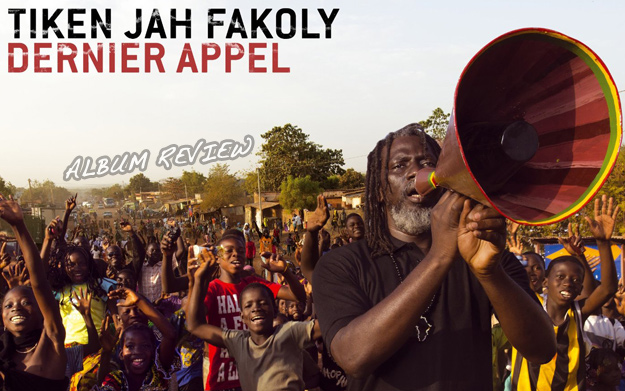 Three and a half years after Tiken Jah Fakoly proclaimed the African Revolution, the master is back with his eighth studio album, aptly named Dernier Appel ("Last Call"). The topics are mostly the same, but this time his request is even more pressing. No, this will not be his last album as the title might imply to you, incha'allah. This is the kind of metaphor that is imposed on you if you travel the world so tirelessly that you find yourself at an airport every other day.

Working with production masterminds Jonathan Quarmby and Kevin Bacon once more, the musical concept behind Dernier Appel can be summed up as a neat mélange of the acoustic Mandé instruments that characterized African Revolution and Tiken Jah's trademark reggae his fans celebrate him for. In other words, on Dernier Appel he uses no less than twelve different Mandé instruments, but the demand for 6.35mm audio jacks to plug instruments in directly was much higher this time.

Tiken recorded Dernier Appel with his seasoned band, Les Djelys ("The Griots"), that mostly consists of the Parisian luminaries of Fariband, the band around bass ace Ras Jumbo. Thanks to Quarmby and Bacon, the album pleases with a sound of unparalleled levels of detail and depth. And Tiken invited some top-ranking feature guests, something he had not done since Françafrique.

The first of these noteworthy combinations is Human Thing, and it is with Nigerian singer and activist Nneka. "It's not only white man who do that/it's not only Black man who do that": choosing Nigerian Pidgin and English to reach out to the global audience, the message is that you can never judge someone by the color of his skin. Diaspora is another strong featuring with Ivorian reggae legend Alpha Blondy. After Blondy and Fakoly reconciled in 2011, they already recorded Réconciliation, featured on Blondy's last album Mystic Power, a tune fans of both legends had been waiting for over a decade.

The rerecorded version of Tata, Tiken's only love song, is the one that most closely resembles the style he had employed on African Revolution. Although Tiken sings precisely the same lyrics in the exact vocal style of the original, this evergreen sounds brand new. A welcome surprise is the cover of Max Romeo's War Ina Babylon, for which Tiken invited Nneka and Patrice. Tiken grows older, sure, but on Dernier Appel he is on top of the game. This album is a masterpiece.
---
Release details
Tiken Jah Fakoly - Dernier Appel
DIGITAL RELEASE / CD [Universal]
Release date: 06/02/2014
Tracks
01. Dernier Appel
02. Human Thing - feat. Nneka
03. Le Prix Du Paradis
04. Diaspora feat. Alpha Blondy
05. Tata
06. Dakoro
07. War Ina Babylon feat. Nneka & Patrice
08. Too Much Confusion feat. Patrice
09. Quand L'afrique Va Se Réveiller
10. Saya
Featured artists
Alpha Blondy
/
Patrice