Reggae Sumfest 2017 - Line-Up
03/25/2017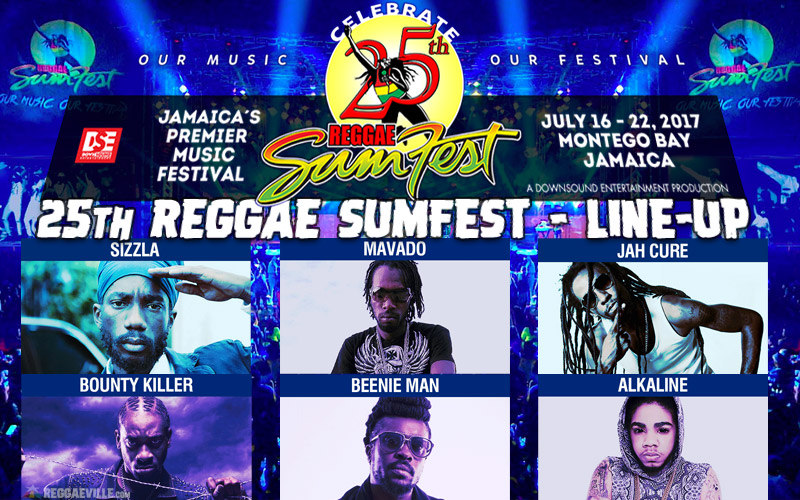 FREE REGGAE SUMFEST 2017 LIVE STREAM HERE!

Reggae Sumfest 2017 will end its week-long festival on a high note with an exciting two-night concert at Catherine Hall. For the 25th staging, Night One will feature the Champion Boy, Alkaline along with the Spice, "Stage Show Boss", who is set to give her fiery brand of performance. Night Two is also brewing a force of Reggae as patrons will be swept off their feet with Sugar Reggae from Christopher Martin and the lifted Conscious defender Queen Ifrica.

Patrons can expect high-energy shows with a combination of powerful performances with dynamic visuals on stage and an atmosphere filled with all that is right with Jamaica. Josef Bogdanovich, of Downsound Entertainment, organisers of Reggae Sumfest is pleased with the return of Alkaline and Queen Ifrica to the Reggae Sumfest stage. "Queen Ifrica last performed in 2010 and Alkaline at the 2014 staging of the Festival and since that time both have grown professionally. They have further cemented their fan-base, who have propelled us to ensure their inclusion in this year's event," he explained.

Alkaline, whose given name is Earlan Bartley, has amassed a huge following since his last appearance on Reggae Sumfest and fans can expect a hardcore performance to include hits such as Spoil You, Ride on Me, Badness It Name and Extra Lesson. Last year, with his New Level Unlocked album, Alkaline became the first Dancehall artiste since 2011 to top the Billboard Reggae Album Chart. Since then, the Champion Boy has reaped musical successes and has expanded his entrepreneurial skills with the Vendetta clothing line. The artiste will lead the Dancehall charge at this year's event along with the reigning Dancehall Princess Spice.

Spice, born as Grace Hamilton will get fans dancing on Night One with her mega-hits So Mi Like It and Indicator and will continue to promote her new single Sheet. The hardest working woman in Dancehall recently released a remix to the single Indicator with Soca star Bunji Garlin. Spice, continues to engage fans with her music, dances and authentic persona, three very powerful aspects of the dancehall culture. Fans can expect a lyrically potent performance from Spice, who recently released a hardcore diss track called Prison Warder to remind detractors of her power. Spice will make way for another Charge on Night Two at Catherine Hall, set to led by Reggae royalty .

After a six year hiatus, award winning singer and songwriter Ventrice Morgan, aka Queen Ifrica, returns to the Reggae Sumfest Stage on Night Two with her message of upliftment and truth. Her third studio album, Climb became available on March 3 and features the new single Trueversation, which features Damian "Junior Gong" Marley. Armed with new material and a resolve to seek justice for women and children fans can expect a powerful performance riddled with her signature style of confidence and charm.

FREE REGGAE SUMFEST 2017 LIVE STREAM HERE!