Review
Album Review: Lady Saw - Alter Ego
11/17/2014
by Gardy Stein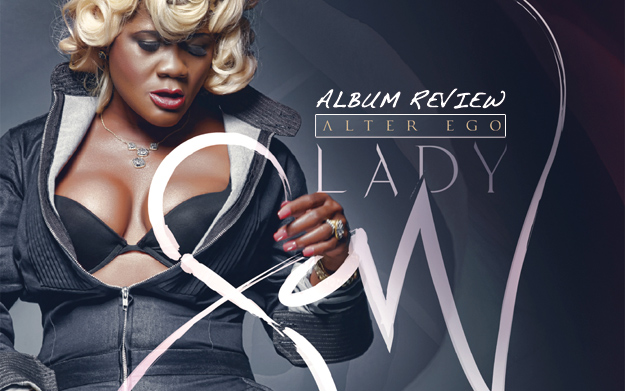 Lately it seems that female artists are more present on the global Reggae scene than ever before. Established singers as well as new voices add their creations to a growing discography of - yes - women! Not as background singers, not as girl groups, not in combinations with successful male artists - during the last few months, we have seen countless releases (hit singles as well as full-fledged albums) of, among others, Sara Lugo, Jah9, Ce'Cile and Etana.

An undeniable contribution to the fact that these ladies are accepted and respected today made Marion Hall, who has been active in the business for 25 years under her nom de plume Lady Saw. She hasn't been bestowed with the title Queen of the Dancehall for nothing – the artiste managed to fight her way to the top in this men-dominated genre, relying on toughness and talent alone. Until today, many female singers profit from the breach she blew.

After announcing in 2012 that she will turn her back on the dancehall business and do Gospel instead, devoted fans expressed their regrets, even though they respected her decision. In part due to their continuous support, Muma Saw herself soon realized that something is missing – her new album is thus not a Gospel Compilation. In no way corseting her creativity, Alter Ego is an ingeniously conceptualized release on her own Diva Records label, making us aware of the many layers there are to this unique artist personality.

Listening to the 14 tracks included, you'll discover a reflective, eloquent woman in tracks like Heaven, a beautiful Gospel piece that speaks of the strength she found in faith, or the touching She Has Changed, a combination for which she was able to win the one and only Beres Hammond. It has virtually left me in tears there is so much emotion to it, conveyed in the voices of these two masters as well as in the haunting saxophone and violin instrumentals.

There is plenty evidence of the independent, proud and self-conscious female she is, too. Take STD, for instance, a Soul track dripping with sarcasm while chiding a wanna-be-lover for delivering her with the questionable gift of a sexually transmissible disease. Or I Do Love You (featuring UB40's Ali Campbell), a bitter-sweet love song in which the singer takes the painful consequence of leaving her lover after he cheated on her. The opener What Kinda Man, a bluesy combination tune with British singer Estelle, expresses this section's concept best with the chorus: "What kinda man would lie to me? What kinda man would cheat on me?".

You'll meet the humorous, life-affirming girl who doesn't take things too serious and teaches us that there's nothing wrong with showing a teethy grin to the world in case it frowns at us. Selfie and the soca-infused Whine will make you smile and move, respectively, while Hoping takes the fun to the bedroom, winking.

And of course there is the Dancehall Queen as well. Mi & Mi X (Stashment Records) and Nuh Yuh Business are prime examples of that, and although Pretty Fingers is recorded on a Dance-Pop riddim, its juicy lyrics play on exactly the in-your-face honest "rude gyal"-image she has come to be famous for.

A well-known highlight of the album is the boom-tune Heels On, here in a sexy remix with Flo Rider (Mr. "Blow my whistle"). You just can't resist its sweet musical arrangement, and – be honest – the lyrics do put pictures in your heads, don't they? Obviously because this song's concept worked so well, producer Teetimus follows his own recipe in the next track Cockpit - a pleasant melody, bedroom-lyrics, and Lady Saw's crooning voice to top it all off.

Hate Your Guts, finally, is a reckoning with her ex, a very personal digestion of the hard times she had, but at the same time a future-oriented confirmation of what hopefully lies ahead of her. No denying, this album is a revelation! In between the tracks we hear excerpts from interviews in which Marion Hall gives us a glimpse of very personal insights into her life and career.

As you can see, there is a lot to discover here. Put the misconceptions any grapevine-chatter might have given you about Lady Saw aside and find out for yourself who she was, is and can be! Important: by purchasing this album you will support the Lady Saw Foundation (offering help to female victims of rape and abuse and their children), to which a part of the profits will go directly.

Whether you admit it or not, whether you like it or not: every one of us has an Alter Ego, a personality that is lurking more or less consciously under the well-groomed surface of the identity we choose to show the world. Few are the people who manage to acknowledge, balance and combine their Alter Egos the way Marion Hall did. And, judging from the outcome of this particular acknowledgement, it is obviously a good thing, a very good thing. So why not follow her lead, go out there and grab your Alter Ego!!!


---
Release details
Lady Saw - Alter Ego
CD / DIGITAL RELEASE [VPAL MUSIC]
Release date: 11/18/2014
Tracks
01. What Kinda Man feat. Estelle
02. I Do Love You feat. Ali Campbell
03. She Has Changed feat. Beres Hammond
04. STD
05. Hate Your Guts
06. Nuh Yuh Business
07. Whine
08. Petty Fingers
09. Mi & Mi X
10. Hells On (Remix) feat. Flo-rida
11. Cockpit
12. Hoping
13. Selfie
14. Heaven
Featured artists
Beres Hammond
/
Ali Campbell