Interview with Astro | UB40
11/03/2014 by Valentin Zill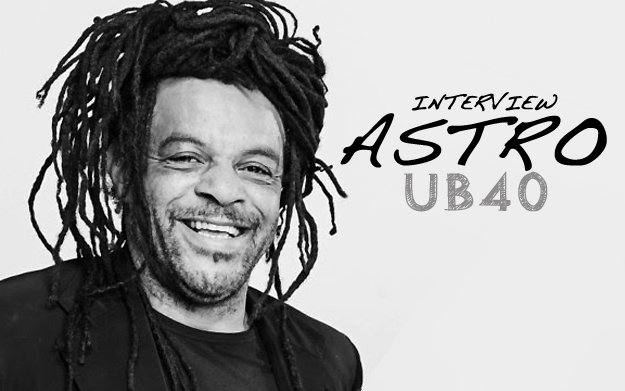 Ever since lead vocalist Ali Campbell left UB40 in 2008, there are basically two UB40s touring the planet: the rest of the old UB40 that still uses the original name, and Ali Campbell, usually announced as "The legendary voice of UB40". Keyboard player Mickey Virtue followed him suit. Toaster Astro left the old UB40 just in time to jump on board of Ali's and Mickey's new album, Silhouette. Valentin Zill called him before they flew to China for a few shows to learn more about his motives, about the new album, and upcoming projects.

Astro, Ali Campbell left UB40 in 2008. You stayed with them until November 2013. Why did you decide to follow Ali?
Well the reason for me to leave last year was because I just couldn't – well, my mind and my body just wouldn't let me be part of a country album. We spent the last thirty-five years of our lives trying to promote reggae music. And so when the fellow band named UB40 said it was gonna be a country album, it was not something that I wanted to do, nothing that I wanted to be involved in, and the worst thing was trying to convince friends – you know, we now bring them demos from the studios with the tracks that were getting onto the Over The Storm album. I find myself having to try and convince friends that it could possibly work, which is something I never ever had to do with any product UB40 ever brought out before. And so I knew that there's no way – if I come and convince my friends and my close friends who's opinions I'm valuing daily, if I couldn't convince them that it's a good move, I knew in my heart that I couldn't be standing on stage night after night looking there at the organs and try to pretend that I was happy...

And the more that I thought about it, I wanted to be involved in it, but then when I saw the dates and the venues where they wanted to showcase the album, I just thought, well, now I can't do it, because they wanted to play in every single venue that we refused to play in for the last thirty plus years. And so now is it that they're getting all those very, very tiny people small venues and singing songs that, though you have a bit of rhythm now in that country music, I think it was all a brainchild of the management. It's been trying to get this project off the ground for a few years, and it's always been rejected. And then it's obviously caught everybody at a weak moment and got them to agree. The bottom line is, I didn't wanna have nothing to do with it. I wasn't prepared to stand on stage singing those songs for the next couple of years, and so I thought the best thing was to leave and go back with Ali and Mickey.

I should have left with them, but every time I thought that – I didn't have a problem with Ali leaving, because I understood his reasons behind it. I just felt like his timing was wrong, but in hindsight nay, leaving UB40 was never ever ahead of time, so we just have to bite the bullet, and now I'm happy as Larry, I'm as happy as I could be to be back with my old mates. Mickey I've known longer than everybody else in the band, cause we already went to school together. So it's just like leaving the old buddies and coming back with Ali and Mickey for a comfortable play with tunes.

Were you involved in selecting the cover versions for the new album, Silhouette, and with creating the original tracks on it?
No, well, because when I left the old group in November, Ali and Mickey had already started working on the new album, Silhouette, earlier in the year. So the track list had already been sorted out. And then when I arrived, I just had a look at the songs and Ali just says, you need to feature on the album, so go away, listen to the tracks on the album, see which ones you jump at, and go ahead and write something for them. Because it was seven originals and seven cover versions, I added to four of the tracks and I've done my thing and everybody seemed to be happy with it. We've been playing a few of the tracks live and they've been well received by the public. So I'm happy for the rest of the world to hear what we're doing.

What was it like for you to be back in studio with Ali and Mickey?
It was absolutely perfect. It was just like time had stood still, it was just like nothing had changed. The same band terms, the same jokes that we were telling years ago. Nothing's changed. I feel like at the mark of true friendship, no matter how long you spend apart from each other, the second you meet up with each other, it's just like all that's happened, it's washed away and it's just like, you know, we've never been separated. So we're just having a vibe at the time, there's no politics, there's no one to contend with. It's just a really, really relaxed atmosphere. We got a great bunch of musicians around us. I couldn't be happier.

UB40 is pretty much the spearhead of the European reggae movement. UB40 was known worldwide long before people like Gentleman and Alborosie sprang up. Where do you see the state of the industry in 2014? Does it matter anymore where a reggae musician comes from at all?
Well, it's just so massively. As I originally said, I'm on a mission thirty plus years ago to try and help popularize reggae music. And all these years later, we're still on that same mission. Cause we personally don't believe that reggae is getting enough airplay on mainstream radio. There are plenty of specialized stations, but they're just preaching to the converted. What we need to get at is people who haven't listened to reggae before but could be interested. They just need somebody to show them the way. That's where we're at. Nothing's changed for us. We're still on the same mission to help popularize reggae music. I think the reggae scene itself is very healthy, very buoyant with loads of great new artists obviously. But reggae needs to be played on mainstream radio. There's still room for improvement. So until that changes, we'll carry on performing to large audiences around the world.

Apart from Bob Marley and The Wailers, it's pretty much only UB40 that managed to get into mainstream radio. Do you think there's ever a chance for the original UB40 crew to reunite?
To be truthful, holding my hand on my heart, I don't think it's gonna happen. I think too much bad blood has been spilt. If things had been kept on a professional level instead of degrading on a personal level, then maybe. But I think too much has been said by certain members from the old band that we couldn't possibly even consider standing on stage with them again, you know what I mean? It's sad, but that's life. I think we've done pretty well for a group of eight friends to last for like twenty-eight plus years. We're happy the way things are. We would consider it as a step backwards if we'd find us back again with the original band. I can safely say that there's not much chance we're ever back on stage with the others, unfortunately. I know it's sad for a lot of true friends, but it is what it is. That's life, you just have to get on with it.

That's what you do. What can we expect in the future from your side of UB40 with Ali and Mickey?
Aside from the new album, we're already in the middle of a world tour at the moment. So far we've been to as far as Papua New Guinea, Malaysia, we've been to Dubai, Africa, South Africa, Iceland. The rest of this year we'll be in Australasia, we'll be going back to Africa, we talk about going to the States. We're pretty booked up until the end of 2016. In the meantime, we have to release a live album. Then we start our next studio album. It's quite full, we're quite busy. I don't like it that way. We got so much music that we want to put out, so it's just a question of time in between the tour dates. But it's all good.