Review
Album Review: Natty - Release The Fear
02/29/2016
by Gardy Stein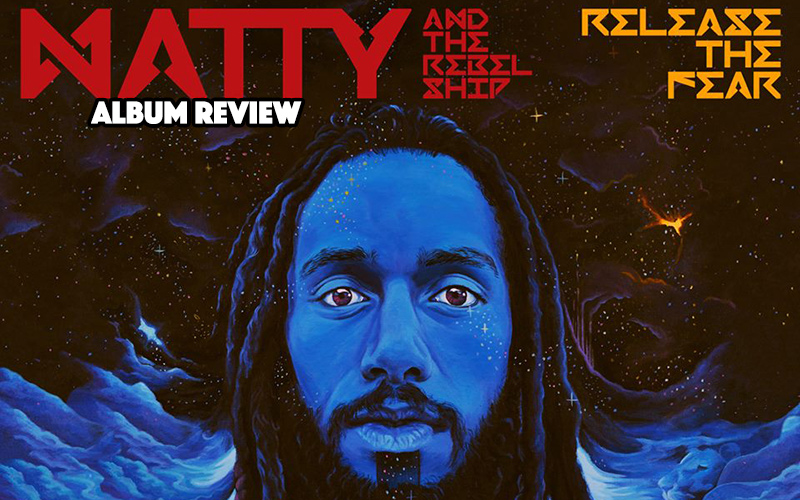 This album is not what, traditionally, would be classified as Reggae. However, genres are there to transcend, and with Release The Fear, Natty does so in a unique and remarkable way. The British artist is a creative mind that doesn't bother about drawers or labels – his music explores the depths of emotions and expressive possibilities! Alexander Akiloe Philip Modiano, so his real name reflecting his diverse ethnic roots, has come a long way from the already highly appraised debut album Man Like I (2008). His sophomore work is promising vocals and songwriting skills come to maturity. Recorded with his band Rebelship (Jahmel Tallis Ites - bass, Calvin Bennion & Lex Cameron - keys, Toby Couling & Westley Joseph - drums, Joshua "Roads" Mitchell - percussion, Tom Massey - guitar), the eleven tracks are released under the wings of Natty's own label Vibes And Pressure and express personal experiences with a universal appeal.

Thus it is hard to elude the inherent optimism of I'm Alive, the perfect addition to which is an accompanying video that is dripping with colours and movement. Only if you listen closely you will discover some extraordinary instruments in it, some of which we will meet again in Motherland. Imbira and Mirimba hail indeed from Africa, a continent that the artist has extensively travelled and whose influences are tangible throughout the album.

Take the drums in Supersonic Soul Rebel Ship, for instance. This ode to personal freedom tells us to rid ourselves of the omnipresent preoccupation with material things and get into contact with our souls, our most precious gift from the universe. In Stand Up, the polyrhythmic ways to play with tempo and melodies in West Africa were perfectly transported to London to create an exciting, new urban beat.

Piano intro, melancholic voice, beautiful guitar patterns: in Rain Clouds, Natty invites us in on that gloomy Sunday afternoon bad weather feeling. Reading between the lines, the rain clouds can be seen as a metaphor for modern technology blocking direct communication and real encounters. That Natty knows how to celebrate as well is seen in the lively Streetlights, another plea to enjoy life away from TV and computer screens. "If we ripped up all the cable lines, how many people would still talk?"

Change is, along with Gaia, the most Reggae-ish of the tunes, inviting illustrious guests: Alborosie and Busy Signal make the song a special combination of three extraordinary voices. It tells us to be patient, because change takes time. The time Natty takes to write his lyrics is well invested, as can be heard in Things I Done. Building castles of stories and taking us with him to promenade their grounds is indeed one of this young man's strengths. Coupled with the irresistible melodies of, let's say, King Had A Dream, his music becomes art – and this album is an exhibition thereof.

The finissage, title track Release The Fear, is actually three songs in one. Not only because of its sheer length (10:49 minutes!), but also because of the message contained that can be understood in so many ways. "Embrace the unknown!" can tell us to be ready for surprising changes in our lives, but also to welcome people from different regions of this world, be it refugees, migrants or tourists. Or, to stop worrying about past and future and live in the present.
 
Natty brings across his messages with the feel of a man deeply rooted in himself, someone who found his balance and knows what he is talking about. His music and especially his album Release The Fear are a prime example of what positive outcomes can be had by fully embracing different cultural and spiritual influences, combining their benefits and creating something new. And maybe all of us can follow his lead in forgetting about labels, genres, races or ascriptions, but look at the true core of things, situations and people with a heart filled to the brim with love!


---
Release details
Natty - Release The Fear
DIGITAL RELEASE [Vibes and Pressure]
Release date: 02/29/2016
Tracks
01. I'm Alive
02. SS I Love You (Reprise)
03. Rainclouds
04. Streetlights
05. Seasons Change feat. Alborosie & Busy Signal
06. Motherland
07. Stand Up (In Love)
08. King Had a Dream
09. Gaia
10. Things I've Done
11. Release the Fear feat. George the Poet
Featured artists
Alborosie
/
Busy Signal