Review
Album-Review: Dactah Chando - Clara
06/24/2011
by Larson Sutton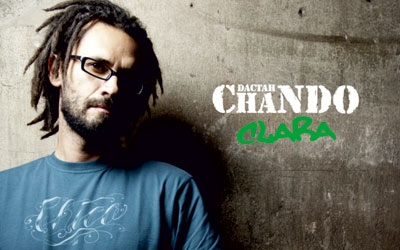 The Dactah is in, and this examination is going to take a while. At 21 tracks, including three dubs and a megamix medley, Dactah Chando's debut release, Clara, could be considered, in old school parlance, a double album. At nearly an hour and 20 minutes, the length alone signifies an artist with a lot to say. And, he says it. Often rapid-fire, without so much as a breath, Chando weaves his way through song after song with an assault of lyrics.
To be fair, it is all in Spanish, so I cannot comment on the content of the songs, but that did not stop the album from having a distinct effect on me, regardless of comprehending the words. The tempos shift between the slow grooves of a hot day, to the club-bumping beats of a hotter night. While it plays in many ways as a modern reggae album, with island flavors, it is distinctly European in many moments. Perhaps no track is more befitting this description than Me Captas, which puts you in the scorching sand, but more likely on a beach in the Canary Island, a source of much inspiration for Chando, rather than the shores of Jamaica.
The megamix medley closing the set features Luciano, Louie Culture, Gyptian, and Alborosie, and in a sense signifies a new breed of reggae artist, one with a European sensibility, a respect for the genre, and a desire to push it harder and further into the future.


---
Release details
Dactah Chando - Clara
CD / DIGITAL RELEASE [Echo Beach]
Release date: 06/24/2011
Tracks
01. Intro
02. Wansagain
03. Musica Fluye
04. Escribirte La Canción
05. Punto com
06. Power fi chant
07. Todo Es Jah
08. Me Captas
09. Abusadores feat. Tanya Stephens
10. No Eres Juez
11. Clara
12. Palante feat. Pachango
13. Pasa El Tiempo
14. Hermandad
15. Es En Jah
16. Mi Orgullo "Romance" Interlude
17. Mi Orgullo
18. Todo es Dub
19. Hermandad Dub
20. Palante Dub
21. Hooded Claw Megamix (Medley)
feat. Dactah Chando, Luciano, Louie Culture, Gyptian, Alborosie


Featured artists
Luciano
/
Alborosie
/
Tanya Stephens
/
Louie Culture
/
Gyptian