Review
Album Review: Alborosie - Soul Pirate Acoustic
12/01/2017
by Munchy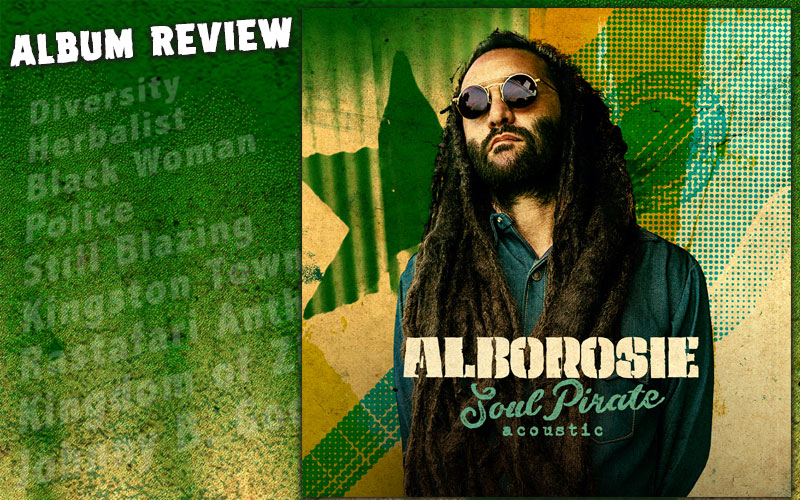 The sound wizard strikes again, only this time Alborosie didn't dub his own works but re-recorded them in fine acoustic style. The Soul Pirate Acoustic indeed captures your soul, even though of course the title stems from the same name album released in 2008 that includes some of the artist's greatest works. With the exception of Kingdom Of Zion and the Chuck Berry cover Johnny B. Goode all tracks of the new long player are to be found in its original version on that almost ten year old hit record. Yet the acoustic remake is not just another version but a whole new, amazingly spirit soothing, heart touching and senses surprising experience.
You should be ready to dive into a pleasantly warm atmosphere when Puppa Albo and his two background singers Sandy Smith and Kemar Williams, that also tour with the artist, harmonize together and create an angel like choir. Also the percussion and its diversity will stun you. Played by the artist himself as well as his drummer Dave 'Primetime' Green, Denver Feluké Smith, and Lloyd Mclennon you will not just vibe with the beat of the drums but your ears will be tickled by rattling, ripple, knocking and tapping, crackle, clink, and clash. Aeion Hoilett and Carlton Anthony Jarrett added their round bass lines to it, while Valter Vincenti and Omar Jallanzo Johnson struck the electric and acoustic guitar strings, sometimes gentle like in the opening track Diversity, sometimes angrily roaring in Herbalist. Mostly subtle and tenderly the keyboard played by Andres Lopez, Riccardo Ciaramellari and again Alborosie appears, while Lorenzo Fontana's flute decorates Rastafari Anthem and replaces the original horns.
It is intriguing how the driving and massive Kingston Town has been transformed into an airy, yet gloomy and melancholic homage of Alborosie's chosen home with the new instrumentation and even some changes in the melody. The speech to the officer of Police surprises just as much, benefiting from the decelerated tempo to sound even more threatening. Kingdom Of Zion is enriched with some dub elements, filters, delays and reverb, and Johnny B. Goode that we already got to hear live yet never on record from Puppa Albo presents the singer's soulful side when he fervently and dramatically tells the story of the talent from Mandeville.
With the nine track album comes a DVD labeled From The Studio that focuses on the recordings in Jamaica and includes an intimate interview with Alborosie – a treat not just for the ears, but the eyes, too.
---
Release details
Alborosie - Soul Pirate (Acoustic)
DIGITAL RELEASE [Geejam Music Inc]
Release date: 12/01/2017
Tracks
01. Diversity (Acoustic)
02. Herbalist (Acoustic)
03. Black Woman (Acoustic)
04. Police (Acoustic)
05. Still Blazing (Acoustic)
06. Kingston Town (Acoustic)
07. Rastafari Anthem (Acoustic)
08. Kingdom Of Zion (Acoustic)
09. Johnny B. Goode (Acoustic)