Review
Album Review: Alborosie - For The Culture
06/04/2021
by Steve Topple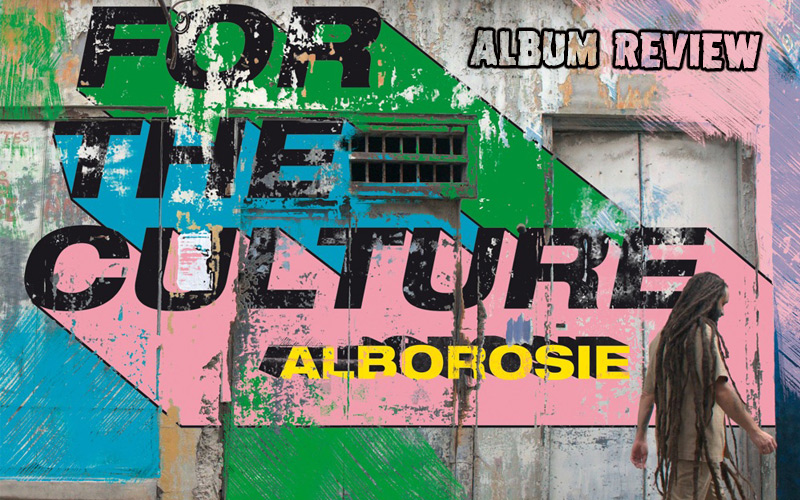 It's been a difficult year-and-a-bit for most of us. So, enter Alborosie with a brand-new album that not only reminds us of the importance of culture, but also offers some poignant yet inspiring insights into the state of the world we live in.
For The Culture, released via VP Records, is practically a one-man show. Alborosie was responsible for the production, engineering and mixing across the 14 tracks. No mean feat to do that and perform on them all – but he, with the help of the Roots Radics band and some vintage analogue gear, has pulled it off immensely.
The overall sound and timbre of the album is gorgeous: it's paid off using traditional gear like sirens and reel-to-reel tape, as For The Culture feels like a throwback to an earlier time when 'the culture' hadn't been co-opted by the system; which is part of the point of the entire album.
The previously released title track is pure, unadulterated, winding yet forward-moving Roots with inflections of Dub. It's a heavily orchestrated affair: stuttering horns a plenty, keys plus organ and a deep, reverberating bass line; an atmospheric space gun synths and heavy use of compression, decay and elongated reverb. But the bridge feels different – using chord progressions more at home in Soul. Overall, this veritable, rich and intense musical banquet continues on several other tracks.
The incomparable Wailing Souls join the album for Life To Live (a reworking of their 1978 hit (Jah Give Us) Life To Live). It's another intricately arranged and buoyant affair, and there's a fascinating bridge, too – where all the Roots musical devices (bubble rhythm, one drop) evaporate and are replaced by an almost slowed Steppers beat coupled with the organ and keys running countermelodies.
But some of For The Culture's tracks work with the mantra 'less is more'. Challawa feels intentionally stripped back – with the focus being on an unfussy instrumental arrangement to accentuate firstly the Dub bass but also Albo's lyrical content. This feel progresses with Ginal featuring the supreme Collie Buddz – where the arrangement has been stripped back further to keys, bass, drums and some dystopian, almost Synthwave synth horns and rasping strings.
Then, across other cuts the focus shifts to more Soul- orientated Roots. Bun A Fyah, with its heavily layered, harmonic backing vocals sees Albo hone in on his Soul sensibilities, delivering a performance that extends across his entire vocal range. Out Of The Darkness takes this feeling further, with its Doo Wop-turned-Choral backing vocals and the almost Cali Surf Rock electric guitar – with its haunting, whining and screeching solo line. Unprecedented Time also follows this construction, with a gorgeous counter-performance from an electric organ. Then, there's almost a nod to Bob Marley in Walking. It feels like a track the great man would have released – filled with winding rhythmic arrangements, lilting guitars and an unfussy main melody that allows the lyrics to soar.
Harder, more abrasive Dub also gets a look-in. Ready features Jo Mersa Marley. It's imposing bass line, which is sometimes mimicked at the same pitch by the keys, dominates; more synth sounds cascade in and out – and the back and forward between the two artists brings extreme urgency. Never Let Me Down again has its focus on the bass line and forthright drum arrangement – but the chorus mellows slightly, being a nice musical mimesis of the subject matter.
But Albo refuses to be boxed in, also. Across The System, a rampantly Hip Hop drum line controls proceedings, dominated by that signature syncopated kick. Break My Chains also hones in on Hip Hop, again centred around the drums but this time with some unnerving use of timpani and an imposing horn section. Listen To The Waves takes the Hip Hop theme further, bringing back those Choral vocals from Out Of The Darkness, and adding in a lamenting guitar line, military buzz rolls on the snare drum and detailed keys arrangement. It feels like a return to the classic, Soul-influenced Hip Hop of the nineties. These three tracks together (musically and lyrically) are perhaps Albo at his strongest and most affecting – despite his outwardly Roots/Dub credentials.
Then, the album's closing track is Where Do You Go? Featuring Big Mountain, it also stands out as something that feels different to what's come before it – with it's Dancehall-led bridge which utilises that 'oneeeeee-twooo-and' x2 rhythm. But it also flits into something slightly more Reggae-Pop (Baby, I Love Your Way has been just a little bit more than channelled, here) with its gorgeous sax solo. And the key change mid-way through is pure class.
Albo is on-point vocally throughout. Little needs to be said about his voice – except his impressive vocal range, gorgeous, gruff timbre and ability to deliver rapid-fire lyrics across complex rhythms isn't in question. But he's also constructed a thought-provoking collection of narratives about the state of society and planet.
For The Culture's wry nod to the UK's Brexit from the EU embedded within a narrative about the importance of Reggae music and its culture is delicious. Albo repeatedly deals with the issue of cannabis, with cries for legalisation via Challawa and the 420-praising Never Let Me Down.
The System does what it says on the tin – seeing Albo give a withering and visceral obliteration of Babylon's methods and the society it has fomented. But he also delves into the wrong turns people take on the right path, noting "I'm fed up with humanity… Illuminati theories, they get to me". Meanwhile, Unprecedented Time was at the time of release in June 2020 a song of hope but also one reflecting the feeling of many of us during the pandemic.
Albo also goes after the rise of unconscious music and the industry more broadly in Bun A Fyah – as he laments what's happened to Reggae as its commercialisation continues apace. But he brings this back round by delivering the wholly spiritual Life To Live.
Proponents and two-faced advocates of Babylon's system also get burned via the searing Ginal ("Look out fir the people, dem come smiling on your face; summa dem take your place"). Ready gives a stark warning to the system that some of us are 'ready' and willing to fight back; led by our faith. But then Albo has an about-face on Out Of The Darkness: offering up a song of hope and commitment for, on the face of it, his lover or child – but actually it feels like he's expressing the notion that people consumed by the system can in fact be saved.
But he isn't afraid to directly tackle more heartfelt and introspective issues on For The Culture. Break My Chains almost feels self-reflective, as while he discusses self-empowerment and emancipation in the face of Babylon's chaos – there's a feeling of nervous self-doubt throughout, too; making it the album's strongest track. Listen To The Waves is a moving and emotive ballad to not only George Floyd but also denouncing state-sanctioned violence, oppression, racism and modern slavery more broadly – with an ultimate a call for calm.
Then, Walking offers something more positive: that unwavering faith we all need in a bigger plan than ourselves, and that we must keep 'walking' on the path we are destined to follow. And Where Do You Go? concludes For The Culture perfectly – as it takes everything that's come before it, and offers up a message of unity, love and solidarity – something that we all need to put to the front of our minds during these times of extreme struggle.
Overall, For The Culture is quite stunning. Alborosie has created something of beauty, variation and class. The narratives are compelling, thought-provoking and moving in equal measure and the project will stand as a snapshot of life in the early 2020s – and a lesson about where should have been heading at this time. Monumental.
---
Release details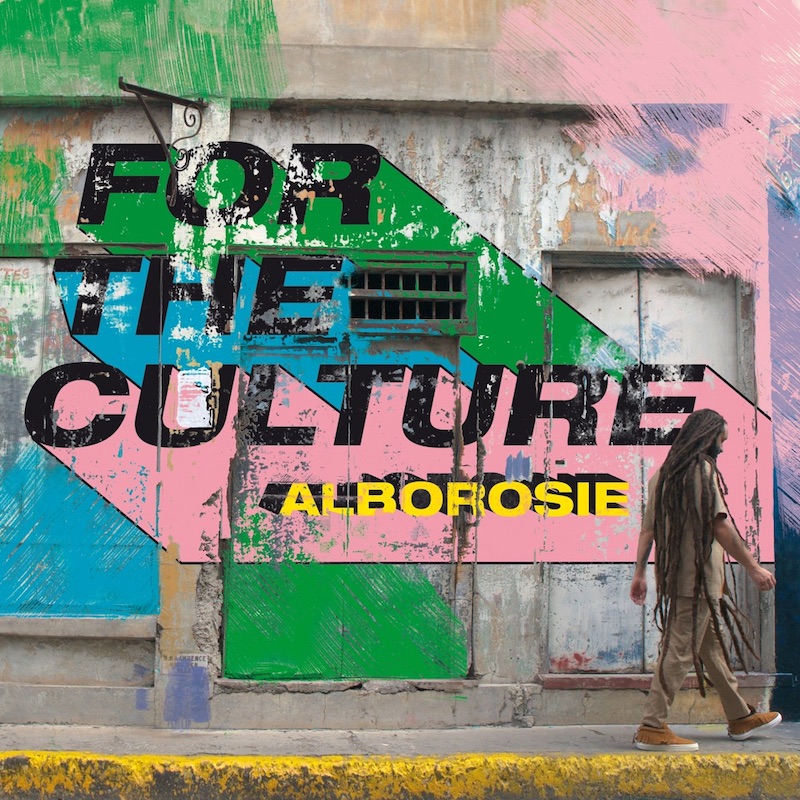 Alborosie - For The Culture
DIGITAL RELEASE [VP Records]
Release date: 06/04/2021
Tracks
01. For The Culture
02. Challawa
03. Ginal feat. Collie Buddz
04. Bun A Fyah
05. Ready feat. Jo Mersa Marley
06. Out Of The Darkness
07. The System
08. Never Let Me Down
09. Unprecedented Time
10. Life To Live feat. Wailing Souls
11. Break My Chains
12. Listen To The Waves
13. Walking
14. Where Do You Go? feat. Big Mountain
Featured artists
Jo Mersa Marley
/
Collie Buddz
/
Wailing Souls
/
Big Mountain