Review & Photos: Alborosie & The Shengen Clan in London - April 10th 2014
04/14/2014 by Angus Taylor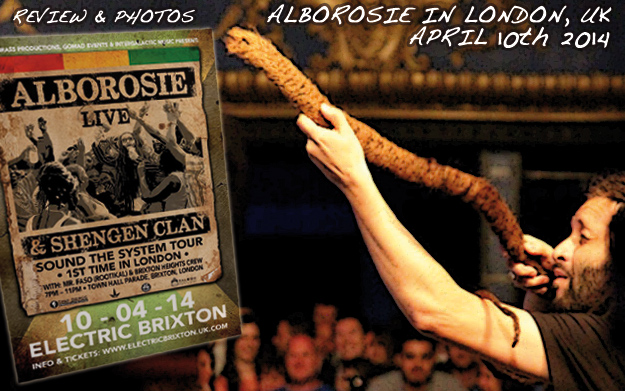 THE BUSIEST, BUZZIEST REGGAE SHOW IN LONDON FOR A WHILE.

➜ VIEW THE PHOTOS REPORT HERE

Since he first advanced on the reggae world out of his adopted home of Jamaica, Alborosie has wanted to play in London. In 2012 he reached England at sprawling bacchanalian BoomTown Fair. Later that year he was thwarted when his billed appearance with Beres Hammond, Tarrus Riley and Romain Virgo at the Wembley Arena fell through (a potential baptism of fire in front of a mature feisty London reggae crowd). 7 years after busting, he has finally got his wish through fellow Italian promoters GoMad Events at Brixton Electric – formerly the Fridge.
 
A studio scholar of reggae's past rather than a natural showman Alborosie has said in interviews that he finds life on the road tiring. His live shows over the years have been slick if lacking energy - with him happy to do the minimum vocally and let his Shengen Clan and backing singers drive the songs. But with latest vocal album Sound the System revisiting the rootical vigour of his breakout days expectations were high for this historic date.

Usually when an artist comes from Jamaica people have a bag of excuses not to turn up. It's too far. It's too expensive. Not this time. At 7.30pm a huge queue was snaking at the foot of Brixton Hill. The vast majority were relocated Italians. "How many Italians are here?" asked pre-show selector Mr Faso and the theatre resounded for a minute plus. In response Faso dropped Sud Sound System's Sciamu a Ballare and everyone went wild. In an Alborosie-ish tendency towards supporting talented ladies, he invited Londoner Askala Selassie to the mic: reaching the corners of the room with her expansive pipes before a deejay version of Morgan Heritage's Liberation on the Real Rock.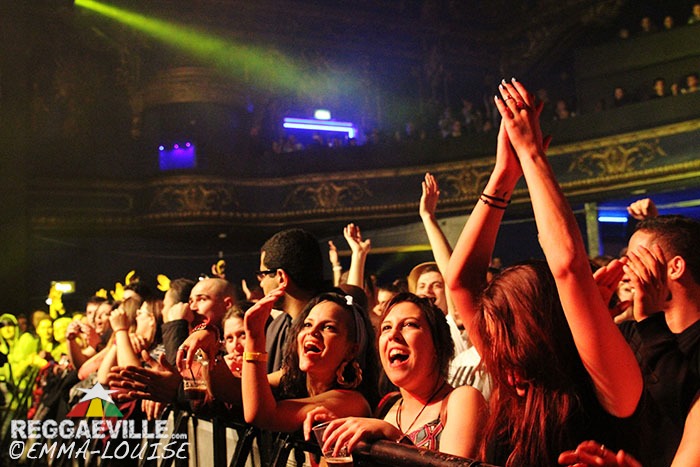 By 9.30 the place was rammed. Rammed tighter than any London reggae concert in recent memory. The jostling excited mass plus the slightly strange venue design – balcony walls upstairs too high and raised platforms in the stalls too low - meant many couldn't see the stage. As the Shengen players took their positions the audience and official camera men filmed each other in anticipation.

They began with Precious, quickly cut to popular if lightweight herb tune Camilla and then Alborosie, looking very slim, ambled on to a roar as deafening as the band. Though there were no horns – a shame given the tickets sold – their wall of sound was brutally strong. Each strike of the syn drum that accompanied almost every song thudded through viscerally on the Electric's gigantic PA.

For the first 40 minutes it was tune upon tune – none lasting past the second chorus. The best came from Sound the System (Play Fool Fi Catch Wise, Real Top Deejay) and his early singles (Ring the Alarm, Herbalist). The interim material was more tepid but the musicians gave it impact. Alborosie's voice, especially his rockstone deejay delivery, cut through.

"Brothers and sisters, how you feeling?" he enquired after half a set of straight music. "This is the first show of the European tour. We are spreading the message of Selassie I. If you love reggae music say yes Pupa". He then went into Crazy Baldhead with wah wah clavinet sounding like the Wailers at the Lyceum. The side bars were now shut. Revellers were openly smoking and drunk – crashing into each other in a sweaty but well-meaning mess.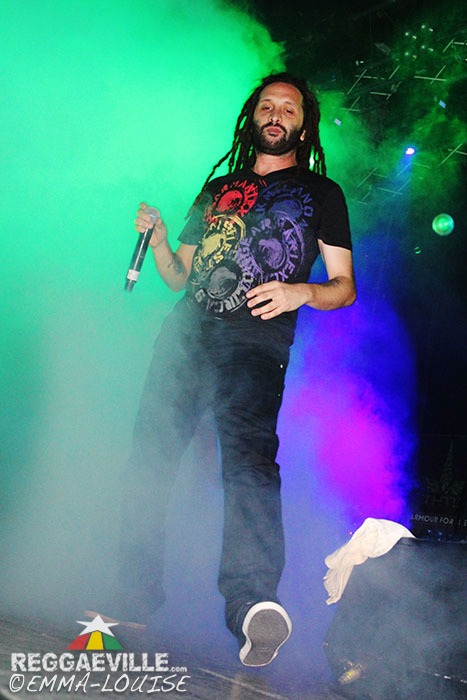 Onward. More big tunes: Rastafari Anthem, an emotional Still Blazing and a heartfelt Diversity (never mind that the makeup was 80% Italian). The group really got stuck into a cover of Peter Tosh's Stepping Razor as Albo left the spotlight for the first of two encores. But it was on the second return that he truly surprised - singing the Godfather theme in an extraordinary operatic style.

The one thing that would have improved the performance was a sense of showmanship. He didn't vibe with the people. He didn't run around the stage. Nor did he shake, intensely rooted on the spot like Bob. He stood still, almost in awe of what he inspired, feeding off the immense energy of the fans yet not giving it back. The sole exception was when he fired one of his long locks like a gun in time with the drums. It was particularly noticeable when keyboardist Tony Tarantino took the mic for some dancehall chat during Kingston Town - hyping the crowd in a way that had not been done for the preceding hour and fifteen.

That said, it was a tremendously powerful experience. And the audience were also in their own worlds, swaying, moshing, filming, high fiving, having one of the nights of their lives even if the finer details might escape them the next day. Alborosie came, he saw, he conquered. It was the busiest, buzziest reggae show in London for a while.

➜ VIEW THE PHOTOS REPORT HERE


PHOTOS BY EMMA-LOUISE / Phunked-up! Photography