Reggaeville Riddim Corner #16
11/29/2016 by Dan Dabber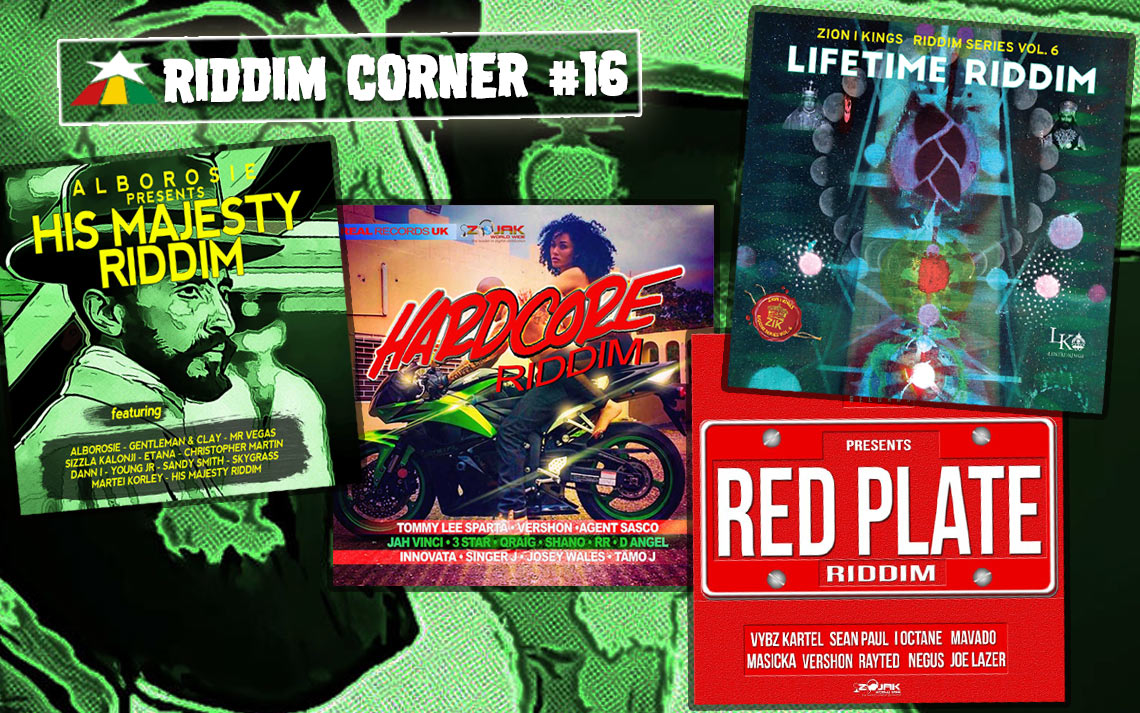 HIS MAJESTY RIDDIM (VP Music Group)

Alborosie, now an Italian expatriate living in Kingston, Jamaica, wrote, recorded and produced his last solo album, Sound The System. His newest release, His Majesty, is a riddim juggling with classic roots reggae appeal and versions from top reggae artists such as Sizzla Kalonji, Mr. Vegas, Christopher Martin, Etana, and, of course, Alborosie. Although there are no tunes that stand out as guaranteed hits, the eleven-track juggling (plus instrumental) has a cool, mellow groove and showcases enough talent that, as a whole, it is a record that should be taken seriously.

Alborosie's track, Red, is a fine tune with an apocalyptic Rastafarian theme, yet his simple approach to the vocals allows it to be overshadowed by other versions. One of those versions is Etana's Healing Tree, a skillfully delivered ganja tune that explores multiple facets of cannabis culture, including edible means of consumption, environmental impact, and its medicinal applications. Christopher Martin's contribution, B4 It's Too Late, is an equally complex song that addresses some of the more prominent environmental and societal impacts of capitalism and a profit-focused global culture. The most well-known artists on His Majesty, Mr. Vegas and Sizzla Kalonji, offer similarly socially conscious tunes, though the veterans fall a bit short and may disappoint their legions of devout fans. However, Gentleman's fans will not be disappointed by Dunn's River Falls, which features the talented up-and-coming singer Clay. Dunn's River Falls is another tune that focuses on conscious messages, referencing one of Jamaica's most famous tourist attractions in both the title and the cleverly written chorus.

LIFETIME RIDDIM (Zion I Kings/Lustre Kings)
Since 2013, a group of producers from three existing roots reggae labels - Zion High Productions, I Grade Records, and Lustre Kings - have been collaborating on riddims and releasing them as part of the Zion I Kings Riddim Series. The first juggling was Songbird, then Jah Warriah, Junction, Lion Of Judah, and Marketplace - all productions firmly grounded in roots and culture. The latest installment in the series is Lifetime, a one-drop with a touch of R&B/pop flavor and a strong lineup of established reggae vocalists. This combination of energies on the juggling creates a vibe that is consistent with the spiritual and conscious paradigms of roots reggae while still being danceable and marketable to a wide audience. Unfortunately, it is likely that the only market to take note will be the existing reggae market, but it is also possible that Lifetime includes a song that will travel widely within that small but global group.

Lutan Fyah starts off Zion I Kings Riddim Series Vol. 6 with Put A Fyah In Deh, and he does just that. Possibly the best tune on the album, Lutan Fyah expertly sings beautiful, melodic verses about the struggle of the poor and disenfranchised, a relatable theme in almost every corner of the globe. After hearing Lutan Fyah lay out these hardships, listeners will be rejuvenated by the second track on Lifetime, Jahdan Blakkamoore's Yes to Life, a song that oozes positivity, stating repeatedly in the hook, We don't need no stress tonight. Randy Valentine's It Takes Time, is similarly uplifting, focusing on a more inspirational angle that includes the mantra, Even if gets a little grey right now, I know I'm gonna be just fine. Pressure, who along with I Grade Records hails from the US Virgin Islands, contributes a lover's tune to the juggling called All That I'm Thinking Of. With a history of successful love tunes that trace back to the 2007 Don Corleon-produced smash, Love And Affection, Pressure is the right artist to do such a love song, and with the aforementioned R&B swagger, Lifetime is the right riddim to do it on. Although it fails to live up to the high water mark set by Love & Affection, it is still a solidly written and executed tune by one of the most talented singers in contemporary reggae.

HARDCORE RIDDIM (Real Records UK)
Real Records UK may be new to the global scene, but their riddim selection, Hardcore, demonstrates that the label has killer producers and access to high quality dancehall artists. Boasting names like Tommy Lee, Vershon, and Agent Sasco, Hardcore brings a rough bounce, fueled by horns, synths, and percussion. The horns are particularly prevalent, giving the riddim a Rocky-like quality at times - an intense energy further built by the distorted kicks that hit in the low-mid frequency range throughout the piece. Perhaps the most distinctive part of the riddim are the half-note claps that appear, in most cases, for the four bars right before the hook. The claps are reminiscent of an EDM convention, though in the case of Hardcore Riddim, they are not followed by an overtly dramatic drop.

Real Records wisely made Agent Sasco's Million Squat the lead single from Hardcore - a riddim well-suited to the veteran deejay who penned a correspondingly clever song for it. Essentially, the song is another homage to the female backside, but Sasco brings his own fitness-based take on it, in a style that is both subtle and radio friendly. 3 Star is another bright talent who manages to keep it clean with his Hardcore track, Clean & Out. 3 Star's song has a hefty helping of masculine dancehall braggadocio and perhaps the catchiest hook on the album. Vershon and Tommy Lee both contribute solid tunes with raunchy subject matter, and D'Angel's Damage Goods uses sexually explicit insults, along with fashion and hygiene, to diss her female competitors. There are even more quality Hardcore tunes from Jah Vinci and Singer J, the latter of whom slays his song, Badder Than Everything. But the most surprising appearance on the juggling is one of the original dancehall artists from the 1980's, Josey Wales, who sounds more relevant than one might expect on his track, How U Fi Come A Dance. With engaging production and a long, diverse list of contributing artists, Hardcore is a riddim that should not be passed over.

RED PLATE RIDDIM (TJ Records)
Linton "TJ" White's label, TJ Records, previously featured on Reggaeville Riddim Corner, and his new release, Red Plate Riddim, hosts a roster of dancehall artists that is hard to ignore. The instrumental track - a dark, 100 bpm composition that operates more in the half-time realm of 50 bpms - is forgettable and features at least one track, Raytid's Talk Dem Ah Talk, that still needs some tweaking in the mix. The dark vibes of the riddim demand a similarly dark approach from the artists, as most performers on the juggling have written songs with gangster, or "badman," themes, while others have managed to turn to sexier subject matter for their tracks. If Red Plate was a production by a newer, less accomplished label, it would likely have an unimpressive line up of artists and would, without the intervention of a miracle, go completely unnoticed. But the presence of masterful artists like Mavado, Sean Paul, Vybz Kartel and others on TJ's release yielded some decent songs, giving Red Plate an opportunity to be heard, and possibly even embraced, by Jamaica and dancehall fans worldwide.

Mavado taunts his enemies on his Red Plate track, What You Gonna Do, which may be the hottest track on the album. Vado's nemesis, Vybz Kartel, has another one of the top selections from the juggling, Half Way Tree, a song about a love triangle with a relatively boring hook, juxtaposed with an energetic bridge. Sean Paul also goes the gyal route, but with a more traditionally dancehall approach than Kartel's storytelling tune. His song, Kramp Up, is about the appeal of the female form in motion and, due to some added synths and the subject matter, it is the most dance-friendly track from Red Plate. Gal Yuh Body Good by I-Octane is similar in theme and quality, but the song can't compete with the caliber of tunes by the aforementioned artists. Despite the sloppy mixing and subsequent harshness of the audio, Raytid's Talk Dem Ah Talk is also a good track, though the gunshot effects, which allow for a more immersive experience of the song, are likely the element that threw off the mix.