Reggae Sundance Line-Up - 15th Anniversary 2014
05/02/2014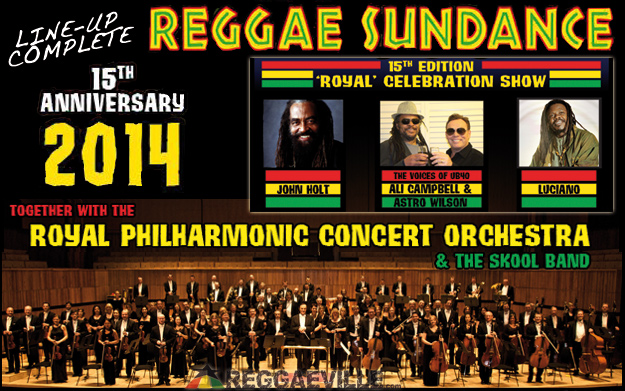 Reggae Sundance celebrates it's 15th edition in 2014 and they got royal support for this anniversary.

The world-famous classical Royal Philharmonic Concert Orchestra from London featuring John Holt, Luciano and Ali Campbell & Astro Wilson (The Voices of UB40) will highlight the event with a spectaculair 2,5 hour show: "...this marriage of great reggae- and classical music has never been done on a reggae festival before, and is a must-see for all reggae lovers and indeed lovers of quality music, but certainly for those who enjoy open air classical concerts as well."

But this is not the only highlight... Alborosie, Shaggy, Beenie Man, Busy Signal, Tarrus Riley, Midnite, Tanya Stephens are part of the line-up. Obviously an event not to miss! Check the full line-up HERE

HISTORY OF "ROYAL SYMPHONY OF REGGAE"

For many years now we nourished the idea to combine reggae and classical music together. And obviously we found the celebration of our 15th edition the perfect moment to make that happen. From the start it was clear that we wanted to strive for the highest possible quality in all aspects. And so it started with the question, which orchestra? Well, this part was easily answered, The Royal Philharmonic Concert Orchestra, this orchestra is worldwide, highly acclaimed and has dealt with these things before. So after a bunch of mails, phonecalls and finally a meeting in London we soon came to an arrangement.

Of course we can not accommodate the whole orchestra but if we include the backing band there will be over 30 musicians incl. strings, brass, grand piano, harp etc on our stage. Not an easy task, but we have managed to create enough room for it all. Speaking about the backing band, that was the next step in our preparations. We contacted Desi Jones, frontman of the Jamaican Skool Band. Condition was of course that all band members had to be able to read sheet music. Besides that we added our Nr.1 Saxofonist Mr. Dean Fraser to the party for support in the arrangements and communications between band and orchestra. Many rehearsals are scheduled to take place with the various artists.

The music needs to be 'scored' for each instrument of the orchestra individually, that's quite a task, but luckily we found the conductor, Mr Peter Ashbourne a well renowned and respected Jamaican musician and composer in the fields of classical, jazz and reggae, who has assisted the advancement of musical excellence in Jamaica. Mr Asbourne is also a graduate of the University of the West Indies, The Jamaican school of music and is a Bachelor of Music. He agreed to undertake this most complicated of tasks and with his expertise we are confident that it will come together to a wonderful and unique show. Well, after arranging all this, we were left with the million-dollar question: Which artists are we going to approach? We agreed to a total show-time of about 2,5 hrs with 2 or 3 big acts. First artist we talked to was John Holt. Reason being that this 'vintage' artist has already performed once before with this orchestra, many years ago in London's Apollo Theatre. This was actually one of our main inspirations for this event.

Next stop, Jamaica again, one of the islands greatest artists with a voice that still gives us goose bumps every time we hear it, Luciano the Messenger. We could not think of anyone who's voice has more impact, his friends definitely call him 'the Singer" with reason. Finally the last stop, England, one of our all time favorite reggae acts ever, the 'real voices of UB 40', Ali Campbell & Astro Wilson. The founding fathers of the band are re-united and currently in the studio working on a new album. A few songs of this upcoming album will certainly be part of the setlist. And since we were lucky enough tohave some influence on that setlist we did request for some songs that they wrote in their earlier years. Songs like 'Present Arms' and 'One in Ten' All in all it promises to be a spectacle you have not seen before, and probably never will again, as this is a one time only celebration show. This does make it a very rare sight to see though, so a more then excellent reason to visit this years Reggae Sundance.