Perfect Giddimani @ Global Reggae Charts - Issue 18 (November 2018)
11/11/2018 by Gardy Stein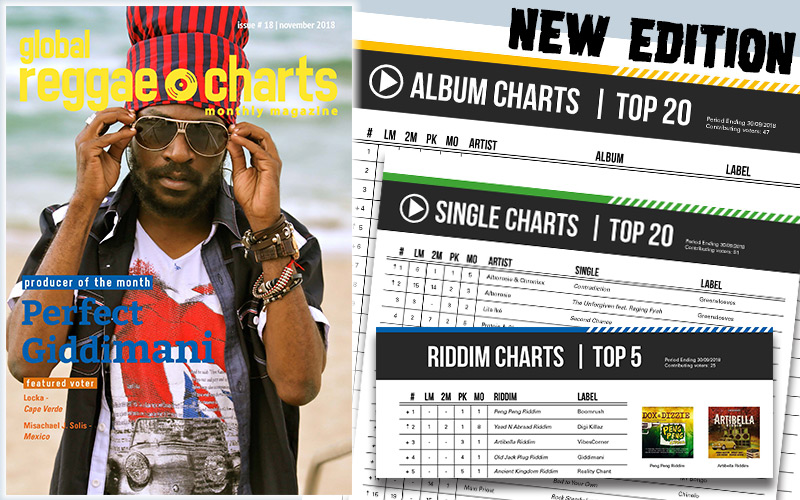 This month's edition of the Global Reggae Charts magazine brings a man to the fore who is not only a wonderful artist, performer and singer, but also a great producer: Perfect Giddimani! His label Giddimani Records has released a string of riddims which have been featured almost monthly on the Top 5 Riddims of the Charts.
Speaking of... there are quite a few fresh releases to be found. The single charts are dominated by Alborosie on #1 and #2, followed by songs we've seen settling in over the past months. Bulby York with Christopher Martin & Beenie Man is the first new entry at #7, with more new stuff from Protoje, Macka B, Maxi Priest, Jah9, Sevana, and Hollie Cook. The first three slots of the album charts are still inhabited by Protoje, Alborosie and Kabaka Pyramid, followed by a new entry from Assassin aka Agent Sasco at #4 and other new albums by Groundation, Bulby York and Black Uhuru. We also have 4 new entries on the riddim charts: Peng Peng Riddim, Artibella Riddim, Old Jack Plug Riddim and the Ancient Kingdom Riddim.
You can find the Charts online at GLOBALREGGAECHARTS.com to inform yourself in more detail and, in case you want to join the board of voters, you can also register there.
Check the new Global Reggae Charts magazine including the full table of Charts below:
SINGLE CHARTS TOP 20
1. Alborosie & Chronixx - Contradiction
2. Alborosie - The Unforgiven ft. Raging Fyah
3. Lila Iké - Second Chance
...

ALBUM CHARTS TOP 20
1. Protoje - A Matter Of Time
2. Alborosie Meets The Wailers United - Unbreakable
3. Kabaka Pyramid - Kontraband
...

RIDDIM CHARTS TOP 5
1. Peng Peng Riddim
2. Yaad N Abraad Riddim
3. Artibella Riddim
...