Interview with Lion D
03/31/2015 by Angus Taylor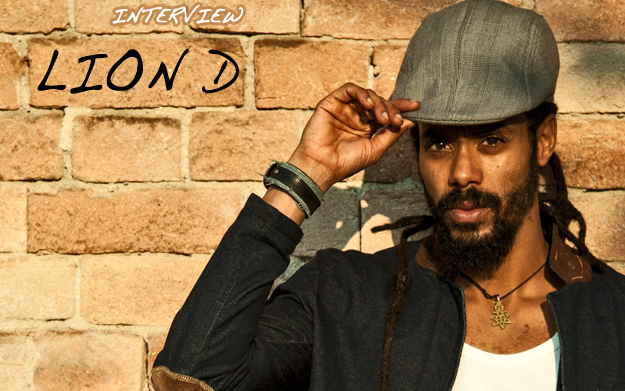 When Reggaeville interviewed Italian reggae vocalist Lion D in 2013 about his debut album Bring Back The Vibes, Angus Taylor asked him if he'd ever like to work with countryman Alborosie. He said:

"Maybe my next album I'm going to produce it and record it over there in his studio in Jamaica because we have some links to that man and he says if he has to rate an artist from Italy that man is Lion D. So I'm going to link the man the next time he comes to Italy on tour maybe I will go on stage and voice a couple of tunes."

Well, fast forward to 2015 and Lion D did more than just voice a couple of tunes. He made good on his plan of cutting a whole album with the dreadlocked Soul Pirate. His second longplayer Heartical Soul was produced by Alborosie in Jamaica and showcases a more roots and dub flavour than the, at times, poppy Bring Back The Vibes.

Lion D took time out from listening to his favourite station Alpha Boys School Radio to Skype with Angus about where the Lion has been prowling for the last two years…

When we last spoke you said you were thinking of working with Alborosie - how did you end up making an album together?
I never stopped doing my things and producing my music but then at a certain point I decided to go to Jamaica after reasoning about it with my producer and manager Leo Bizzarri. We chose to work with Albo because, first of all, we love his music and his way of doing it – his particular sound and particular style he created through the years.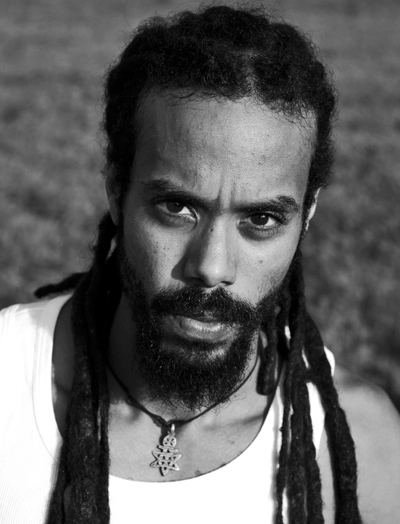 And everybody knows Alborosie as an artist but not everybody knows him as a producer. Albo is a tremendous sound engineer, musician and rhythm maker. He can play a lot of instruments. Me and Albo have the same booking agency. When Albo comes to Europe on tour he uses Get Up Concerti so that was the link. So we made a deal and dealt with the thing proper. So we decided to go there to link Albo and work with him on my album.

When were you out there? How long did you spend in Jamaica making the album?
One year ago. January, February and March. I spent about two months and I worked very hard on the album. This wasn't my first time in Jamaica but this was a different thing because I was working with Alborosie as the project's producer and supervisor. Plus, this time Jamaica was a different experience for me because I was working on a whole album project. So for this album I tried to set the bar high and raise up the standard.

When you came to Jamaica did you have the songs already or did you spend a lot of time writing to rhythms with Albo? Did he have the rhythms ready or did he build them from scratch?
(laughs) Yes man. I have to spend a lot of time on that. I did it there because Albo wanted me to do that. He said the thing had to sound genuine and Jamaica for a reggae artist is the right place to catch the right vibe and the right inspiration. Some of the rhythms were built already and some of them he started to work on while I was there in Jamaica. It was a blend.

Actually it's been such an important experience to me in terms of lessons learned. I learned to be more professional and to adapt myself to any situation. Working with Albo has taught me a lot – in many aspects from studio time to stage show and from lyrical content and topics to style of singing. I have to give thanks to Albo – he comes like a maestro.

You said you worked hard. Describe a typical day. How long did you spend in studio?
I used to go to the studio almost every day. But when I got up in the morning I would start to do some exercises like push ups in order to feel physically and mentally fit and hold a meds. Then I would start to reason upon the rhythm and play it and listen to it and come with the lines. Then I would discuss with Albo and Leo Bizzarri and ask the people because I wanted the people to get involved in it.

Because as I told you, Jamaica is the right place to get inspiration when it comes to the music so you have to check the people, listen to the people, and you learn a lot from that. If you go to Jamaica and you want to make music you have to deal with the people and you can't be selfish. When you create a song you have to interact with people and the song will come out better and sound more real.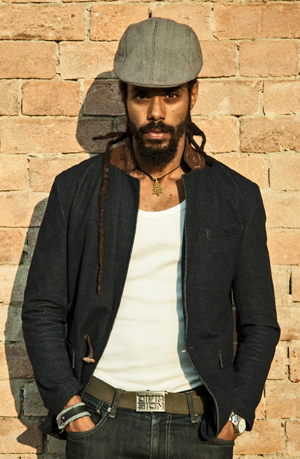 You were there during Rebel Salute and Reggae Month. Did you go to any festivals or events or were you locked in the studio with Albo?
I saw a concert for Reggae Month where I saw Chronixx, Dre Island, Raging Fyah, Exco Levi and a whole heap of artists. I also went to Rebel Salute. That was my first time. That was mad. Mad. Remarkable for real.

What do you think about the way Jamaica has changed since you first went there in 2006 and 2010? These cultural artists you mention have all got more popular since then.
You're talking about the Reggae Revival.

I didn't use that term because the interview always turns into a discussion of whether reggae died or not!
You're right man! Because in my vision reggae music is much deeper than this Reggae Revival thing because when you talk about revival that sounds like it had to be brought back to life. And In my vision reggae music never died. So when people ask me if I consider myself one of them I say I'm not there upon that and I just do my things but I'm ready to collaborate with any good conscious artists. Reggae music is my life and it's much bigger than any Reggae Revival because reggae can't die.

What's Alborosie like to work with? He has a reputation for being a quiet man.
Trust me, Albo is a real, real, real professional. He's not easy but he's a maestro. He knows what he wants. He's a great music listener and can play a lot of instruments so anything he does, if you watch him, you will learn a lot. He can play guitar, he can play bass, keys and he can play mad drums. The way he plays drums he can become Carlton Barrett! He played instruments on all tracks on the album. Plus he's a real lyricist so you can learn a lot in terms of lyrics and poetry.

When Bob Marley worked with Lee Scratch Perry his vocals changed due to the influence of Scratch. He got that roots sound that everyone knows him for. When you worked with Albo did your vocal delivery change at all?
Of course. There is a lot that reflects that in my music. I have learned how to use my voice differently to fit the rhythm better.

Did you speak in Italian or Patois when you were in the studio?
(Laughs) We'd blend! Most of the time we spoke Italian but of course he gave me a lot of advice in terms of pronunciation when it comes to patois. It's a long time he's in Jamaica so he knows the thing proper!

Did you have any disagreements about the album?
No disagreements man! (laughs) I have my vision like any other man so there were things that at first sight made me say "Yow, this not gonna work". But then I said "I have to trust Albo. If he says something I must rate that because he know what him do". At the end of the day I learned that Albo was always right. I have to give thanks to Albo because he comes like a real maestro and it opened my eyes. He paved the way.

Who is the person who speaks to you on the intro to the album? It sounds like the brethren who speaks on the intro to Alborosie's last album Sound the System.
(laughs) That's Albo. He can imitate all types of voices! I never knew that until the other day. I asked Leo Bizzarri "Who is that man talking on the intro?" and he said "Albo". I said "Wha? It no sound like Albo!" and he said "No it Albo. Him deyah pon that kind of thing. He can imitate".

The intro talks about the importance of being humble.
That means a lot to me. To be humble is one of my mottos. The name of the album Heartical Soul in a sense means to be humble and sincere. Because heartical is something that has to do with the heart and a Heartical Soul is a soul connected to the heart. That means I have to speak the truth and to be humble. That's what I believe in. Because we're not in the ego nor the hype thing. We're just humble, down to earth and a hard worker so that's my style.

There are some high profile guests on the album.
Mad! The collaborations on the album are many. First of all I have collaborated with Alborosie working on this project as producer and supervisor and then we recorded a song together which is Heartical Luv.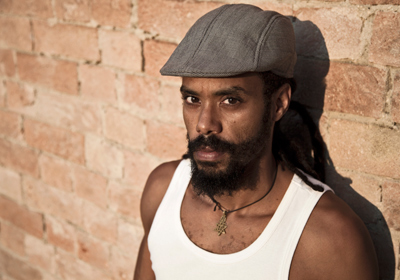 How did you link Ken Boothe for the song Slow Down?
Then you have Slow Down with the great Ken Boothe – one of the veterans and fathers of Jamaican music from the time of ska and rocksteady to these days. There is no need to say anything about the artist – the name speaks for itself. But what I can say is I had the privilege to meet him and spend time with him and trust me he is such a great man. Extremely humble and down to earth. The link was G Mac who is a reggae dancehall artist from Kingston who is also a brethren who knew Ken Boothe very well and said "Lion come with me and we go check him."

So you went to Ken Boothe's big blue house?
Yeah man. Blue and white. And I loved the vibes from the very first time. One of the artist who I love the most because I love foundation music – ska and rocksteady.

How about Mr Vegas who is on the song Jamrock Nice…
I never met him personally but a lot of times especially with reggae music artists can collaborate despite the distance. And sometimes if you get the inspiration with a topic the next artist will follow that or vice versa same way. The song came out nice – a song that makes you want to go visit Jamaica. Sometimes you never plan anything before the time you just flow with the while album concept and you adapt to circumstances.

Tell me about some of the upcoming artists you collaborated with?
Then you have a love song called Talk About Love which is the only love song on the album featuring Sandy Smith…

Apart from Heartical Luv with Albo!
(laughs) Yeah but that's a different type of love! But Talk About Love is a song that I first wrote many years ago but we chose to keep the melody and we changed the lyrics. So now it's like a new song. We rearranged it on the rhythm and everything is different. It's much richer than the old version.

Then the collaboration with Kemar Williams, Rudeboy Thing is a kind of 80s reggae music revival thing! (laughs) Now we're talking about revival thing because it's all about the digital sound. And of course you have many more collaborations because you have several musicians that work on this project. From the drummer Dave Fitzroy to Albo to Sid Gaetani who is my lead guitarist, Tony Tarantino on trumpet and many more.

Back in 2013 we talked about how some people had compared your voice to Busy Signal and you said you had been compared to many people through the years. On this album you go into a lot of different styles – like on Rudeboy Thing you sing in a classic 80s singjay delivery.
Yeah so now it's going to be harder for the people to say who I sound like! (laughs) No, I'm just kidding. I'm just trying to use my versatility and be flexible. That's why I say I'm learning a lot because of course you have to be yourself while learning from any situation. You have to be able to ride on a rubadub rhythm, on a digital rhythm, a dancehall rhythm, a nu-roots rhythm – but of course what I prefer is the roots thing.

In our last interview you talked about how growing up in Italy you experienced a lot of racism. Today are things better?
I would like things to be better but to tell you the truth I don't see any change for the better. I'm not talking about physical violence but I'm talking about racial discrimination and ignorance. You have certain politicians that are trying to spread the thing. But you have to stay strong. I look at myself and I know I'm strong no matter what. My mission, my purpose, my commitment is to the music and I have to talk about these things and make the people know what goes on in Italy, Europe, in the world.

Italy's politicians are of the older generation. Reggae music is popular among some of the youth no? Is the new generation changing things?
To tell you the truth I don't see any changes. I see most of the people just following the masses. They don't want to reason, they don't care, they want to dance, they want to jump, they want to listen to the carefree songs. That's why we have to hold on because real warriors never leave the battlefield. We have to hold on because we are there on a mission. This mission is bigger than the Reggae Revival thing. This mission is reggae music and reggae music is life.

You were in England this month but you didn't go to London, where you were born.
I just got back to Italy a few days ago. I was on tour with the Sound Rebels which is my new band and we played in Birmingham Newport and Bristol. Mad mad mad. We got very positive feedback from the audience. Everybody was irie excited and mad. They really liked the show – that's for sure.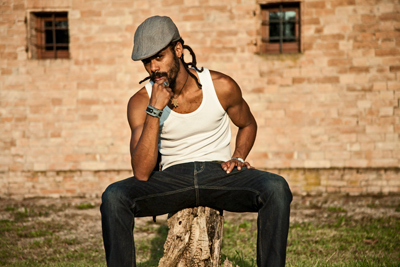 Why did you not come to London?
(laughs) Trust me man, it's not up to me! They just planned the tour and next time it would be great to come back to London. I was there in October 2014 at Brixton Hootananny with a band named Royal Sounds. We never rehearsed but it was nice – the people loved the vibes same way. We entertained the people same way because as a professional you have to be able to adapt to any situation.

London is a part of your roots. Have you been to Africa since we last spoke?
Not yet but I'm planning to go there very soon in about one year's time. I'm just trying to plan it because my girlfriend is from Benin which is close to Nigeria so I'm planning to go there with her and meet her father and family. Now I need to work and save some more money and as soon as I can go – bam!

What's your next album project going to be like?
I'm already working on it. I've already recorded new tunes and waiting to put them out. It's going to be a full reggae album but this time it will be a Bizzarri production not a Shengen studio/Bizzarri production. Because we've learned a lot from this experience. I've learned a lot in terms of singing and lyrics and my producer Leo learned a lot in terms of recording instruments and making rhythms. So you reap what you sow.