Frenchie - The Maximum Sound Interview
06/28/2019 by Dan Dabber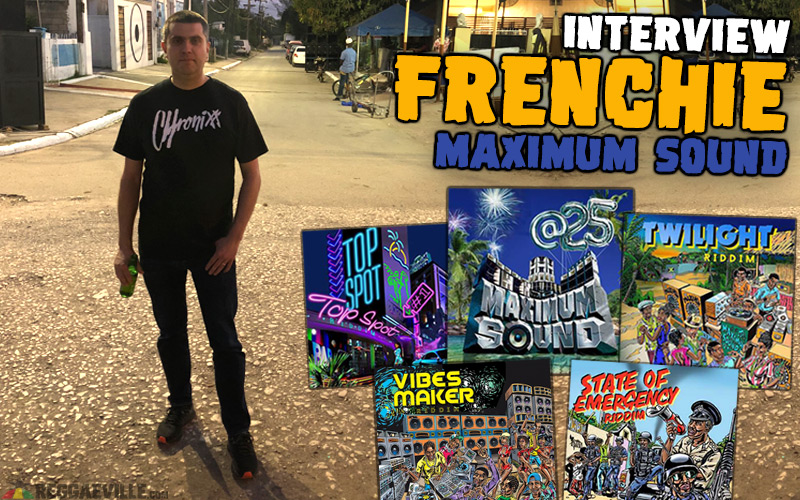 Maximum Sound, the UK-based Dancehall label that turned 25 in 2018, has put out so many riddims, that Frenchie, the man behind the music, has completely lost count. Last year he put out three full length riddim releases - Vibes Maker, Twilight, and State of Emergency - volume that is completely consistent with the label's historic output.

Frenchie learned his craft from some of the best producers, engineers, and musicians to ever work in Dancehall, and the roster of artists he has worked with - Beenie Man, Anthony B, General Degree, Alborosie, Mr. Vegas, Vybz Kartel, Chronixx - is even more impressive, especially considering the fact that Frenchie is not of Jamaican, or even Caribbean descent. He's actually... You guessed it. French.

Frenchie put out another exciting project in May 2019 called Top Spot, a Dancehall riddim that features both big names and young talent. The riddim has a very current, pop-inspired feel, driven by strumming guitars and understated drums. Busy Signal, Mr. Vegas, D-Major, Romain Virgo & Christopher Martin all showed up to support Frenchie on Top Spot, but lesser known names like Krysie, The Kemist, and J-Lil flesh out the juggling with solid versions that inject a fresh energy into this record. In an email Frenchie said that Top Spot was "probably one of [his] favorite riddims [he] ever produced." Considering he has over 25 years in the game, I thought that sentiment may be obligatory hype. Then I heard the riddim and totally understood.



A family man as well as a record producer, Frenchie juggles the demands of fatherhood and a highly productive independent music label. In November 2018 he was able to make some time in his busy schedule one afternoon for what was supposed to be a routine half hour interview with Reggaeville. That half hour turned into a 90 minute marathon, as the veteran producer overflowed with amazing stories and insights about Jamaican music. Frenchie even continued our chat as he was running his son to cricket practice, proof that his superhuman dedication extends both to music and his family.
How did you get into Reggae music?
When I was going to school, my brother was collecting at the time - Punk and English Ska records. He discovered that a lot of those groups, they were doing-over original Jamaican Ska. So we started to go to this record shop called Blue Moon in about '84. I must have been 13 or 14, and my brother was two years older than me. We used to literally save our lunch money to buy a few 7 inches and stuff. From discovering Prince Buster, Studio One, we went right up to buying new stuff like Jammy's - more modern things.

The way that we got into it is not like the regular… They listen to Bob Marley, Burning Spear, or whatever. It's more the Ska thing that got us into the music.
What was the scene like in Paris when you were there?
The Reggae scene in Paris at that time was very small. There was not many people into it. I was selecting on the radio. I was playing records in Paris on a couple of shows, but there was no real big industry in France. It was very sparse. There were two record shops and a couple of sound systems. The artists would come over and do shows regularly, but there was nothing established there.

We would take the ferry and go to London for weekends. One of the first shops we went to was Peckings Studio 1. We started becoming quite close with George Peckings, who was Chris Peckings' dad. He (George) was one of Coxsone's best friends from school, and he opened the Studio 1 shop in London. We would buy quite a lot of stuff from him.

And then we used to go to Dub Vendor in Clapham Junction, because we used to buy mail order records from John, the owner of Dub Vendor. So I started to become friends with him. And then I moved to London in 1990 when John offered me a job at Fashion Records.
How did that offer come about?
John Dub Vendor, who owns half of Fashion Records with Chris Lane, said they were looking for an apprentice, and he really liked me. He thought I was very keen, and I always like the Fashion sound. I was a big collector of Fashion Records. I had all their 12 inches and their albums. So he say, "Come for six months and just start an apprenticeship with us to see how you like it".

I came over and, obviously, I really liked it. That's where I've learned most of the craft that I know today. Gussie P and Chris Lane taught me.
What do you think was the most valuable thing you took away from your time at Fashion?
There's a technical aspect, which today doesn't value much because everything is digital. I learned most of my craft with analog boards, which people don't really use. I've learned from Steely, I've learned from Chris Lane, I've learned from Gussie how to mix and how to EQ, recording properly, etc. And I learned a lot from Gussie P and from John Dub Vendor as well. They were both very good with artists. They taught me how to deal with artist - how to communicate with them and how to build a little rapport. It's one of the most important things in the business. I mean John Dub Vendor, he knew everybody.

These guys, John and Chris Lane, they've been in the business since the late 60's, early 70's. They were Mod, and they went to Jamaica for the first time in early 70's. They were at Lee Perry's studio when Lee Perry recorded Wolf And Leopard with Dennis Brown. I think Chris even give Dennis a few lines. They were there when Bob Marley was recording at Lee Perry's.

When you see most people nowadays, I would say they got second hand knowledge, especially people coming to the business after the late 90's, early 2000's. They've really got knowledge from the internet. John and Chris have knowledge because they lived it. They bought the records when they came out. Their knowledge and their links were much, much stronger than anybody can imagine.
What were some of the challenges you faced when starting Maximum Sound?
When I started, the hardest thing was to get the artist. Quality control wasn't even as important as getting the artist. It was really quite hard. At first there was no French person going to Jamaica recording anybody. No Europeans. The only non-British, non-Jamaican guy I remember going to Jamaica was Bobby Konders. He's a good friend of mine. Great guy. Bobby used to go… I think he started before me. He started in 1990 or '91 or something. It was very seldom that you saw somebody going to Jamaica and recording the newer artists.

The first big artist I can remember I voiced was Beenie Man. This guy called 5 Cent from Waltham Park brought Beenie Man to me at Sonic Sounds, and he had a tune called Miss Angela. He didn't really buss big yet. I said, "Sorry I ran out of money, so I can't voice you". And he said, "It's alright. Next time." Then, about six months later, he becomes huge, and I went, Oh, fuck. I should've voiced him. So (later) Beenie Man voice this tune called More Prayer for this producer from New York, and the guy didn't pay him, or some shit happen with the guy. So he was at Mixing Lab with Future Trouble, who I used to work with quite closely. Beenie Man said to him, "Just wipe the song. Wipe the tune from the tape.". Then Future Trouble called me and said, "Do you want to voice Beenie Man?"

I was at Sonic Sounds and I said, "Yeah, I want to voice Beenie Man… and Bounty Killer… and Capleton." I thought he was messing around. So I said, "Yeah... And bring Michael Jackson." and I fucking hung up the phone. Then Future Trouble walks into Sonic Sounds - and this is like 10 at night or something - he walked in with Beenie Man! I played the Intercom Riddim and Beenie Man loved the riddim, and, boom, he voiced straight away. Literally, one take. I think it was the same lyrics he done for the guy in New York, and it fit on my riddim perfectly.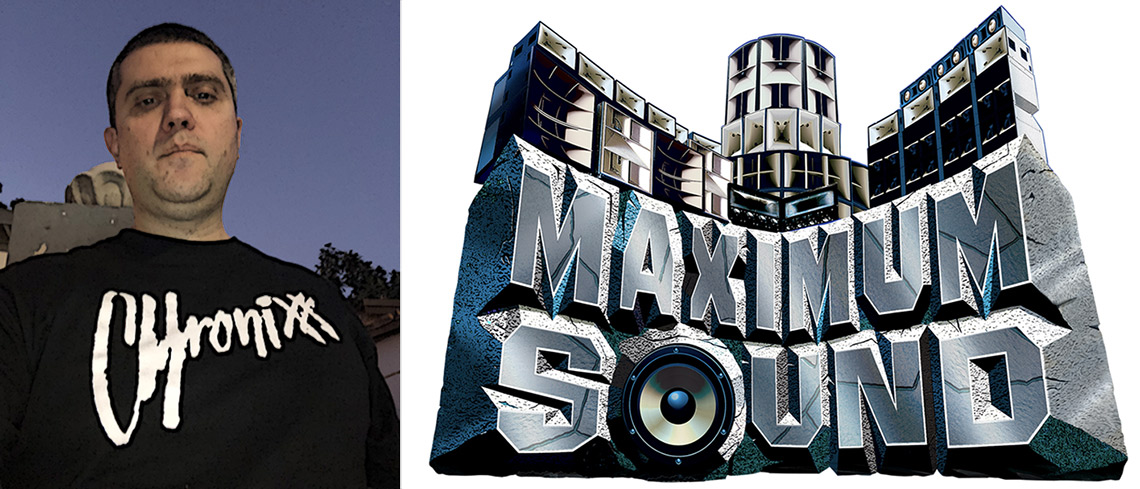 What was your most memorable recording session?
John, Chris, and Gussie recorded The Stopper in the early 90's and, a few years later, the tune became a huge hit. Around that time I recorded, at A Class Studios, a tune called Limb by Limb that Fashion Records produced. I recorded as an engineer and Gussie and John were laughing behind me because the tune had some funny lyrics in it. Cutty was getting a bit annoyed saying, "What the fuck are you laughing at?" (laughs) We recorded 2 tunes that day, I remember. Cutty was a great guy.

I also remember an incredible session at Black Scorpio studio at Hedley Avenue, which was quite a really rough sort of road. We drove there and Panhead, Dirtsman, Red Rose, and Tyrone Taylor were there. Mikey Riley, the engineer, was so high or drunk or something, he couldn't even engineer. I had to engineer. And Jack left - Jack Scorpio. So I was left in the studio with John, Gussie, and the artists. I recorded Dirtsman and Red Rose that night, if I can remember right. That was quite an experience for an early trip. I can't remember when it was… around '92, '93. And after that, that's when Dirtsman got killed - the following year or the year after.
Are there any artists left that you haven't worked with but want to?
I'd like to do more work with Chronixx in the next few years. I'd like to do some work with this new girl called Koffee. She just signed to Columbia. I like her. I was with them last week - Chronixx and Koffee. They're lovely people and a dream to work with. They're professional. They're intelligent. They've got everything… The reason why somebody like Chronixx is successful - and I wish the business had 10 Chronixx - is because he's smart, he's hard-working, very intelligent, and very humble. There's no hype pon him. He deals with everybody. I saw him at a pop-up shop in Brixton. I saw him standing and taking pictures with like, I don't know, hundreds of people. And he had to suffer through the cold to do that on a wet day. Not a lot of artists would do that. I don't know a lot of artists that would have the patience to go through all that stuff. These are the sort of artist nowadays that the business needs...

There's a younger guy, a new guy, I'm working with called Jah-Lil. He's very promising. Another artist call Krysie, and a singer called Mortimer. All these new artist, they're very, very, very promising. As far as Dancehall artists go, I definitely want to do more work with Masicka. He's a very nice guy. Very humble. Very approachable. Very cool. Not hype.
How do you feel about non-Jamaican producers and artists who use Jamaican riddims and trends to gain pop status in Europe and The States?
Most of the big Ska tune, they were Cuban tunes that Coxsone done over. They were Cuban standards. Like Phoenix City… I reckon 90% of the Ska hit tunes were covers. Same with when it went to Rocksteady. They used to cover a lot of Boogie-Woogie stuff. You know, R&B from America. Remember, Coxsone and them used to bring back records from America to play on their sound. And then they realized it was too costly to do that, so they started to record their own stuff.

Jamaican music has always inspired itself with foreign music - mainly American and Cuban music. So the inspiration always goes around, if you see what I mean. Now it's come back 360 to where people have kind of scavenged the whole Reggae and Dancehall thing to create their own genre of music. My big problem with it is - the identity of Dancehall and Reggae were so strong before that you HAD to go to Jamaica to get that authentic sound. There was nowhere else you could replicate that. Now you can buy the same equipment as the guys who made the music back in the day and make an exact carbon copy. You might even get more interest from people than the original guys, and the new generation won't know who is the originator and who is the replicator.

The same thing you might say about Elvis and Rock 'n Roll. You know what I mean? Or the Beatles and Rock music. It was made by other people, and they taking it to the white audience because they were white and people were able to identify with them - young white kids. It's the history of music. Although there's something with Reggae to me. The identity of Reggae in Jamaicans is so strong, and it's been so strong for years and years and years. And the numbers are still great. I mean, the thing that really annoys me the most, if you look at streaming numbers and YouTube numbers, Jamaican artists are doing amazing. Compared to other music, their numbers are amazing, but they don't get the same sort of recognition that artists in other genres get.
Was the Jungle movement on your radar when you were with Fashion in the early 90's?
When I was working at Fashion, we done quite a bit of Jungle remixes with Top Cat and General Levy. I recorded, as an engineer, a lot of the General Levy stuff there. The original version of Incredible that he revoiced on the Jungle beat, we recorded it at Fashion. At Fashion, we were around that whole Jungle thing when it was really blowing up. In the UK, DJ Rap and all these people, they used to come to the studio because they didn't really have access to Reggae acapellas. Fashion, I think, was the most sampled label in the history of Reggae because we used to put the acapella on the 12 inch so that people could sample it.

So at first that's what happened, a lot of the Jungle guys didn't really know about copyrights. They just used to rip the acapellas from those 12 inches and do their own remix and put out their own (12 inch). And when they started to blow up, a few of them got captured by publishers and by original copyright owners. That's what happened to a lot of these Jungle guys. So then some of them came to us, to Fashion, to actually do it properly. And that's what give John and Chris the idea to do a couple of Jungle compilations, where they supplied the acapellas and paid the Jungle guys to remix the tracks. It wasn't really my thing. Going to a few Jungle gigs, the BPM and stuff - it was so different from Dancehall. It used to give me a headache. I did like SOME of the tracks, though.
How did you end up with the horn lick from Golden Hen on State of Emergency Riddim?
I was in the studio at Big Yard and I called Dean, because I've worked with Dean Fraser for like 25 years or something - from my first productions. I'm very close to him. He's a genius - one of the nicest musicians you'll ever work with. I called Dean and I said, "Dean, come in and play a horn line on this." I had a couple of melodies and stuff, but sometimes with live musicians, especially someone like Dean Fraser, you have to make them do their thing as well, because they might come with something that's WOW!!

Dean came in the studio. He played the phrase and for about 20 minutes I thought - and he was in a hurry - I thought, that sounds familiar, but I can't really point out where it comes from. And then he left. When he left, I said, Oh fuck. He played Golden Hen. (laughs) I was going to call him and tell him to come back and do something different, because I haven't done a riddim like that for a long time. All my latest riddims, I've done pure original stuff. This is the first thing I've done that sounds even remotely like something else in a long time. It wasn't intentional on that one.

But then, I can't remember which artist… Somebody walked in the studio and said, "Ahh, this is wicked!", so I thought it was too late to change. I thought I'd just work with it. In another circumstance, believe you me, I would have changed it. (laughs)
How long does it take you to create a juggling from start to finish?
I always believe it's a reflection of the times, so you have to release it the same year. Some people, they record tracks and they release it five years down the line. Music is timeless, but it's also timely. You must catch the mood of what's going on.

So, State of Emergency… I voiced every tune this year, and it was released this year [2018]. That's what I try to do do for 90% of my releases. Sometimes the turnover of an artist is long, so it takes you about a year or as much as 18 months to record a riddim. The longest it could possibly take is two years. Back in the day, it was even shorter. Some of my early Anthony B albums and my Luciano album, you'd be surprised to know that I turned them over in three months, from the start to the finish. Sometimes that's not a good thing.


If you could go back 25 years, when you first started Maximum Sound, and talk to a younger, less-experienced Frenchie, what advice would you give him?
I think that I made, in the beginning, a lot of rushed decisions that I ended up regretting after. It's good to be keen and to be motivated and to be a bit up front and a bit aggressive, but it's also very good to be patient and be able to sit back and think before you do things. I think I rushed a lot of decisions and a lot of moves that, basically… Things could have been better if I took my time. I made some move with artists that I think I would have done differently now if I wasn't so impetuous at that time. (laughs) But you can't regret, because through all these mistakes, that's how I learned the business.