Dennis Brown @ Global Reggae Charts - Issue 19 (December 2018)
12/18/2018 by Gardy Stein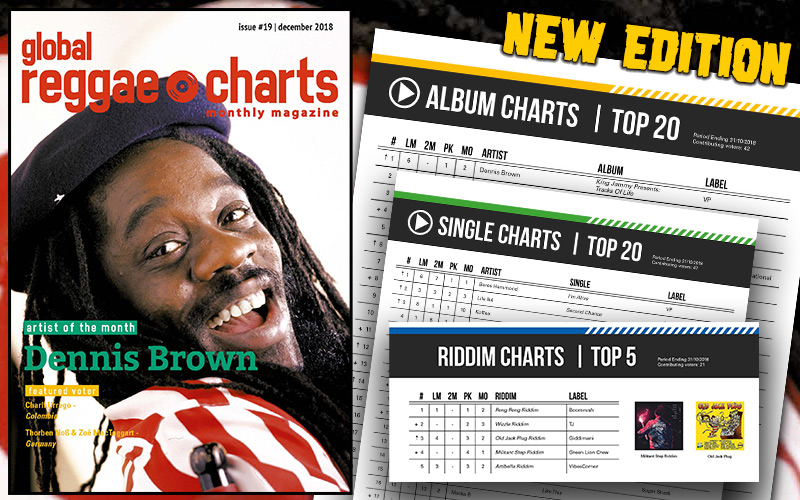 This month's issue of the Global Reggae Charts features the Crown Prince of Reggae, Mr. Dennis Brown, who is also topping the album charts. Next to the usual information about the top singles (in which we find 2 female artists in the top 3!), albums and riddims, other interesting articles inform you about diverse topics, as the press release reveals:

"We also feature an exclusive conversation with General Zooz of the Reggae Rajahs, who shares a business-minded perspective on the role the group's 10,000 Lions Sound System and Goa Sunsplash festival have played in the expansion of Reggae across India. As always, we also hear from our voters: Hanover, Germany, duo Zoë and P-Nut of the monthly radio show "Wha Gwaan", plus Charli Urrego from Bogotá, Colombia, who is the founder and host of the "Legado Africano" radio show."

The charts are online and can be found at globalreggaecharts.com. Voter registration is now open as well. Visit the site for all the details.

Check the new Global Reggae Charts magazine including the full table of Charts below:

SINGLE CHARTS TOP 20
1. Beres Hammond - I'm Alive
2. Lila Iké - Second Chance
3. Koffee - Raggamuffin
...

ALBUM CHARTS TOP 20
1. Dennis Brown - King Jammy Presents: Tracks Of Life
2. Alborosie Meets The Wailers United - Unbreakable
3. Protoje - A Matter Of Time
...

RIDDIM CHARTS TOP 5
1. Peng Peng Riddim
2. Wizzle Riddim
3. Old Jack Plug Riddim
...