Concert Review: Reggaeville Easter Special in Hamburg, Germany 2019
04/30/2019 by Gardy Stein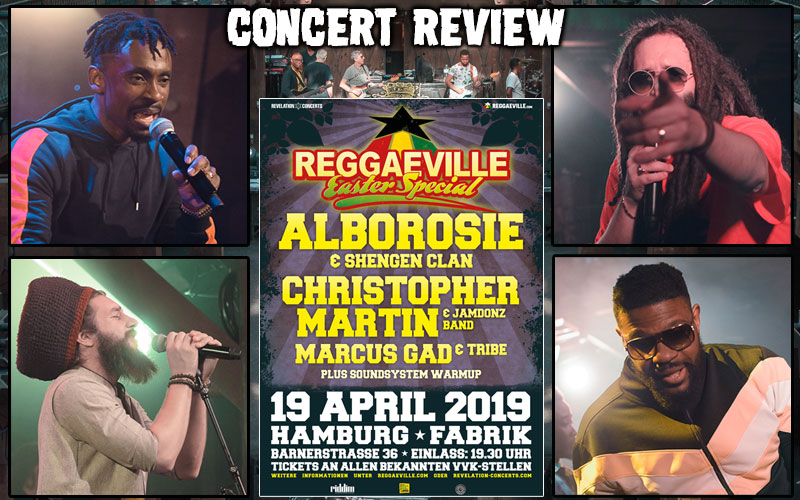 Enter A Space!
Allow me to dwell on a brief introductory meditation before digging into the concert experience. Searching for a leitmotif or common thread for this report, the welcoming line Enter A Space had taken a firm hold on my mind. Not only because it is the title of the latest, amazingly intense EP of Tamal and Marcus Gad, but also because it expresses an invitation for all of us to take a step into the fascinating and powerful realm of our thoughts and emotions. As such, it also has a direct connection to Easter, which marks the end of the 40-day fasting period in Christianity (dating back to the fasting of Jesus in the desert as described in the New Testament), a period of abstinence, contemplation, meditation. Every culture, every religion knows of such periods, whether it is Ramadan, Jom Kippur or during rites of initiation. Why? Because it is so darn important to, at least once a year, focus on the inner self, on the connection to the spiritual world we all are a part of. To cleanse, purify and refrain from bad habits like smoking, drinking, excessive eating... you name it. In case you never did, try fasting and you will find how beneficial it is to you!

Entering a space in a physical sense now, more than 1,000 people made their way into Hamburg's Fabrik on Good Friday to become a part of this year's Reggaeville Easter Special. With three big artists announced, each of them accompanied by their respective band, a wide variety of styles, messages and sounds awaits the growing crowd. Those still enjoying the sweet spring weather outside are called in when Crucial B fades out his warm-up selection and live instruments anounce the beginning of the first set: Marcus Gad starts promptly at 8:30pm.

I so looked forward to him and his band, having been blown away by their live show at Reggae Jam last summer, that I want to make sure to find the best possible space to follow their staging. Spotting several friends, I opt for the middle of the crowd, directly in front of the stage, and it's just perfect. Artist presence and light and sound combine into an overwhelming experience during the first piece, Live Up To The Day. Already grand on the EP, it unfolds its full potential in this live show, given sonic wings by its creator Clement "Tamal" Thouard on the engineer's desk. The tones he so ably interweaves stem from the Tribe, the young band Marcus Gad encountered during his musical growth. Jean Hoareau on drums, David Garcia on bass, Franck Paulin on keys as well as Raphael Baldy and Nicolas Duchamp on guitar are true masters of their craft, creating a vibe that leaves the audience spellbound with songs like Hata Fayah or Walk A Talk from Gad's previous album Chanting. Watching Marcus chant the deep lyrics of his recent masterpiece River it becomes obvious that this singer is not just performing a track he wrote - he is his music, heart and mind and soul.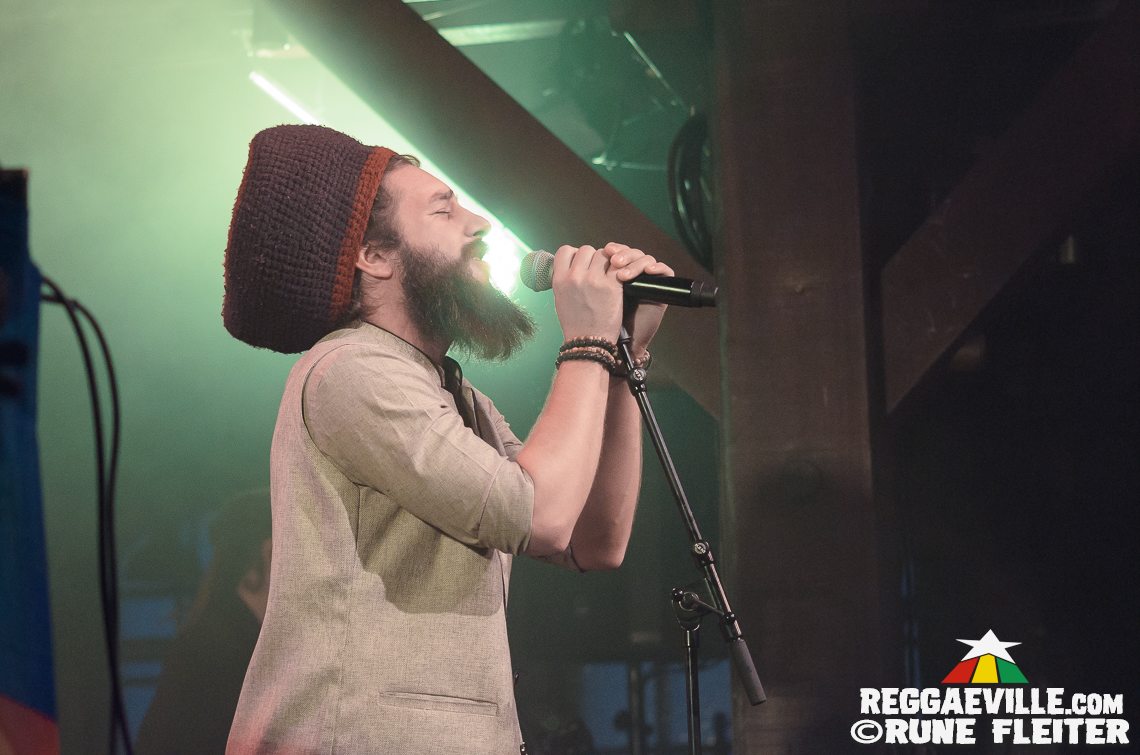 Between the pieces, he communicates with the audience, explaining the concepts and origins of his songs. Keep Cool, for instance, is an adaptation from a poem by Marcus Mosiah Garvey, written while he was imprisoned in Atlanta in 1927. "I was told by German friends that 'Kanake' here is a derogatory term for people of Turkish decent", Marcus introduces the next track, "and I want to make sure you understand the true root of this word. In New Caledonia where I come from, it simply means 'person' or 'human being'. Let's give it back its original meaning! Please sing with me: Kanake!"

Much too soon, he closes his appearance filled to the brim with beauty and teachings with Jericho Walls, and joins tour manager Ugo Frézal at the merch stand to sign a few physical copies of his releases and talk to the people he impacted so much they came to see him. Asked about the various seeds given away there (pumpkin, calabash, amaranth... ), guitarist Raffa explains to me that "we wanted to give back to the fans, not only sell to them.". So, since last year, they share out free seeds at their shows, and "Tom, the tour tomato" (a little tomato plant) accompanies them on this tour to yield next year's give-aways. Growth is their mission!

Meanwhile, the stage is quickly changed over in preparation for the next, eagerly awaited act: Christopher Martin! The Jamdonz Band (Ron Matthison, Luerdin Thomas, Othneil Halliburton, Shawn Allwood and Karene Brown) kick it off by playing two tracks for D-Major, whose Real Know Real is really known in Hamburg, as the crowd's reaction shows. Backstage, D-Major exchanges a happy smile with Christopher Martin and hands him the mic while the band plays an intro of Heal The World, taken into Stop Violence Against Women by the singer. Sneaking my way through the audience as Martin sings a fervent Mama, the challenge again is to find a suitable space to follow his show, and during the first notes of the Brighter Days riddim (heralding Look On My Face), I settle for a spot close to the venue's entrance. From here, one has a great view over the crowd, from which Paper Loving and Cheaters Prayer evoke big reactions.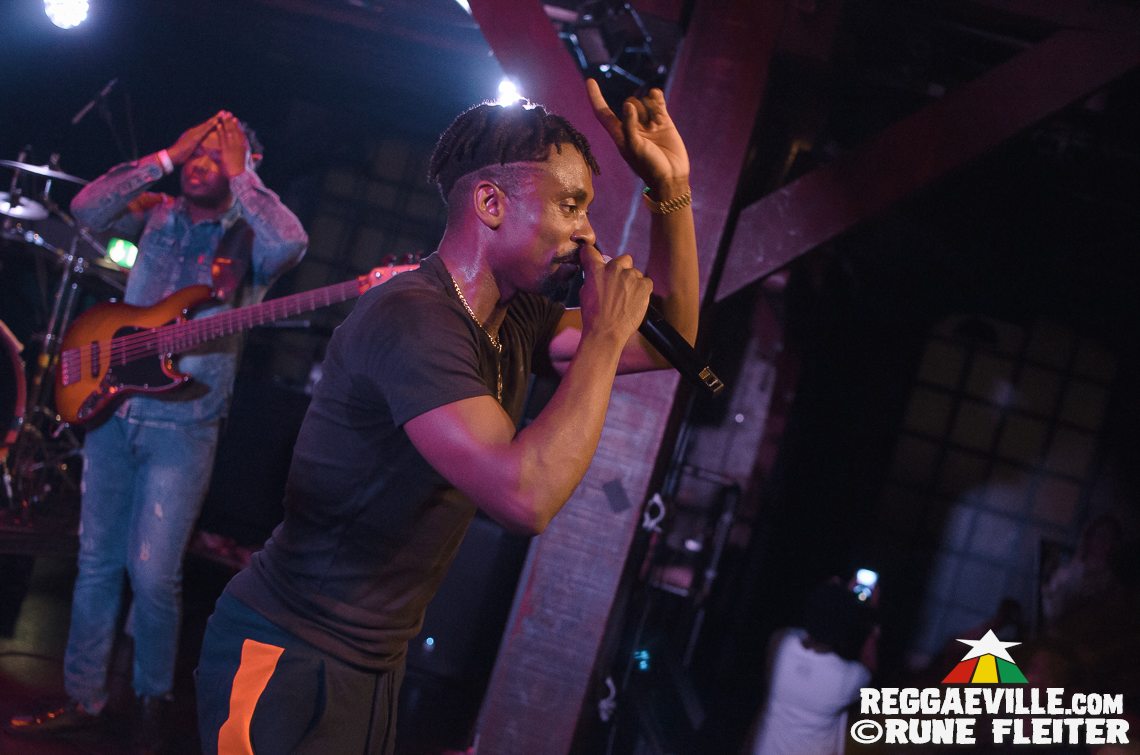 Although the sound is not as well-balanced and rootsy as during the previous show, I really enjoy the melodious, recently released General A General as well as the Dancehall segment after Black Board, including Murder She Wrote and Who Am I. Giving us a taste of his upcoming album And Then (to be released on May 3rd), Christopher Martin guides us through a sing-along to Life on the Global Warming Riddim. The space directly in front of the stage is on fire when the party vibes climax with Mi Fren Dem, Big Deal and the Gentleman-collaboration To The Top, after which the artist leaves us with a booming "Dankeschön!".

Again, the stage settings are changed to make room for an even bigger band: the Shengen Clan is about to perform alongside Alborosie! The band's set-up has slightly changed from last year's: we still see band-leader Michael Fletcher on bass, Garth "Duckie" Forster on guitar, Ottmar Campbell on keys and Valter Vincenti on guitar, but drums are now played by Makiri White and background singers Tamara and Kemar Williams are joined by Alborosie's wife Sandy Smith.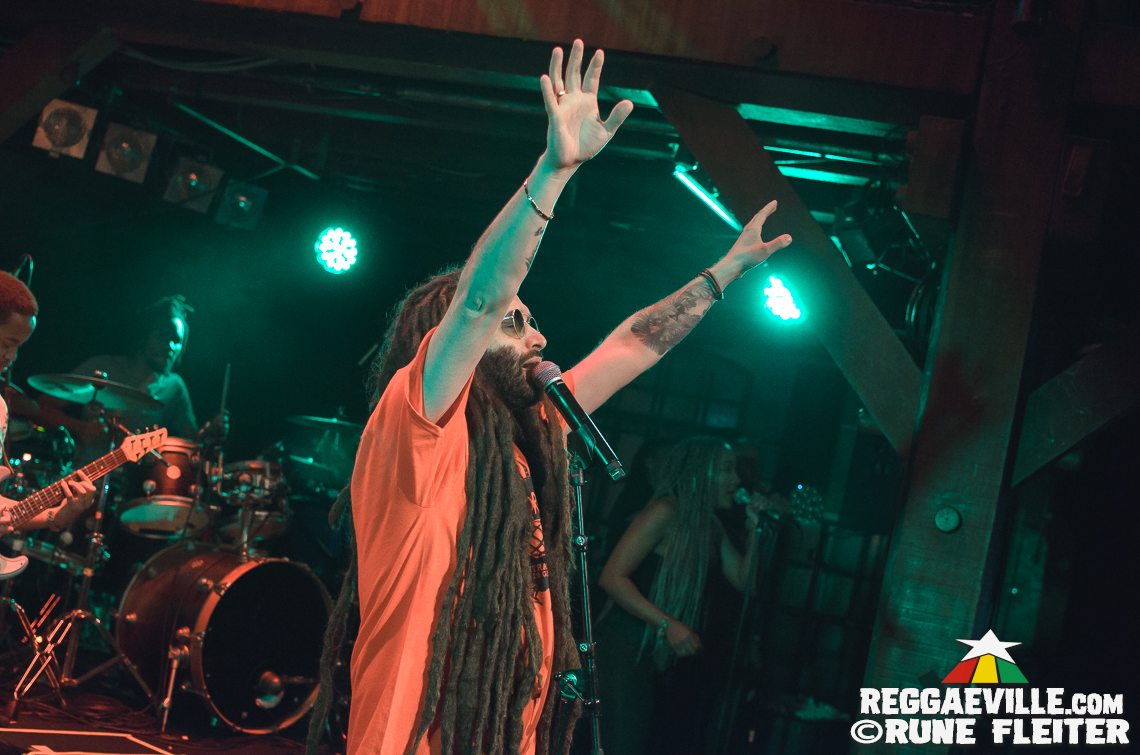 At 11:20pm, they play a mighty marching-drum intro into which Alborosie, clad in bright red shirt and sunglasses, enters the stage to deliver Poser and Living Dread. Again on the hunt for the perfect observer's spot, I come across people as diverse as the music we hear tonight. Rastas with comfortable-looking outfits, younger kids in urban styles and sexy gear, African brothers and sisters with colourful shirts and pretty jewellery, elders in their modest attire, as well as everything in between - the venue is packed, the fullest I've ever seen it during a Reggae concert. As the jostle is a bit too thick by now downstairs (especially since more and more people seem to be unable to keep their drinks from spilling in all directions), I find a spacious spot on the balcony directly above the stage.

"Puppa Albo come fi tell you everything!", the artist lets the audience know in his typical stage pose - arms wide open, dreads swinging. The people are in the mood for Dub, it seems, as songs like Strolling or Rock The Dancehall lead into extended and loudly acclaimed instrumental parts.

After Herbalist, Alborosie leaves the stage, his place taken by Kemar and Tamara Williams who lead the subsequent Ska segment including signature tunes like Simmer Down and Jamaican Ska. As the movement slowly ebbs away, a most intense moment follows when Valter plays the guitar intro of Unforgiven and Alborosie starts to sing this beautiful Metallica cover.

Followed by Contradiction and Unbreakable off his 2018 album, he again goes off stage, only to return moments later and take his place behind the Dub controls once more during Playfool. As a last highlight, Kingston Town is ardently sung along to until Albo says "Wait, we made a mistake. We are in Hamburg, right? So, let's start the song over again with Hamburg Town!"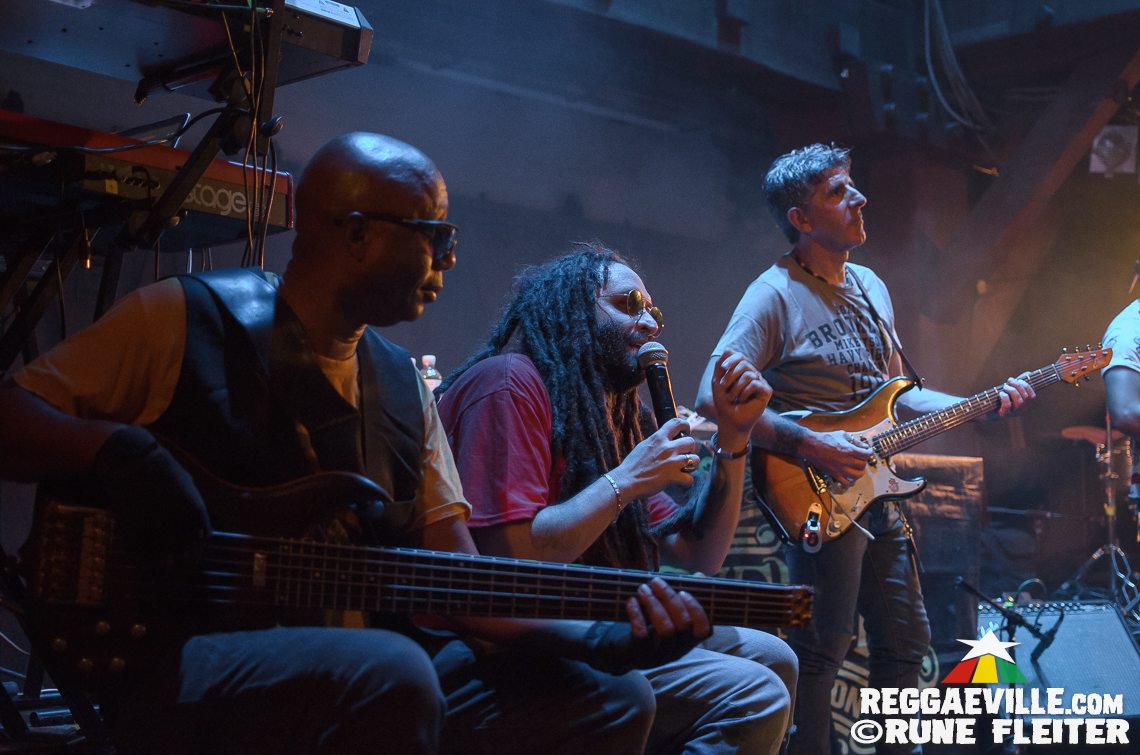 At 12:45 am, Alborosie and the Shengen Clan take their leave with a cheerful "See you next time - we love you!", and a thousand smiling people make their way home. Whether they've been here to see Alborosie, Christopher Martin, Marcus Gad or all three of them - I'm sure everyone takes along some piece of tonight's good vibe. I'm still completely under the Tribe's spell, for me the best performance of the night. Their conscious personalities, instrumental excellence and the gentle urgency of Marcus' lyrics are resonating within me ("seek truth before satisfaction") and tickling awake the rebellious spirit that calls for global unification and everybody's contribution to bring about necessary changes in attitudes and, most importantly, consumer's behaviour. The power of music, huh?!

Upshot: Enter that space within you more often, whether you get there by fasting, meditation or simply listening to music that touches you. Every time you feel frustration taking over, anger bubbling up or contempt seeping into your thoughts, take a deep breath, center yourself and look at the situation you're in from a little distance, taking other's vantage point into consideration. Most of all, cherish the people around you and be grateful to be alive, to be you and to be able to experience exceptional spaces and times such as this evening.

CHECK THE FULL PHOTO REPORT HERE!
WATCH THE LIVE VIDEOS HERE!