Concert Review: Alborosie & The Shengen Clan in Hamburg, Germany
06/25/2018 by Gardy Stein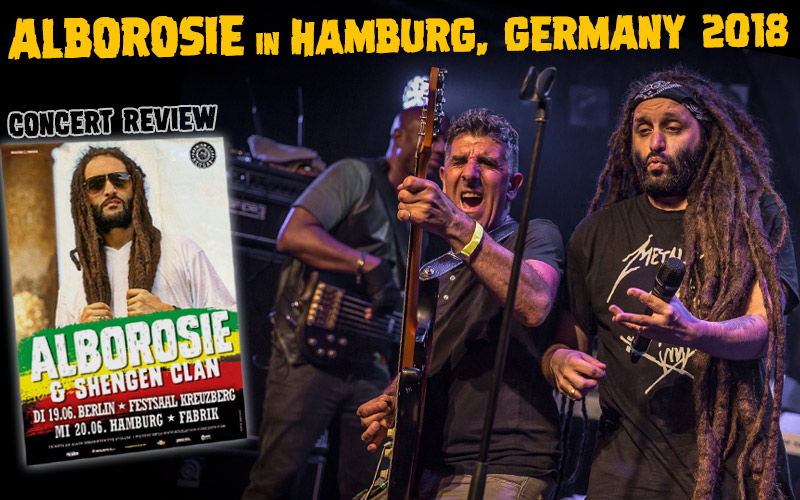 Alborosie & The Shengen Clan in Hamburg, Germany @ Fabrik - June 20, 2018

Unbreakable is the name of his most recent album, to be released in a few days, and unbreakable indeed is the spirit of the Rasta warrior who stopped over in Hamburg last Wednesday: Alborosie! The Italian-born artist who lives in Jamaica since more than 15 years now is currently on tour with his band called Shengen Clan, an indeed international affair.

From Jamaica, band-leader Michael Fletcher (bass), Garth "Duckie" Forster (guitar), Ottmar Campbell (keys) and Elisha Ellis (drums), as well as the backing vocalists Thamar Williams and Kemar Williams. From Italy, Valter Vincenti on guitar and from Germany, Toni Farris on keyboard. When we enter the venue Fabrik around 9:30 pm, the above-mentioned musicians are just about to take their places behind their instruments, ready to kick off the night. With a military marching pattern, they open with an intro that turns into the well-known Poser, added to by a strong voice from the off. When Alborosie finally steps into the spotlight, around 450 visitors welcome him warmly with cheers, claps and shouts and, without delay, he starts his energetic show. Living Dread is followed by Strolling, a tune during which Kemar takes over the lead position while Puppa Albo settles behind the DJ-desk for some heavy live-dubbing action. Surprise number 1!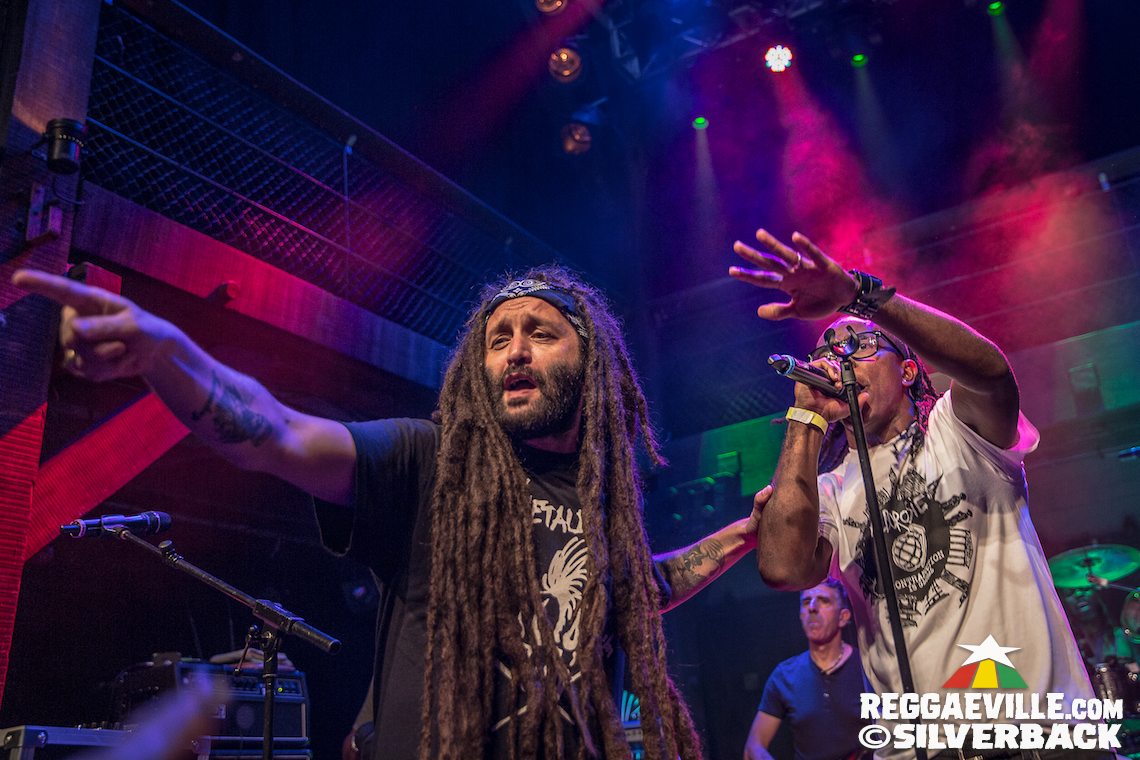 Carry On, Can't Cool and Rocky Road are sweeping over us next, and with tributes to foundation tunes like Ring The Alarm or his very own Rock The Dancehall, the dancehall is indeed rocked. Movement spreads during a fine cover version of Ska Ska Ska (surprise number 2), which is accompanied by a little women-vs.-men-battle led by Thamar and Kemar, and when Alborosie takes over the mic again, we hear two beautiful acoustic pieces, Diversity and Black Woman.

"Hold on now", the artist proceeds, "it is all about the new album Unbreakable recorded with The Wailers United!" Surprise number 3 is an intense cover version of The Unforgiven, and it's only now that I realize that Albo is wearing a black Metallica T-Shirt. We hear more tracks from the new release: Lies, Mystical Reggae and the Chronixx-feature Contradiction, the lyrics of which you should check out. "Contradiction global, madness taking over, too much men ina mix-up, one bag a mix-up, Rasta no live so! Contradiction global, still good conquer evil..."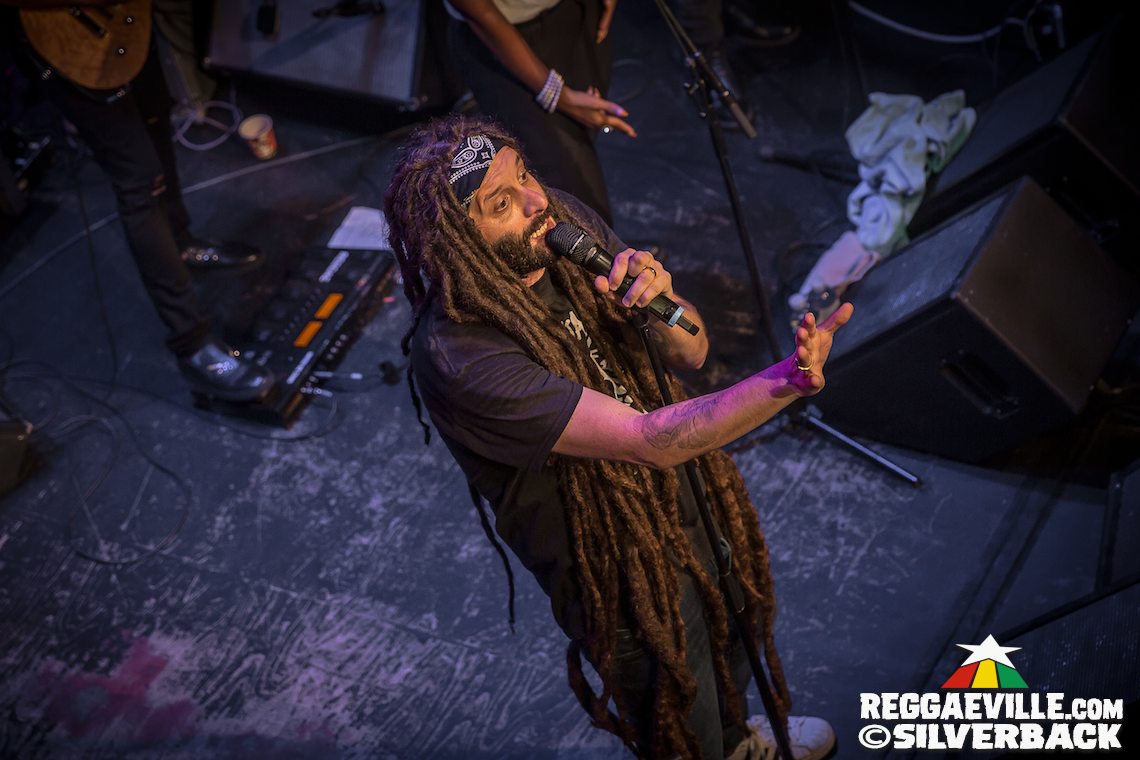 As with every concert, however, there comes a moment when the singer waves goodbye and leaves. Into the ensuing calls of encore, a youth appears on stage and grabs the mic to freestyle a few lines, and only when a security member friendly but assertively shoves him off the stage again we realize that this wasn't part of the show at all (surprise number 4!). Alborosie and band return for three more songs during which the musicians are introduced with a magnificent solo each, and when they close with Kingston Town, the mood boils over again.

The night leaves everyone in a great mood, as both music, performance, sound and the multi-coloured light-show were completely on point. At the merchandise stand, Max patiently answers questions about Shirts and music on display, and, ever so slowly, people leave to the lingering notes of a few aftershow-tunes played by Crucial Vibes.

Compared to the festival performance I witnessed in 2016 @ Reggae Jam, tonight's show was much warmer, more intimate and artistically elaborate. Thank you for the music!!!