Best Moments... Rototom Sunsplash 2018
08/21/2018 by Brad Metzger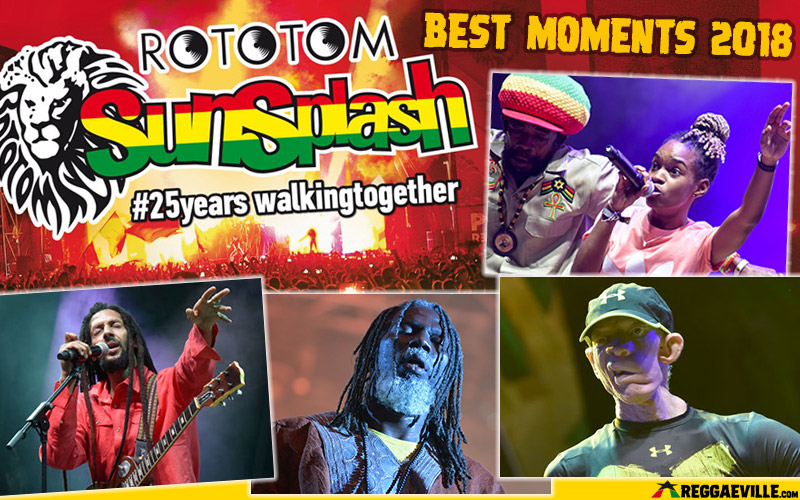 What started in 1994 as a 2 day, 14 artist festival called I National Reggae Encounter featuring Buju Banton and others in a small town in Italy, this year celebrates 25 years as the largest Reggae Festival in the world – Rototom Sunsplash. But the story began three years earlier when The Rototom Cultural Association was the curator of a nightclub in Gaia di Spilimbergo (Italy) that was, as they tell it, "A sound laboratory where reggae coexists with rock and punk, where the Ramones and massive Attack blend with Fela Kuti, Yellowman and Burning Spear." The Rototom Association didn't stop at creating a global phenomenon. They organized hundreds of demonstrations for peace and human rights. This guiding force of peace, respect for other humans as well as our planet earth remain at the forefront of the Rototom vision and mission and was in full force this week here in Benicassim Spain.

DAY ONE - THURSDAY August 16, 2018
It was fitting for Julian Marley to lay down the first beats on the Main stage at 21:00pm Thursday August 16th. Often overshadowed by his talented brothers, Julian's wide ranging set included a touch of ska, rocksteady and of course Bob Marley including some obscure songs as well as Exodus where, high step skanking, knees and ankles flying, dreads swatted back, Julian took to the percussion section for a drum interlude and then an extended dub version. I have never heard Exodus played like this. Just a perfect example of Julian taking a classic and genuinely making it his own. Look out for a new album called "As I Am" (to be released October 2018) and the song he performed tonight called Broken Sails.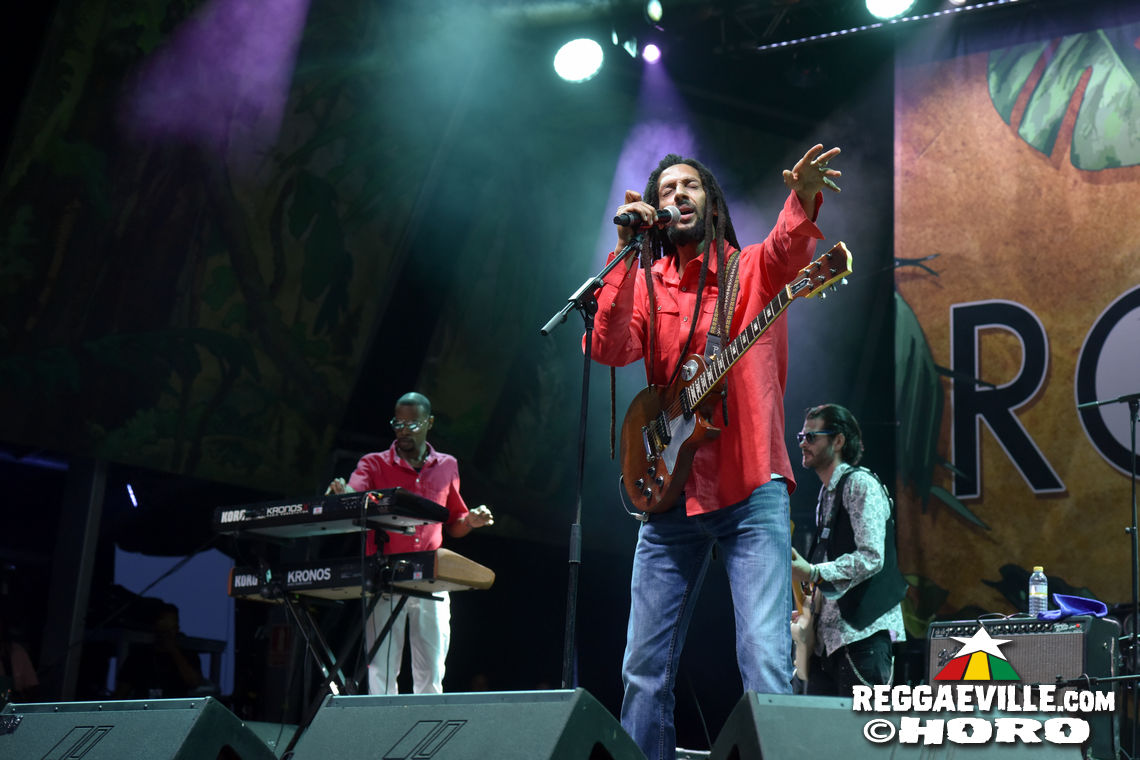 Cocoa Tea took to the main stage and did a riff on the phrase "Walking Together" which is the Rototom tagline this year. Then he had the reggae massive singing "Rototom" with him for days and rhymed "The best Reggae festival around, The best reggae festival in town…" Cocoa displayed maximum energy as he performed his new track Medical Marijuana as he urged the crowd to support him and go to itunes or Spotify to check out this new song. "Let me present the biggest female star outta Jamaica, KOFFEE!" as this rising star joined Cocoa and quickly jumped off the stage onto the speakers during her rapid fine lyrics while Cocoa Tea danced from one side of the stage to the other, pausing at times to do a quick REWIND! In between Koffee addressed the crowd: "Estoy muy Feliz de estar en Espana!" At one point Cocoa warned "If you are suffering from any medical condition, arthritis or anything, be careful it's about to get MAAD!" Then he cooled down the pace with a Gregory Isaacs tribute including My Number One and Night Nurse. "It's a long time coming for Cocoa Tea to be at this festival" said Cocoa proudly as he finished my favorite set of the night.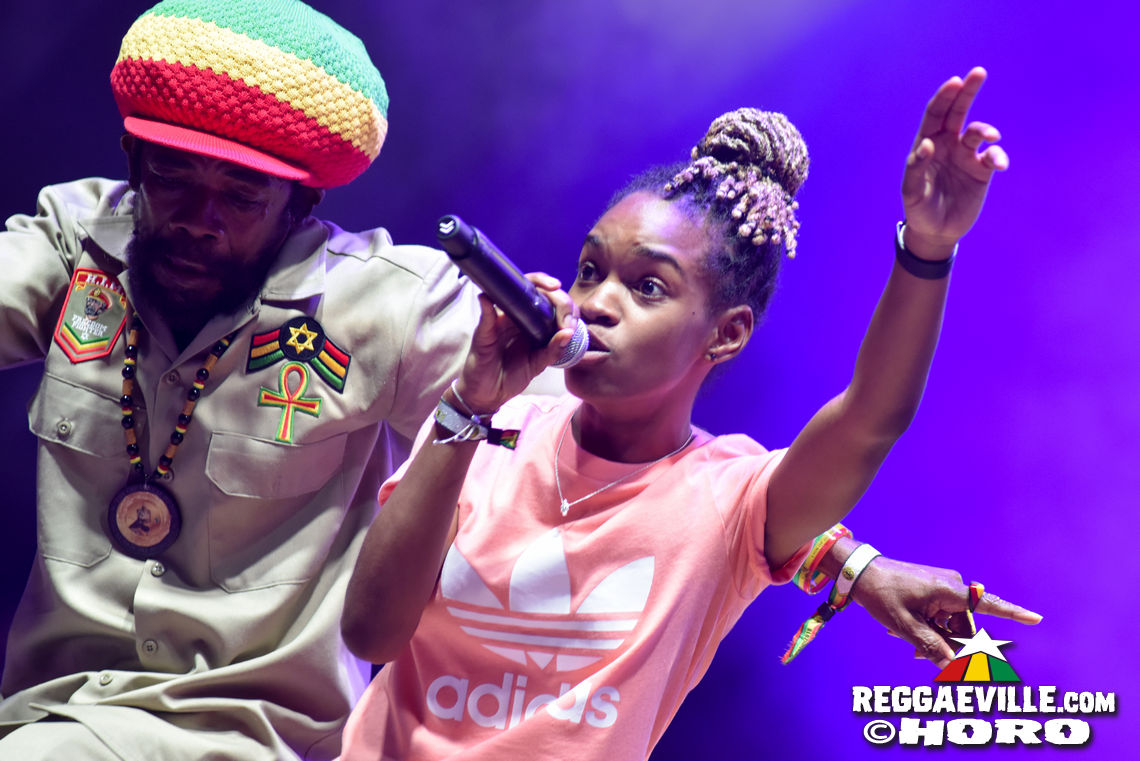 DAY TWO - FRIDAY August 17, 2018
One verse from Black Uhuru's Shine Eye Gal sang by Taxi Gang vocalist and Saxophonist Guillaume "Stepper" Briard launched Sly and Robbie into drum and bass bliss. The confidence this seminal band plays with is remarkable and although you have heard their riddims covered round the world, when Sly and Robbie play they, they are nevertheless distinctive and authentic. First to join onstage was Junior Natural from Sweden and then Bitty Mclean who even got legendary bassist Robbie Shakespeare in on the vocals. Yellowman ran onto the stage in his green exercise outfit and the youthful crowd around me went nuts including a 24 year old French dreadlocked girl who said she had never seen him before. King Yellow just nailed all of his classics including Zungguzungguzungguzeng and Nobody Move Nobody Gets Hurt. At one point with big gestures and hand movements, he proceeded to place a pretend condom over the mic and then place it in the appropriate spot as he performed Use Your Rubber Rubber which turned into Bob Marley's Turn Your Lights Down Low, ya know the one that goes "I wanna give you some good good lovin'" OK we get it Yellowman…. Oh and then off came the shirt so we could see the muscles and even a few push ups! And then after a few more REWINDS it was time for Johnny Osbourne later with Bitty and Junior Natural joining to finish off the set followed by a bass solo by Robbie as everyone left the stage. I would have loved to see Mo'Kalamity join Sly and Robbie. She was in the house and actually played on the Lion Stage later that night and she just released an album with Sly and Robbie called One Love Vibration. Not quite sure why but as compared to many of the festivals in the US, there are less onstage collaborations here at Rototom.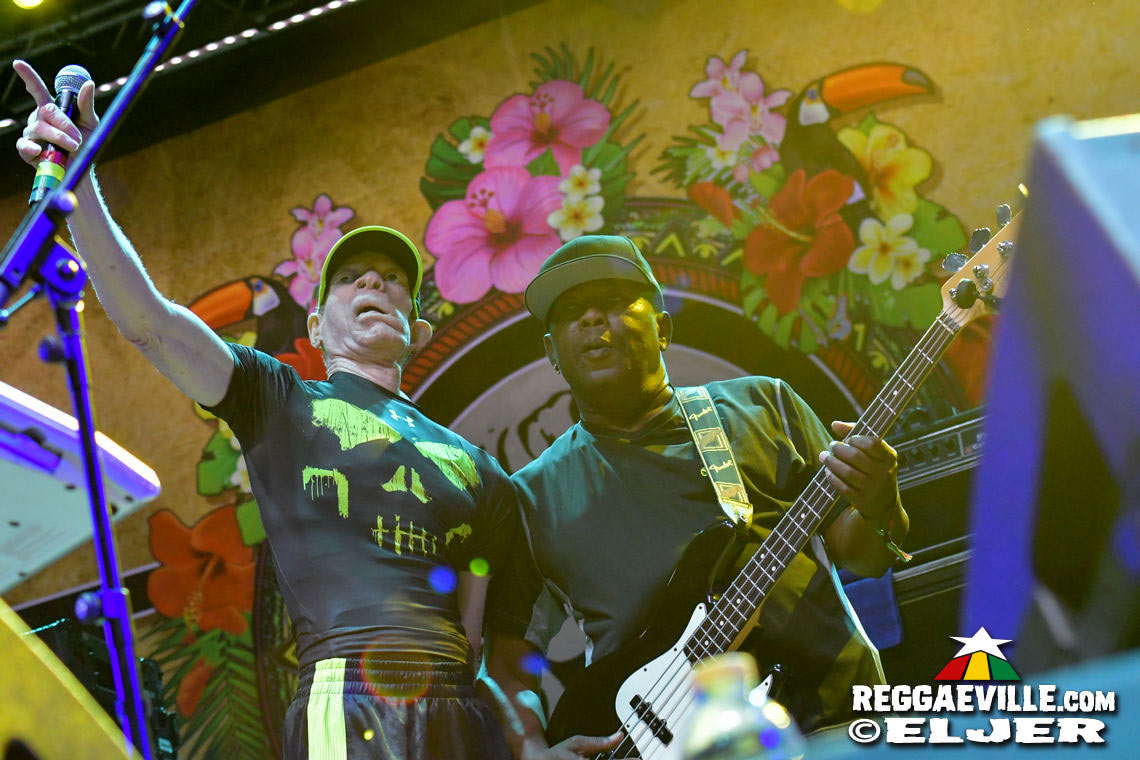 DAY THREE - SATURDAY August 18, 2018
In a rare appearance outside of France, Tiken Jah Fakoly burst onto the stage with a brown tribal robe and red, yellow and green walking stick, which was clearly only for appearance based on his dancing and shoulder level karate kicks. African in vibe but Reggae in sound, fist in the air proclaiming "Africa, Africa, Africa!" as if he were presiding over a congregation, the comparison between Burning Spear and Tiken Jah Fakoly is irresistible. And of course the Lucky Dube analogy, but where Lucky was energetic and upfull on stage, Tiken has a brooding, serious, reserved like quality. After all, these are serious topics he deals with: war, revolution, oppression and Tiken had a very hard road to success. Being a Muslim his family forbid him to sing fearing that it would exclude him from entering paradise. He read books about Rasta but he felt he already had a religion. Other African artists including Alpha Blondy and other Ivory Coast singers like Waby Spider wouldn't support him either. However, Tiken Jah Fakoly has persevered and now enjoys tremendous international acclaim. Having donned his robe to display a shirt with a Jamaican flag over Africa, for the encore Tiken had the crowd chanting "Resistance, Resistance!" well past 2am. Important songs that were included tonight were Francafrique, La Belayeur and Tata. Last year it was Malaka Youth who I had never seen and who I listen to often now. This year Tiken Jah Fakoly is my takeaway.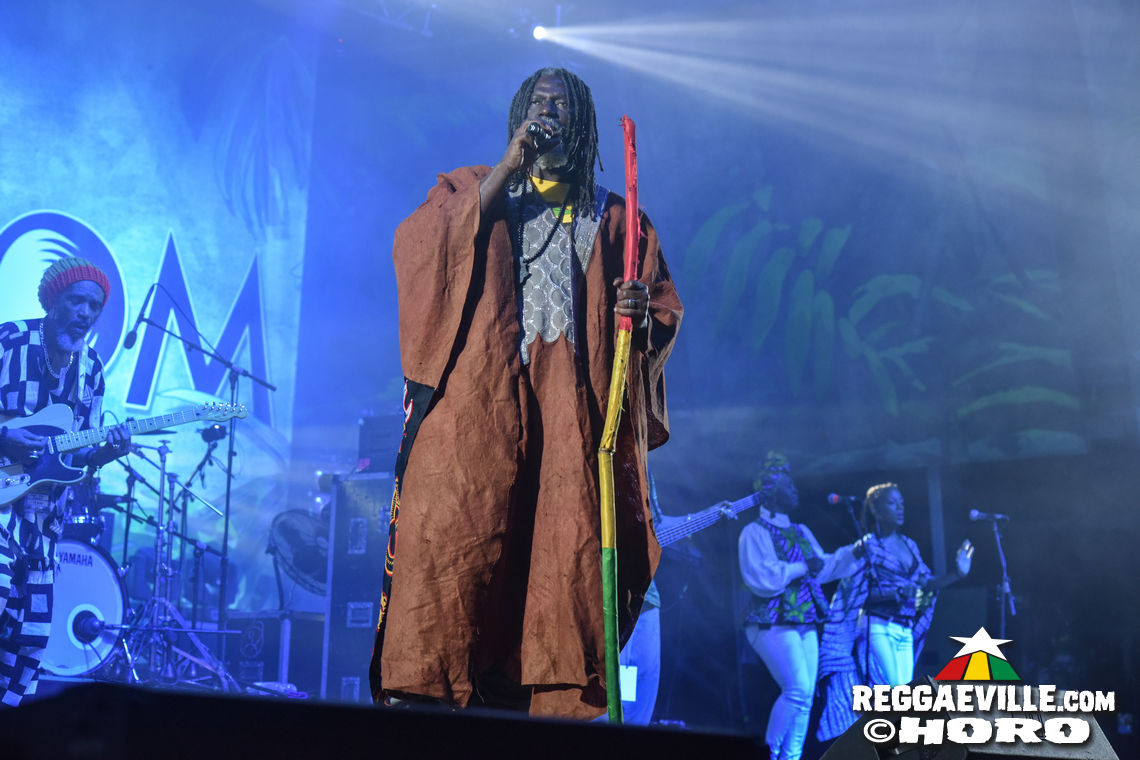 DAY FOUR - SUNDAY August 19, 2018

CLICK HERE to read my review about DAVID RODIGAN & THE OUTLOOK ORCHESTRA and find out why it would be an understatement to be part of this article!

Kabaka Pyramid was granted a prime Main Stage timeslot and he delivered. This might actually be a defining performance in Kabaka's career as he strives toward the level of other more prominent conscious Reggae Revivalists Chronixx and Protoje. Promoting his 2018 album Kontraband, "if you don't have it, you need to get it, you won't forget it," Kabaka did many of the tracks, best of which was a dancehall version of Can't Breathe which was dramatically different from the album version but done beautifully, with high energy and displayed this up and coming artists versatility and impressive stage presence. He even managed to sneak in a nice version if InI Kamoze's Here Comes The Hotstepper. Thanks to Reggaeville photographer HoRo I knew to check out Biga Ranx and Atila at the Lion Stage. Biga is a tall lanky French Reggae Hip Hip artist who looks like he could be a librarian, but his rapid fire toasting had the Reggae ravers at Rototom in a frenzy. We were worried there was no band but selector Atili crushed the reggae dub electronica beats and these guys were in sync big time. Biga preached: "I wanna share some love, I wanna feel some love, do you wanna feel some love, are you ready for love, fuck fake love! Tonight inna da Rototom I come to mash up de dance," and with a flick of the wrist back to Atila asking for some reverb, Biga blasted into an impromptu Rototom riff, followed by Liquid Sunshine and a new track Culdesac.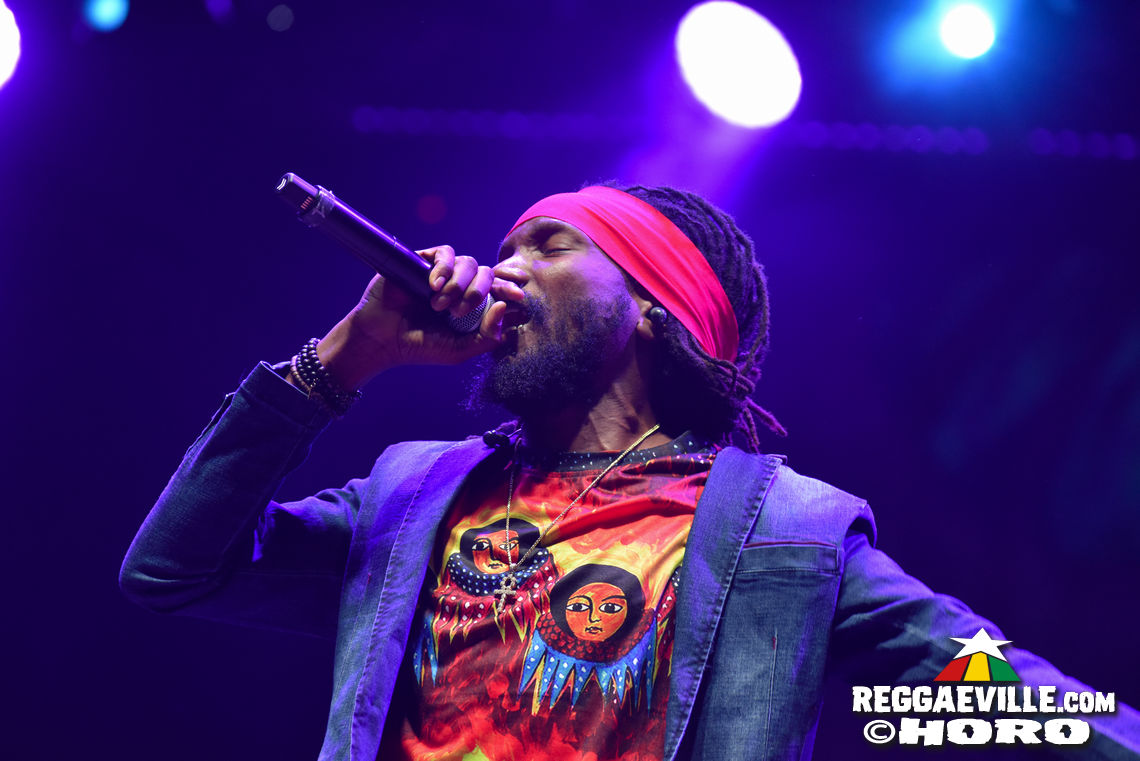 DAY FIVE - MONDAY August 20, 2018
Both Italian born, Alborosie and Rototom Sunsplash have had a symbiotic relationship as they have both risen over 25 years. On this important anniversary and milestone for Rototom, Albo brought the heat and ammunition in the form of his Shengen Clan Band, members of The Wailers including Junior Marvin, Aston Barrett Junior and Tyrone Downie as well as Duane Stephenson, a collaborator on Alborosie's newest album Unbreakable: Alborosie Meets the Wailers United.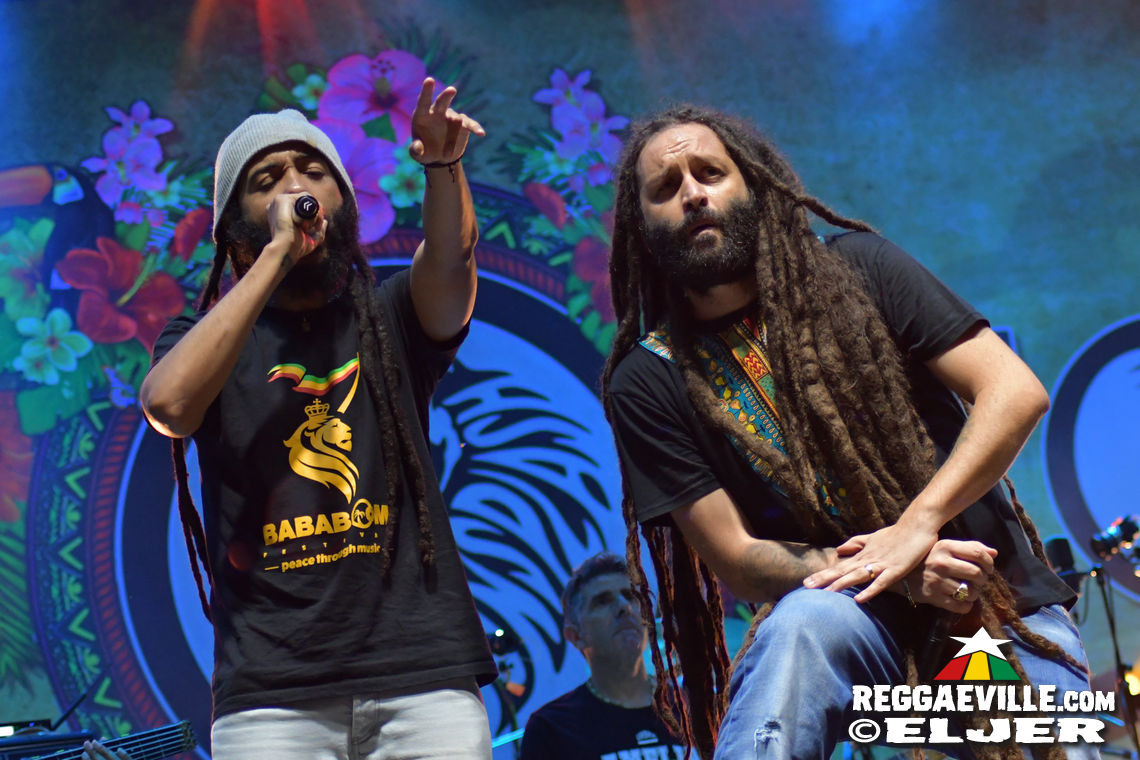 Soon after Poser and Living Dread, Protoje joined for what was clearly an unrehearsed collab. Love to see this and honestly Rototom needs more of this. There are so many amazing artists here but not as many on stage collabs as there could or should be…in my opinion. Alborosie worked the turntables which were draped with a Shengen Dub Station logo while quick firing tracks in order to squeeze a lot of material in, at one point dropping an improv over an Eek A Mouse riddim. Herbalist was sped up a bit verging on Ska. Duane Stephenson performed his hit August Town and Junior Marvin did a fantastic rendition of Marley's Could You Be Loved. After the crowd cheered "Puppa Albo, Puppa Albo…" we finally got an encore with Alborosie and some sick turntable dub, Kingston Town and for the icing on the cake, a quick sesh with Kabaka Pyramid.

As Albo finished, I had to make a very tough decision. King Jammy in the Dancehall, Danakil on the Lions Stage or an impromptu appearance by Iseo & Dodosound over at the Dub Academy. Based on her stellar performance last year on the Main Stage I chose Iseo and by the time I got over there it was jam packed with Dubheads going crazy. Iseo was loving the intimate setting with fans right up close to her singing along to her popular tracks Lost City and Fresh Air.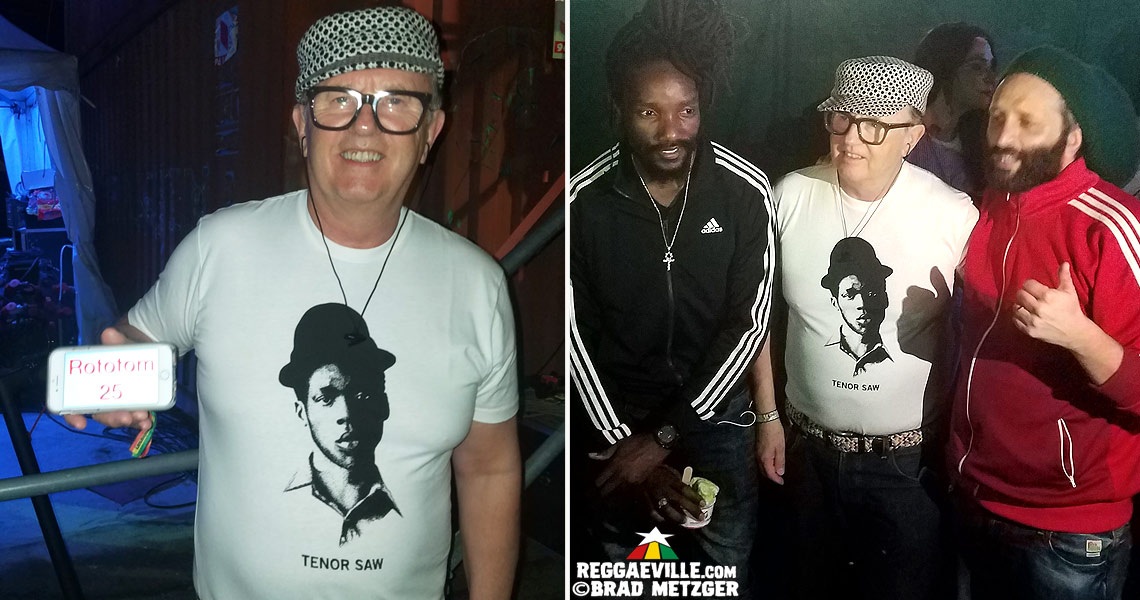 As King Jammy was winding down in the Dancehall around 4am, Kabaka, Alborosie and Protoje all gathered backstage in anticipation and support of David Rodigan. It was a family like affair and David was being congratulated on his amazing orchestral history of Reggae performance the night before. Once at the decks, Rodigan had the energy of a teenager as he put on a Dubplate clinic, alternating between short background descriptions of his picks and that signature dance: straight legs, jumping on his toes. He started out with tracks from the heavyweight artists who were in attendance and then moved into Jacob Miller, Beres Hammond, Tarrus Riley, Freddie McGregor, Prince Buster and other exclusive tracks. Youths in the front row who could literally be David's grandchildren wore vintage Rodigan T-Shirts and they reached over the barrier in hopes of a handshake while another fan threw David a bag of herb which was caught and put away for safekeeping.

DAY SIX - TUESDAY August 21, 2018
The most enthusiastic and intense crowd reaction all festival was for the Green Valley opening set on the Main Stage today. Green Valley, despite the English name is one of the most highly acclaimed Spanish Reggae Bands. Led and founded by Ander Valverde (verde = green) in 2004, they performed their first Rototom in 2013. Most of the intensity occurred after the encore, when immediately following the short break, the keyboardist started with a solo to Si No Te Tengo. The crowd immediately recognized the song and started singing in unison as loud as I have ever heard a Rototom crowd sing together. This went on for the whole song as the other band members joined one by one. What a moment!. At one point the crowd had their arms over each others shoulders and were swaying about 20 feet to the left and to the right. This was magical to see. Then following Si No Te Tengo and one PULL UP! later we were in the dancehall as dancers in purple and fluorescent jumpsuits emerged for a serious booty shake…or two, which led to a full on mosh pit in the front. Following the last song, the band was feeling the crowd to the max and basically refused to leave the stage. First they started throwing unopened bottles of water out into the crowd and then started dancing on stage together to the DJ music that started playing. Finally they realized their set was over and said their final goodbyes. Massive! Biggest crowd reaction of the week.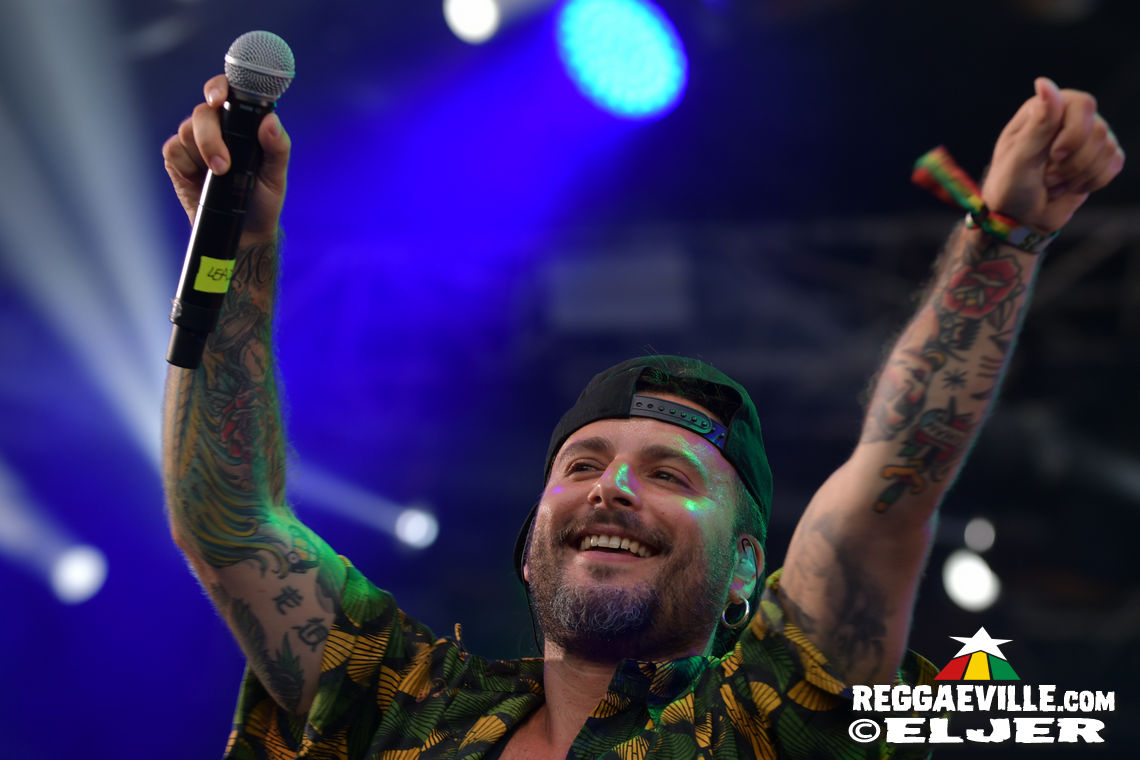 Mellow Mood has been a Rototom staple ever since winning the 2009 Rototom Italian Reggae Contest and have since traveled the world to festivals including California's institution, Cali Roots. In matching black outfits and maroon high tops, the twin brothers didn't disappoint. I always like hearing back stories to tracks so it was cool to hear the story about Ms Mary from their newest Large release about Jacopo's aggressive former apartment landlord. It's also nice to hear songs done completely differently than how they sound on an album. Such was the case for Inna Jamaica which was done in a sped up dancehall version and Bun Me Heart which was slowed down for this special 25 Anniversary Rototom appearance.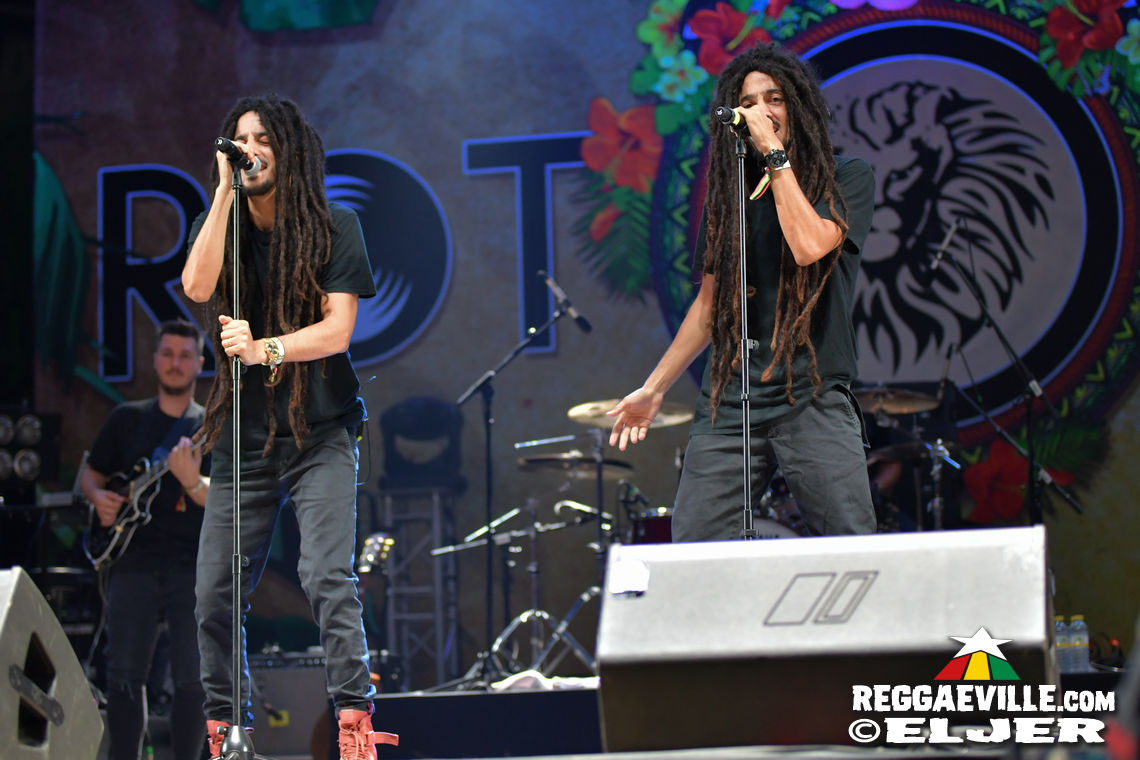 DAY SEVEN - WEDNESDAY August 22, 2018
The best moments on the final night of Rototom Sunsplash 2018 were thanks to the Saxaphone of living legend, Producer and Music Director of Tarrus Riley's Blak Soil Band, Dean Fraser. Dean's vintage Saxaphone under his masterful direction acts as if it were a human voice. Take Tarrus' song Superman for example. Tonight Tarrus and the Sax were talking, communicating back and forth, interacting like two singers in a romantic, heated duet. The synchronicity of Dean's bubbling and soaring Sax over Tarrus' powerful voice is remarkable.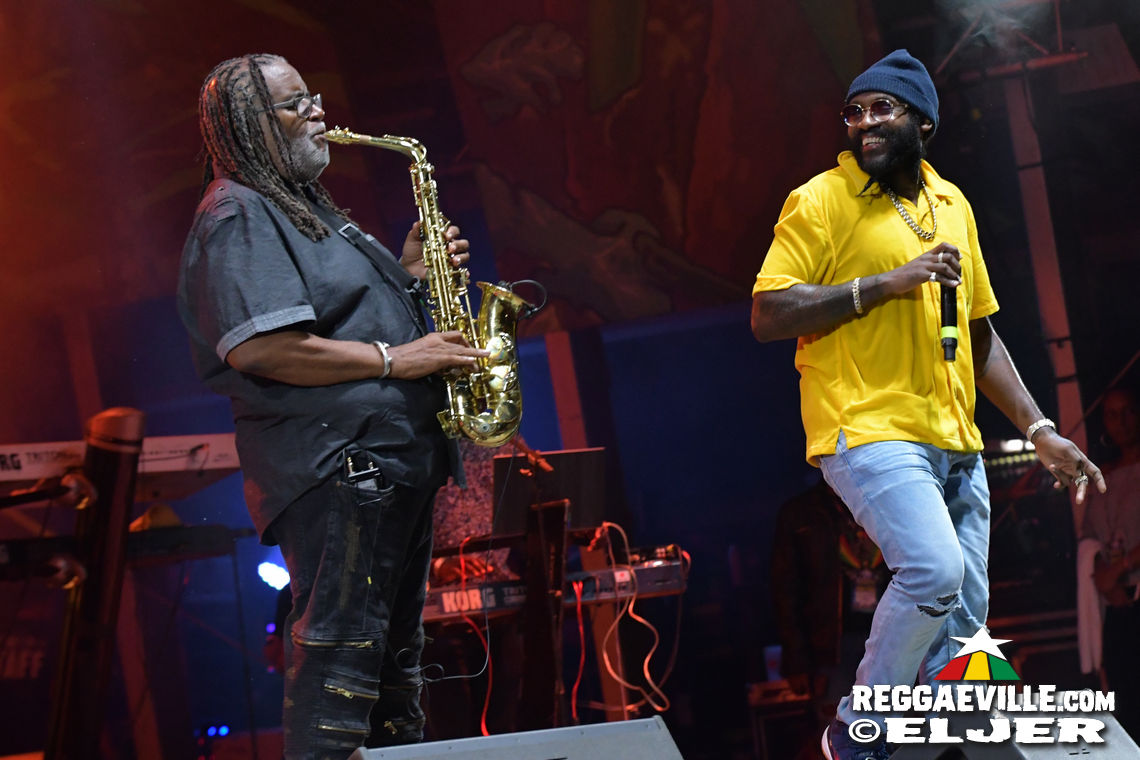 They started out as they often do with Gimme Likkle One Drop and Human Nature. Immediately a reasonably trained Reggae ear picks out the bass playing of Glen Browne, another highly acclaimed veteran. His musicianship is flawless and he lays it down with niceness. You also quickly notice that Tarrus and the Blak Soil Band from Jamaica are simply the whole package: the voice, the showmanship, the musicianship, the band member interaction, and the theatrics of a serious performance. Dean and Glen, two distinguished gentlemen, easily keep up with Tarrus who is very energetic and is basically always on fire when he performs. And pay close attention as things move fast on stage while many genres of Reggae music are covered. One second its Tarrus and Dean high stepping together, then they're cooling things down with The Melodians' Rivers of Babylon and Bob's Time Will Tell and then it's a quick riff on J Boog's Let's Do It Again or a brand new, never been heard song from the upcoming album using Black Uhuru's Guess Who's Coming To Dinner riddim. Oh and here comes Konshens for what seemed to be another new track, but when he tried to leave the stage, Tarrus literally jerked him back from back of his hoodie and they jammed a little more before ending a spectacular set.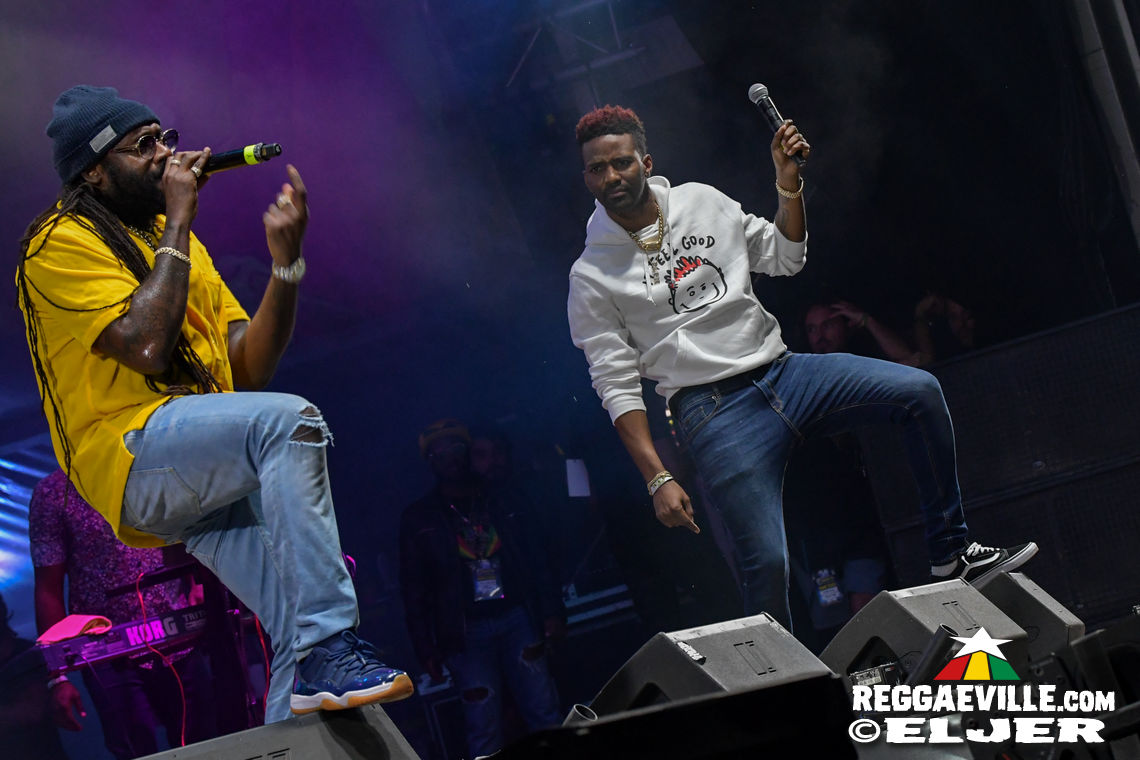 Following Tarrus' set, to celebrate the 25th Anniversary, the founders of Rototom were introduced and then most of the team behind Rototom came up on stage. They held a big sign that said Gracias and Thank You and celebrated with Rototom Flags. Following this the onstage party moved backstage and the team enjoyed a huge red, gold and green cake and shots that were made into a big number 25. Congrats Rototom! You did it again, another epic year.